As e-commerce continues flourishing, businesses constantly seek new ways to enhance customer engagement, streamline operations, and boost sales. One groundbreaking technology that has emerged as a game-changer in digital retail is the e-commerce chatbot.
E-commerce businesses embracing chatbots are reaping substantial rewards, with an average open rate of 85% and a staggering click-through rate (CTR) of 40% compared to the relatively modest 23% open rate and 3% CTR of email campaigns.
In this guide, we will explore the ten best chatbots for Ecommerce that are reshaping the online shopping experience and driving unprecedented success for businesses in the digital marketplace.
Let's get started.
What Is an E-commerce Chatbot?
An e-commerce chatbot is a sophisticated computer program designed to engage with website users in real-time, offering a wide range of services such as customer support, answering queries, suggesting products, gathering feedback, and monitoring user interactions.
These invaluable tools come in three primary platforms:
Artificial Intelligence (AI)-Powered Chatbots: These chatbots leverage advanced natural language processing and conversational AI to replicate human behavior and speech patterns, creating a remarkably lifelike and interactive user experience.
Rules-Based Chatbots: Operating on predefined sets of responses, these chatbots are programmed to answer specific questions that users may pose, offering a structured and efficient approach to customer interactions.
Hybrid Chatbots: Combining the strengths of AI-driven and rules-based systems, hybrid chatbots offer a versatile approach, enabling automated and structured conversations to enhance user engagement.
Chatling is an example of a hybrid chatbot.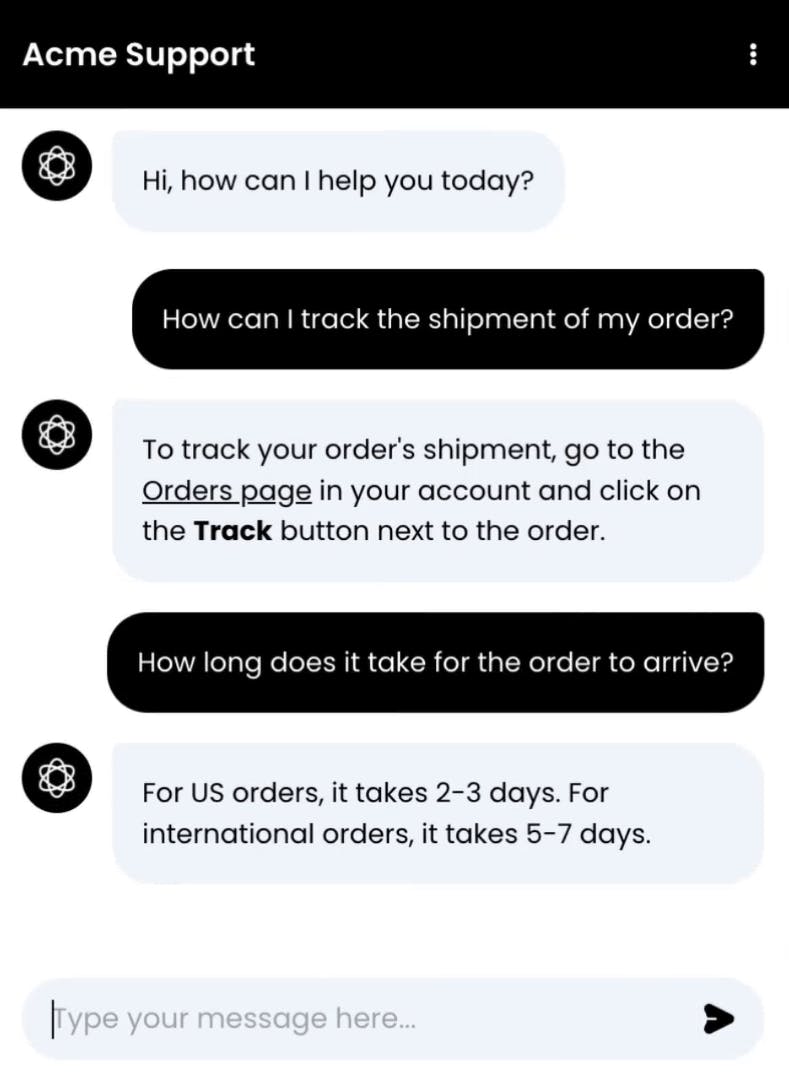 Our chatbot combines the strengths of AI-driven interactions with rules-based responses. You can link company data sources to generate dynamic responses and use a predefined set of rules to automate specific queries. This enables customers to receive quick and accurate answers from the chatbot, reducing the need for manual support.
Why are E-commerce Chatbots Important?
24/7 Support
Customers expect immediate assistance at any time of the day or night. E-commerce chatbot tools excel in providing round-the-clock support, a feat that is often logistically challenging for human customer service teams.
Reduced Costs
One of the most significant advantages of e-commerce chatbots is their ability to reduce operational costs. Ecommerce chatbot tools can handle routine inquiries and tasks, such as providing order updates, tracking shipments, and answering frequently asked questions. By automating these processes, businesses can significantly cut down on labor costs.
Offers a More Personalized Service
Personalization is a crucial driver of customer satisfaction and loyalty in e-commerce. Shoppers expect tailored recommendations and experiences that cater to their individual preferences. E-commerce chatbots leverage artificial intelligence (AI) and data analytics to deliver highly personalized interactions.
Criteria to Consider When Choosing an E-Commerce Chatbot
Integration
You want a solution that seamlessly integrates with your existing systems and platforms. Look for chatbots that can connect with your website, CRM, e-commerce platform, and other tools you use. A well-integrated chatbot ensures smooth data flow and consistent user experiences, both online and offline.
Customization and Scalability
No two businesses are identical, so your chatbot should be customizable to match your unique needs. Ensure the chatbot offers flexibility regarding conversation flow, branding, and user interface customization. Scalability is equally important—your chatbot should be able to grow with your business, handling increased interactions as your customer base expands.
Advanced Conversational Capabilities
An effective e-commerce chatbot should go beyond fundamental question-answer interactions. Look for chatbots with advanced conversational capabilities, such as natural language processing (NLP) and context awareness. These features allow the chatbot to engage in more natural, human-like conversations, understanding user intent and providing relevant responses.
Pricing and Plans
Chatbot pricing can vary widely, so aligning your budget with your needs is crucial. Consider factors like the number of interactions, users, and features included in each plan. Be aware of any hidden costs, such as charges for exceeding usage limits. Choose a pricing plan that matches your current requirements while allowing room for growth.
Analytics and Reporting
Data is a valuable asset for improving your chatbot's performance. Choose a chatbot that provides robust analytics and reporting features. These insights can help you track user interactions, identify bottlenecks, and refine your chatbot's responses over time. Look for features like conversation history, user behavior analysis, and conversion tracking.
10 Best E-Commerce Chatbots
Chatling: Best for providing personalized and accurate responses
Tidio: Best for automating sales and customer support
Giosg: Best for providing rich experiences
Customers.ai: Best for multi-channel messaging
Chatfuel: Best for streamlining communication processes
ManyChat: Best for chatbot management
Ada: Best for providing instant chat support
SnatchBot: Best for creating RPA bots for business processes
Botsify: Best for enhancing user engagement
BotCore: Best for automating routine tasks
1. Chatling
Chatling is an AI chatbot platform that helps businesses reduce their support volume by providing personalized and accurate responses to customer queries.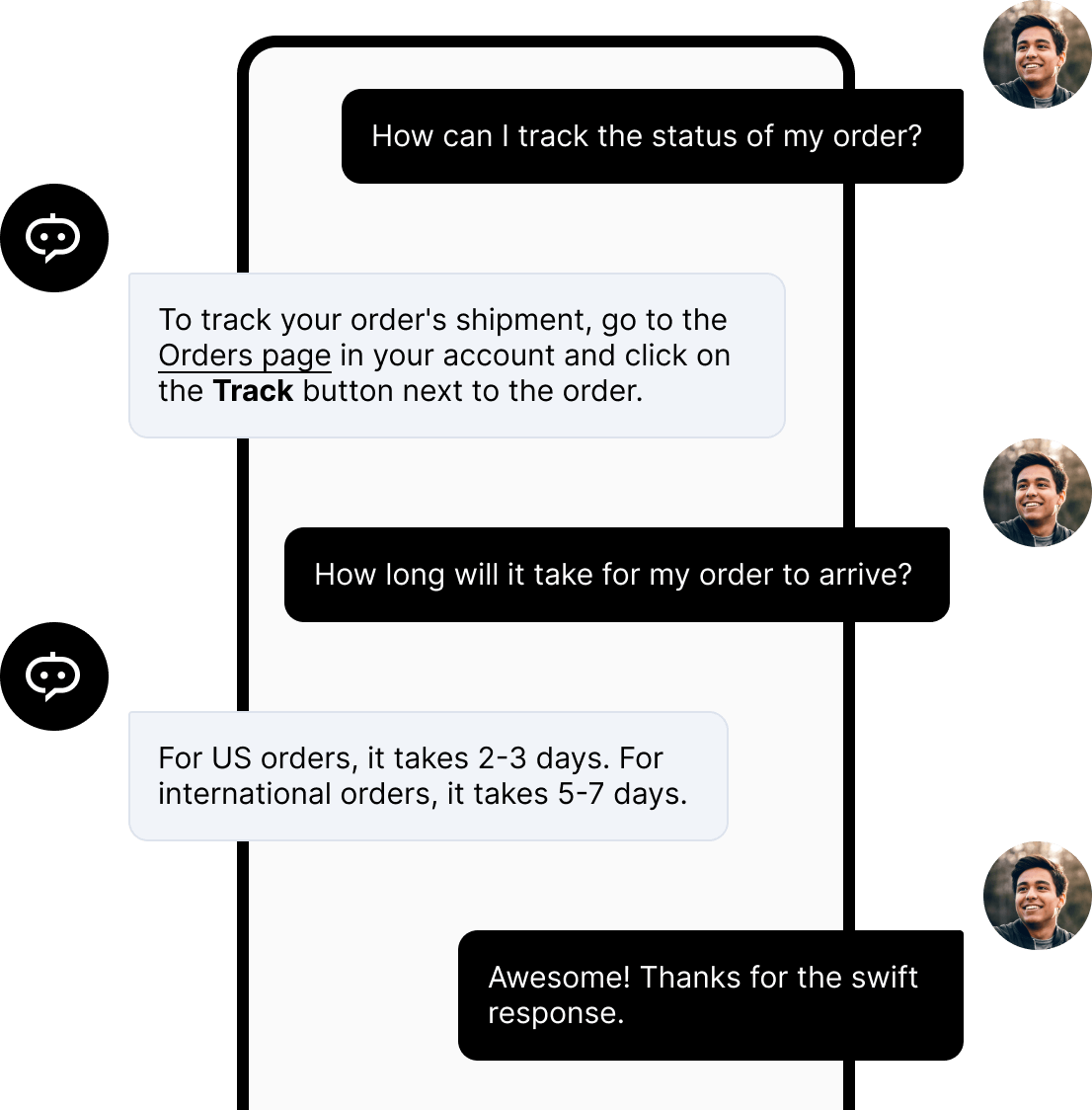 The chatbot can be trained on various resources such as website content, documents, knowledge base, etc. By harnessing the power of AI, Chatling boosts deflection and resolution rates, allowing customers to get answers quickly and easily.
Chatling also offers complete conversation visibility that can be used to measure customer satisfaction levels, identify areas of improvement, and more.
Features
Train on Custom Data: Train your chatbot on website URLs, sitemaps, FAQs, custom text, and documents to give your customer accurate information.
Complete Customization: Fully customize the chatbot to match your branding and voice to give e-commerce customers a seamless experience.
E-Commerce Integrations: Integrate your chatbot with any e-commerce website via integrations with Shopify, WordPress, Wix, Squarespace, PrestaShop, or others via our API or widget code.
Conversational Responses: Receive customer inquiries and conversationally respond to them, allowing your customers to get the answers they need quickly.
Real-Time Insights: Measure customer satisfaction levels with real-time insights into conversations and identify areas of improvement.
Multilingual Support: Multilingual chatbots understand and respond in multiple languages, enabling you to provide a personalized experience to users from different regions or language preferences.
Pricing
Chatling offers a free plan with limited customization options, while Basic ($15/month) allows for 2,250,000 characters.
For more advanced users, Pro ($35 /month) and includes 5,500 AI credits. Ultimate ($99/month) offers complete customization, access to 25 chatbots, 10,000 training characters, and unlimited websites.
There's also an enterprise-ready Business plan for $299/month.
2. Tidio
Tidio chatbots are customizable, plug-and-play, and can automate sales, support, and customer service processes.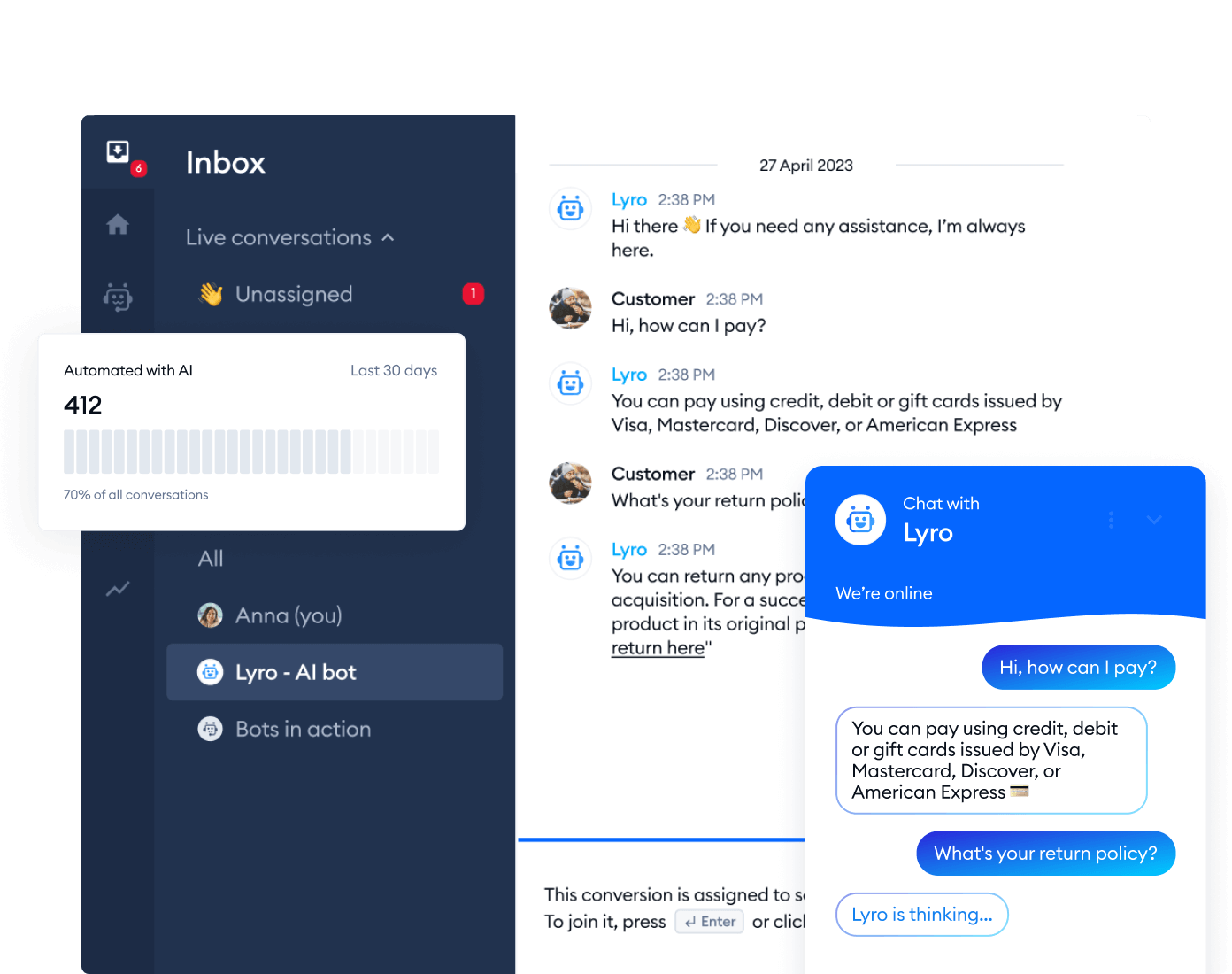 They can help businesses streamline the buying process, simplify shopping, offer status updates, increase engagement with discounts, and answer up to 70% of customer questions using AI.
Features
Intuitive & Graphical Chatbot Builder: Easily create chatbots without any coding skills required.
E-Commerce Templates: Choose from 35+ pre-designed templates tailored explicitly for e-commerce businesses.
Post-Communication Surveys: Collect valuable feedback from customers after the chat ends.
Saving Abandoned Carts: Send pop-up messages to clients who abandoned their carts.
Mobile-Specific Actions: Customize chatbot actions specifically for mobile users.
Pricing
Tidio offers a range of pricing plans, starting from a free plan with limited features.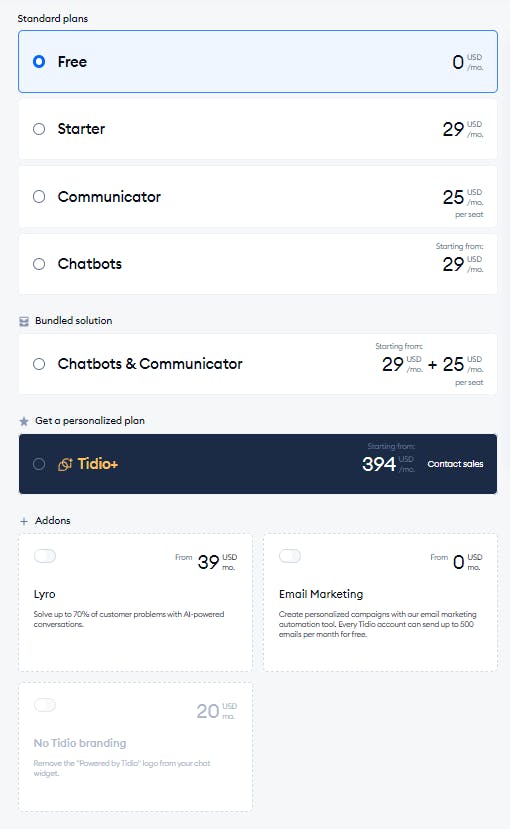 The paid plans include options such as Starter, Communicator, and Tidio+. Prices vary depending on the plan chosen, and additional add-ons, such as Lyro, can be purchased to enhance AI-powered conversations with customers.
Pros
Easy-to-use interface
Excellent technical support
Offers a lot of features
Developers are dedicated and skillful
Cons
Chatbot interface can become messy if not carefully managed
Lack of tutorials in Spanish
Limited English proficiency for end admin users
Some users may require more tutorials in their native language
Rating
Tidio has a rating of 4.8 out of 40 reviews.
3. Giosg
Giosg AI Chatbot helps businesses automate their customer conversations and provide faster support.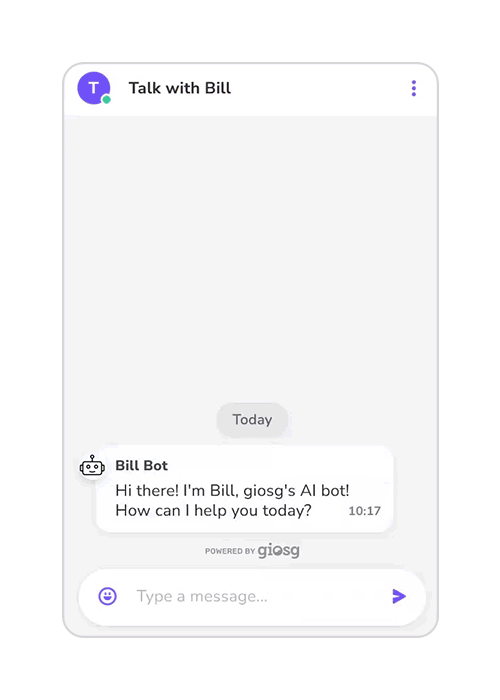 It can deliver rich experiences by providing text-based answers, videos, images, and interactive content.
Features
Automated Customer Conversations: The chatbot allows you to automate your customer conversations.
AI-Generated Replies: The chatbot generates replies using generative AI, ensuring more dynamic and personalized responses.
Rich Content Replies: The AI Chatbot can provide rich content replies, including videos, forms, or embedded content, enhancing the customer experience and delivering comprehensive answers.
Smart Routing: If the AI Chatbot cannot handle a customer inquiry, it can seamlessly transfer the conversation to a human agent for further assistance.
Pricing
Giosg offers customized pricing plans based on unique business variables. It is best to contact their sales team for detailed pricing information and to receive a customized quote.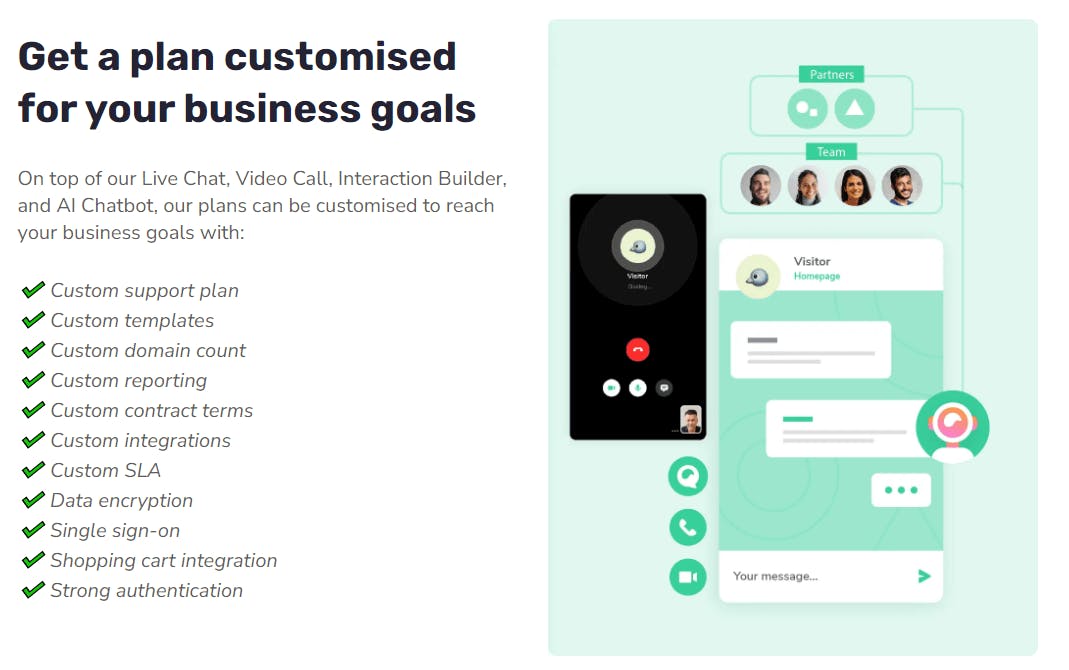 Pros
Can be customized to meet unique requirements
Streamlined interactions with customers through the chat portal
Integration of chatbot and live chat
Effective in finding new customers and generating leads
Reliable, easy to use, and exceptional customer service
Cons
Some users have reported issues with customer support
There have been reports of issues with images
Some users have needed help with integrating Giosg with other systems
Data is quite hard to access
Rating
Giosg has received a rating of 4.5 from 45 reviews on GetApp.
4. Customers.ai
Customers.ai offers multi-channel chatbot tools for SMS, Facebook, and web chat.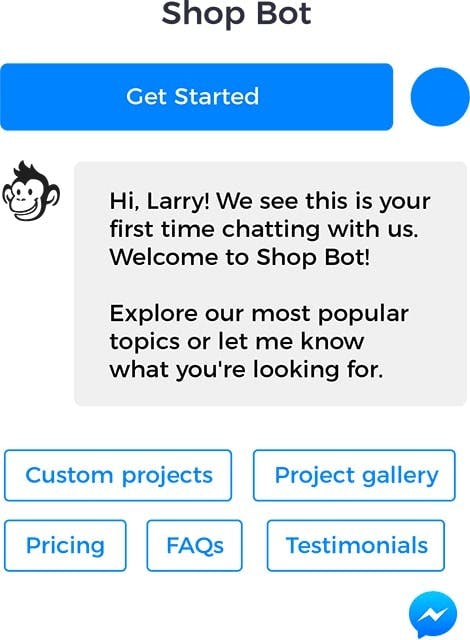 It allows marketers to build seamless chatbots across different messaging platforms, including Facebook Messenger, native web chat, and SMS messaging. The chatbots can also send follow-up messages, integrate with other chatbot marketing tools, and provide valuable campaign data and analytics.
Features
Multi-Channel Chatbot Tools: Write a single chatbot funnel that works seamlessly across multiple messaging platforms.
OmniChat Marketing Mobile App: Conveniently manage conversations across messaging apps using the Android and iOS mobile apps.
Chatbot Builder: Design and build chatbot funnels without coding using drag-and-drop content widgets and visual campaign tools.
Chatbot Templates: Use pre-designed templates as a starting point for creating your chatbot.
Bot Analytics: Gain insights into chatbot campaign data and track key metrics.
Pricing
The pricing for Customers.ai's Sales Automation Platform offers flexible plans for B2C businesses.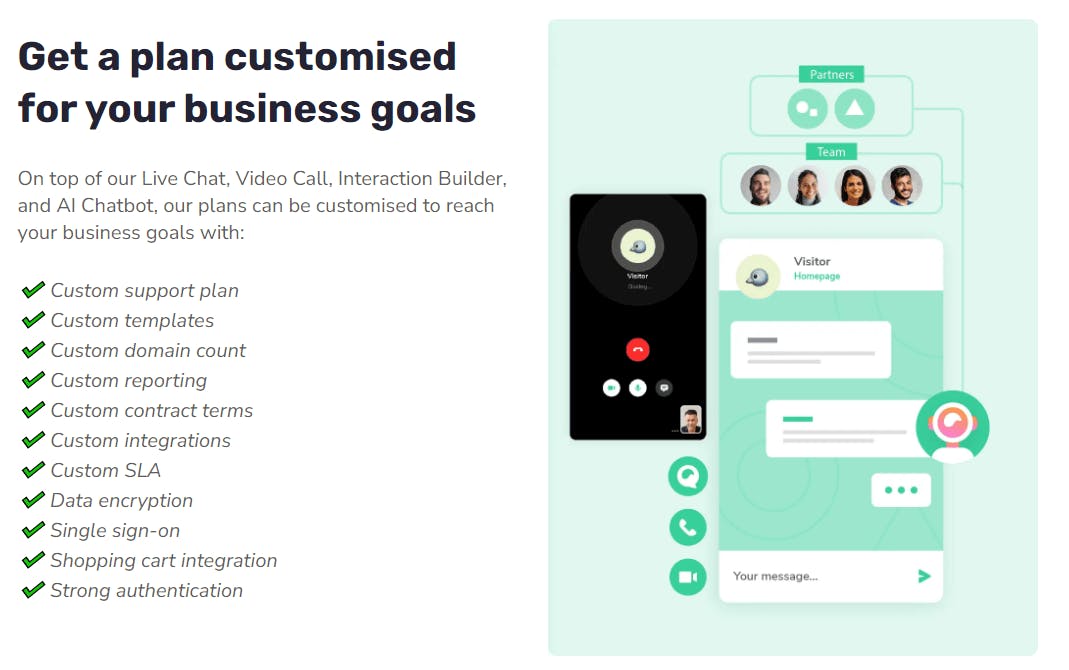 They have a free plan with lead capture and automated email outreach, a Starter plan starting at $199/month for lead generation and conversion, and a Pro plan starting at $499/month with sales outreach automation and dedicated support.
They also offer custom Enterprise plans tailored to specific business needs.
Pros
Offers integration with various social media platforms
Intuitive and easy-to-use interface
Cons
Some users experienced unresponsive customer service
Some users reported difficulties accessing certain features
A few users have mentioned that the software can be slow
Rating
Customers.ai has received a rating of 4.8 out of 304 reviews on G2.
5. Chatfuel
Chatfuel is a platform that allows users to build chatbots without coding quickly.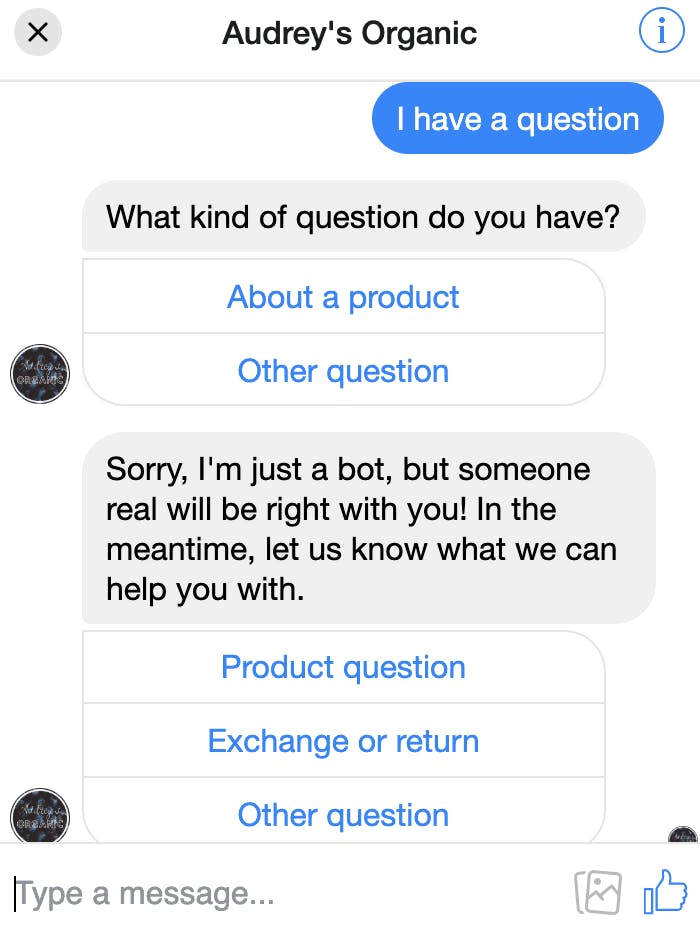 It offers a user-friendly interface and various tools to create interactive and automated conversations. With its AI and machine learning capabilities, Chatfuel enables businesses to provide personalized customer experiences and streamline their communication processes.
Features
AB Testing: Conduct A/B tests to optimize each chatbot's performance.
Activity Dashboard: Provides a comprehensive overview of the chatbot's performance. Users can track metrics such as user interactions, response rates, and conversion rates.
Alerts/Notifications: Send automated messages to users based on specific triggers or events.
Auto-Responders: Set up predefined responses to common or frequently asked questions.
Automated Publishing: Schedule and automate the publishing of chatbot updates or content.
Pricing
Chatfuel offers a range of monthly pricing plans starting from $0 for limited conversations.

The pricing varies based on the number of conversations and additional features required, making it suitable for entrepreneurs, startups, small businesses, growing businesses, and enterprises.
Pros
Easy setup process, no development work required
Offers a free option for testing
Great for Messenger chatbots
Can automate responses and route users to specific resources
Helpful for after-hour requests and simple questions
Cons
Limited to Facebook Messenger
Chatbots cannot be too complex
Not completely intuitive
Setting it up can be time-consuming
Support response time may vary
Rating
Chatfuel has a rating of 4.3 out of 25 reviews on GetApp.
6. ManyChat
ManyChat is a chatbot platform for businesses to automate customer interactions on messaging platforms like Facebook Messenger.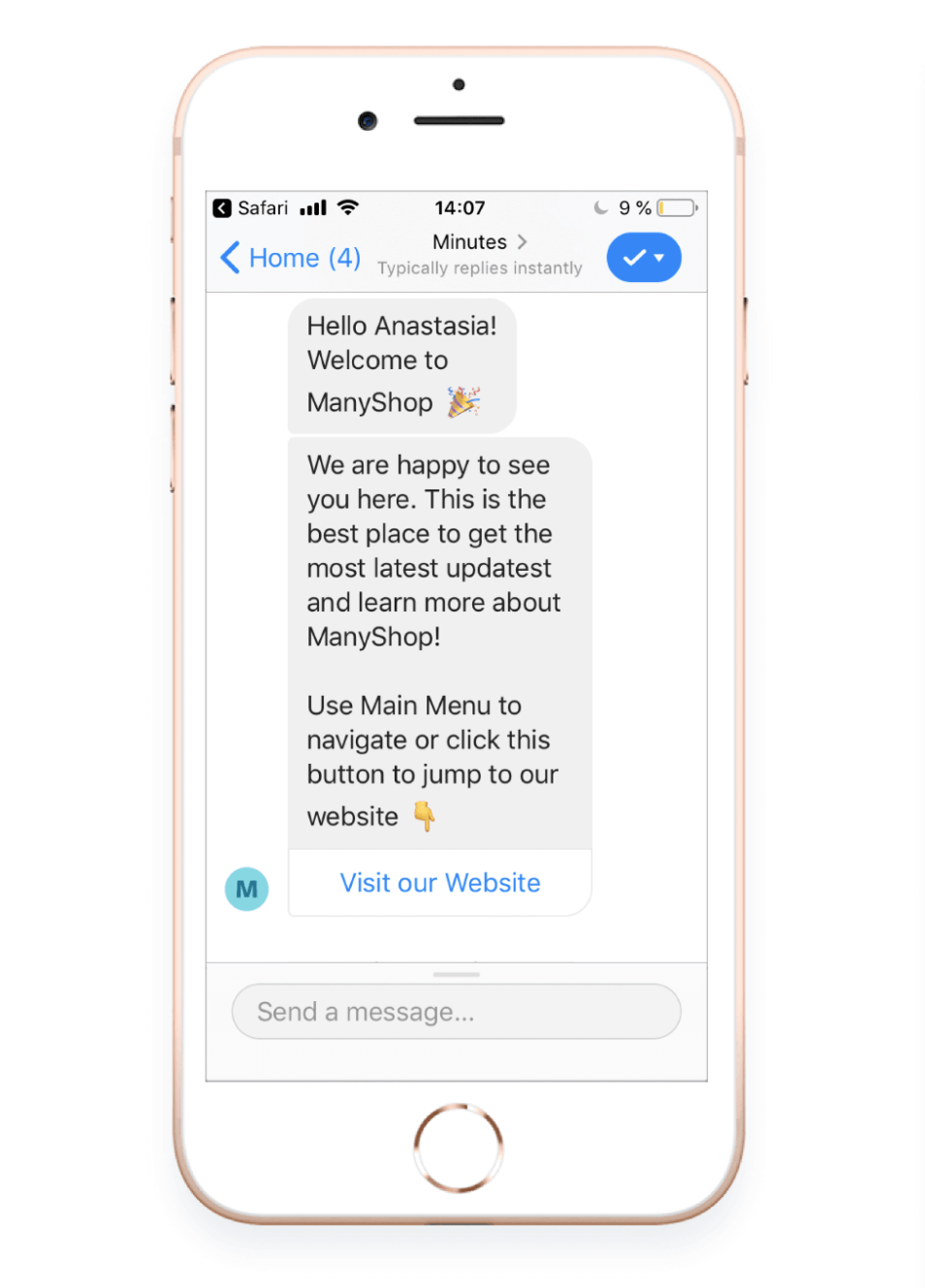 It simplifies the creation and management of chatbots, allowing businesses to provide instant responses, collect data, and engage with customers effectively.
Features
A/B Testing: It allows you to test different chatbot variations for optimization.
AI/Machine Learning: You can enhance the chatbot's understanding and responses.
Pre-Configured Bot: It offers customizable pre-built chatbot templates.
Proactive Chat: You can initiate conversations based on triggers or behavior.
Reporting & Analytics: It enables you to generate reports and analytics.
Third-Party Integrations: It easily Integrates with other software or platforms.
Pricing
Manychat offers different pricing tiers, starting with a free plan with basic features for up to 1,000 contacts.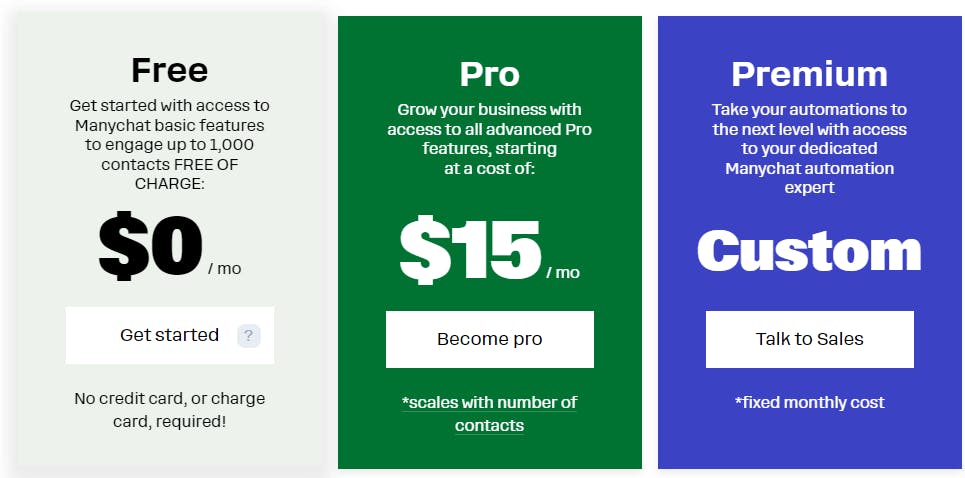 The Pro plan provides access to advanced features and scales the pricing based on the number of contacts. There is also a Premium plan for custom-built solutions and tailored support.
Pros
Fantastic and helpful customer support crew
Reasonably priced
Super easy to use
Great way to connect with customers
Responsive customer support team
Cons
Very poor support and functionality
No access to uploaded data
Limited chatbot creation options
Conversation flow issues
Rating
ManyChat has an average rating of 4.6 out of 63 reviews on GetApp.
7. Ada
Ada is an automated customer experience platform that allows non-technical teams to build a chatbot to handle customer inquiries.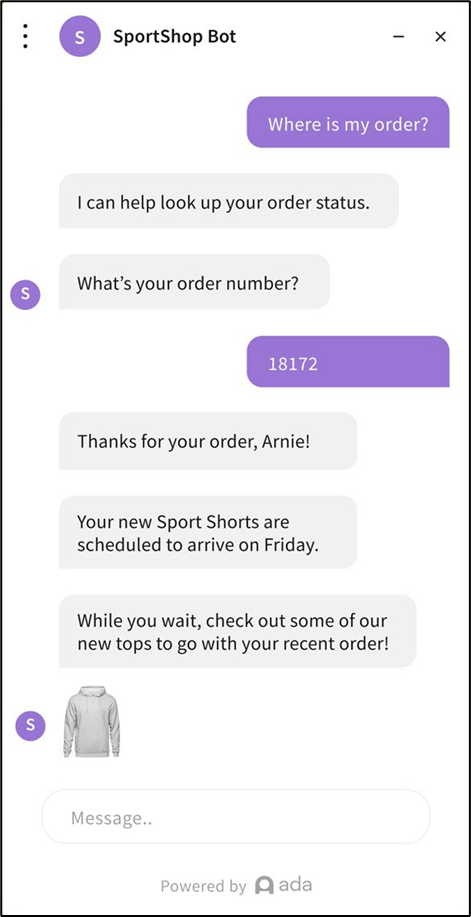 It offers personalized customer engagement, supports multiple languages, and integrates with other apps. Ada aims to provide instant chatbot support, personalize customer experiences, and improve the efficiency of customer service agents.
Features
A/B Testing: Allows you to compare different versions of your content or design to determine which performs better.
API: It allows you to integrate Ada with other systems or applications.
Alerts & Escalation: Send alerts or escalate issues based on predefined conditions or rules.
Auto-Responders: Automatically respond to customer inquiries or messages, saving time and improving response efficiency.
Automated Responses: Offers automated response capabilities, allowing it to handle common customer queries or tasks without human intervention.
Pricing
Ada offers three pricing tiers: Core, Advanced, and Pro. Each tier includes different features and capabilities to meet the needs of different businesses. Pricing details can be obtained by requesting a quote from Ada.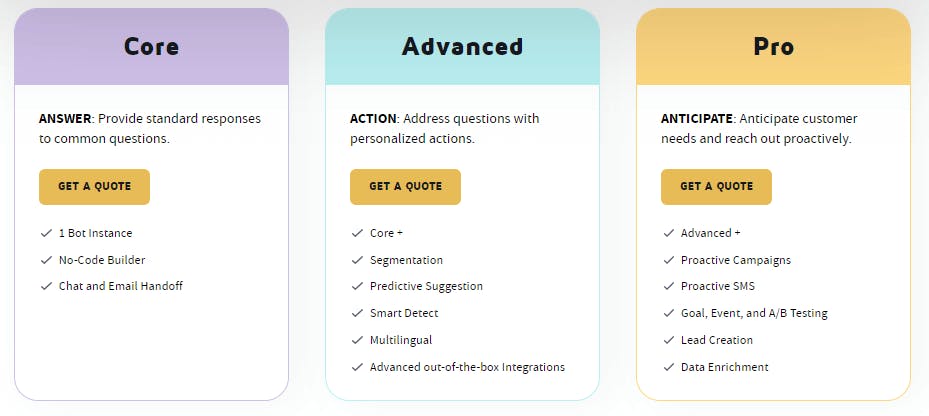 Pros
Supportive team that responds quickly
Adding new features and catching up to other chat platforms
Clean UX and intuitive design
Advanced AI compared to other chatbot tools
Admin-friendly with minimal need for technical support
Cons
Lack of scheduling and drafting features for proactive changes
Limited reports and insights in Ada's analytics dashboard
Rating
4.4 out of 9 reviews
8. SnatchBot
SnatchBot is a platform that allows you to create and publish chatbots for multi-channel messaging.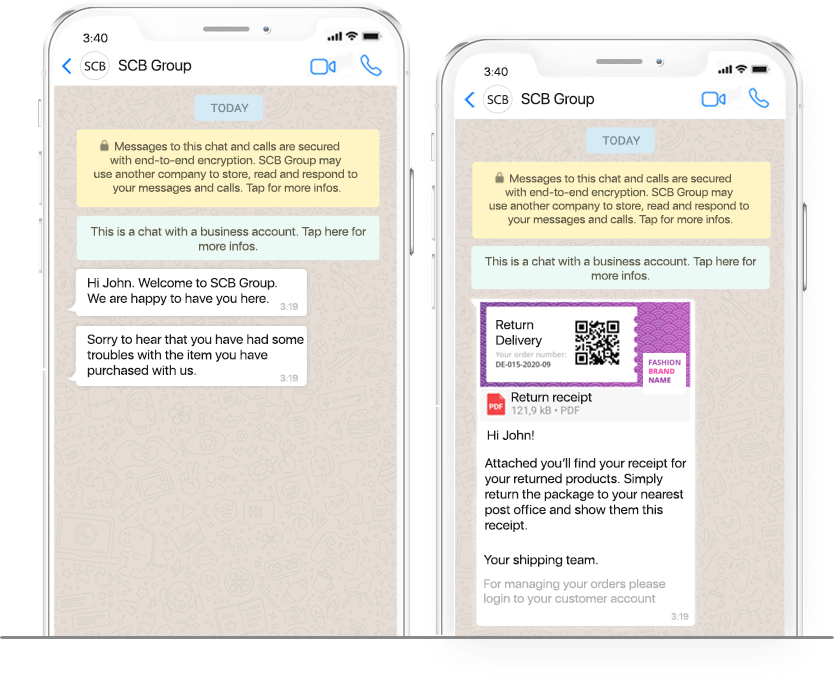 It offers a range of features, such as NLP, ML, voice recognition, and administrative tools. The platform supports the entire lifecycle of a bot, from development to deployment and monitoring. SnatchBot also provides proprietary NLP technology for smart, human-like conversations and RPA bots for business processes.
Features
Premium Interactions: It offers a wide range of premium interactions to engage users effectively.
Natural Language Processing (NLP): NLP capabilities allow chatbots to understand and interpret user input in a more human-like manner.
Advanced Analytics: Provides comprehensive analytics tools that allow businesses to gather valuable insights from chatbot interactions.
RPA Integration: Integrates with Robotic Process Automation (RPA) technology.
Pricing
SnatchBot offers a free plan, but it's highly limited.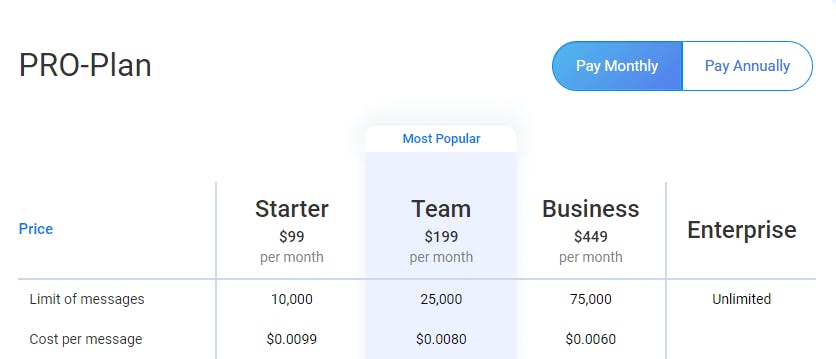 Starter ($99/month) provides access to advanced features, customization options, and premium support. The pricing increases with the Team ($199/month), Business ($449/month), and Enterprise (custom), offering higher messaging limits and additional benefits.
Pros
Easy to use and setup
No coding knowledge required
Multi-channel messaging capabilities
Pre-trained NLP models available
Compatible with various communication tools
Excellent customer service and support
Cons
Limited support for free users
Initial setup can be confusing for first-time users
Limited payment system options
Rating
SnatchBot has an average rating of 4.5 out of 33 reviews on G2.
9. Botsify
Botsify is a chatbot platform that empowers businesses to create and deploy AI-powered chatbots easily.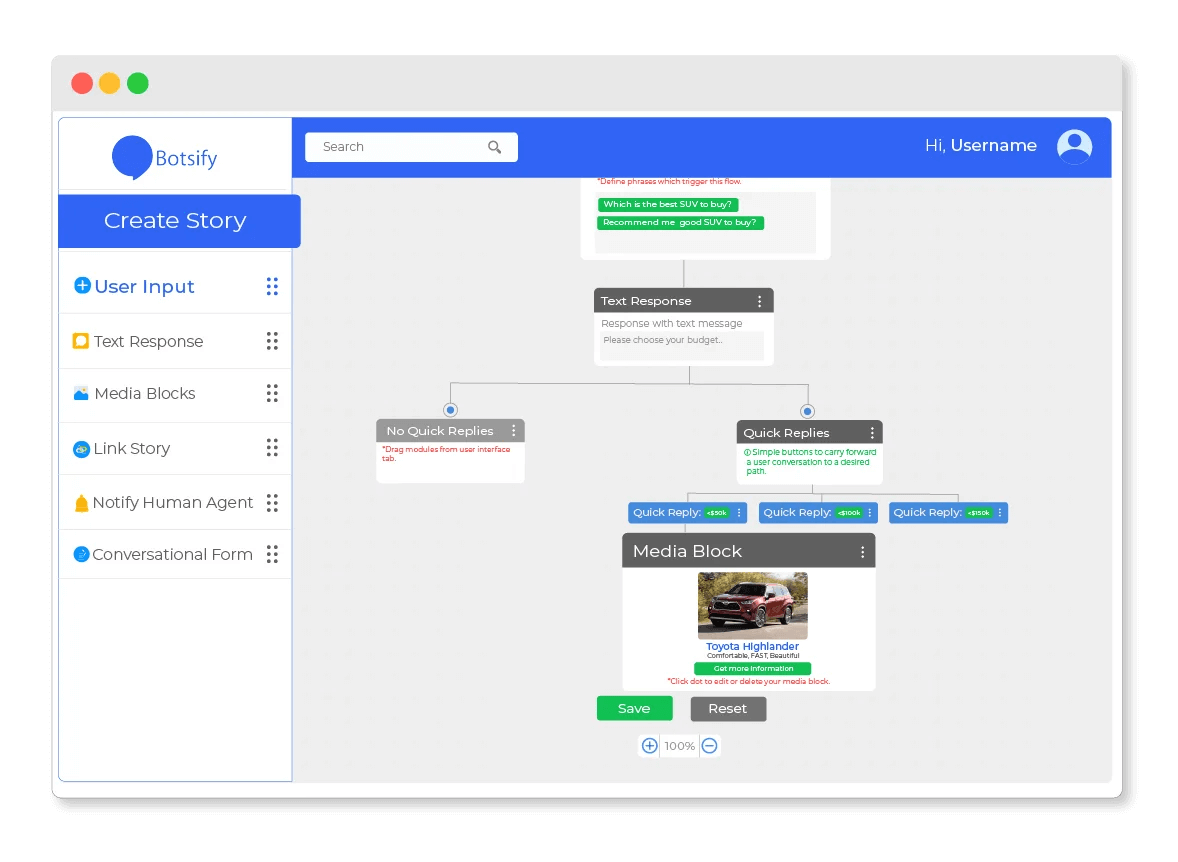 Its user-friendly interface, extensive integration options, and advanced natural language processing capabilities make it valuable for automating customer support, streamlining processes, and enhancing user engagement.
Features
Drag & drop AI Chatbot on Full Auto-pilot: It makes it easy to create and customize chatbots without any coding skills.
White-label Platform: It allows agencies to customize the chatbot platform with their own branding.
Dedicated Support Team: Botsify offers dedicated support with a 2-minute response time in live chat.
Pricing
The pricing for Botsify's chatbot platform offers different plans to cater to various needs. Do It Yourself ($49/month) is designed for personal use, while Done for You ($149/month) offers an end-to-end chatbot building and management service for businesses.
There's also a custom plan for enterprise-level solutions.
Pros
Packed with features
Excellent customer service
Outstanding documentation and interface
Good platform functionality and helpful support
Cons
Steep learning curve
Navigating through features can be challenging
Inconsistent and unreliable performance of the bot
Misinterpretation of user queries leading to irrelevant responses
Rating
Botsify has a rating of 4.7 out of 1.5k reviews on GetApp.
10. BotCore
BotCore is a bot development framework that streamlines the creation of chatbots and conversational AI applications.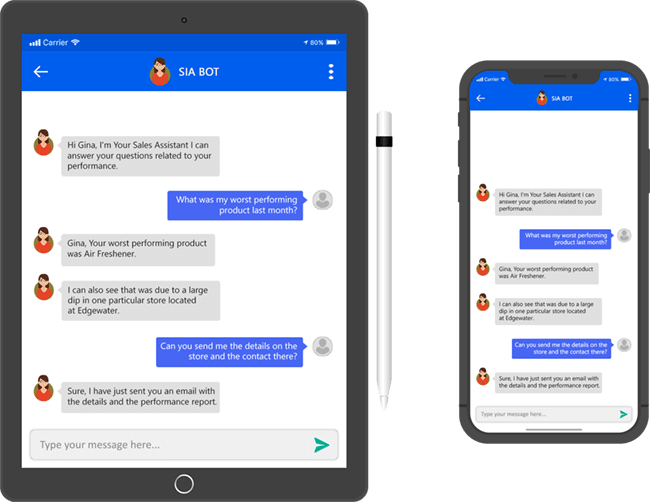 It offers a user-friendly interface, robust natural language processing capabilities, and integration options with various platforms, making it an ideal choice for businesses seeking to enhance customer engagement and automate routine tasks through chatbots.
Features
Creating Guided Conversations: Allows for the creation of guided conversations, where the flow and outcomes of interactions with the bot are pre-defined, ensuring a streamlined user experience.
Handling Q&A Scenarios: Equips bots with the ability to answer a wide range of queries, enabling effective handling of Q&A scenarios and providing relevant information to users.
Contextual Conversation: Bots to grasp the context of a conversation, allowing for more meaningful and personalized interactions with users.
Pricing
Pricing information for Botcore is not available.
Rating
BotCore is rated 4.5 on G2 with a total of 5 reviews.
Conclusion
In this guide, we explored the landscape of e-commerce chatbot tools and uncovered the top ten contenders redefining customer engagement and operational efficiency in the digital marketplace. From AI-driven chatbots that mimic human behavior to rules-based and hybrid solutions, there's a chatbot for every e-commerce need.
Looking for a simpler chatbot solution?
At Chatling, we make powerful, flexible AI chatbots accessible to everyone. With easy data connections, natural language processing, and complete customization, Chatling is the perfect solution for e-commerce businesses of any size.
Get started for free and see what Chatling can do.