WordPress is the website-building tool of choice for millions of customer-facing businesses.
Since WordPress is such a popular platform, lots of different chatbot tools support WordPress integration. That means finding the right tool for your business can be difficult.
In this guide, we've curated a list of the best chatbots for WordPress websites to save you hours of research time. We'll cover features, pricing, pros & cons—everything you need to make the right decision.
Want to learn more? Read on.
What Is a Chatbot for WordPress?
A chatbot for WordPress is an AI software that utilizes natural language processing (NLP) and machine learning (ML) to understand customer requests and offer human-like responses.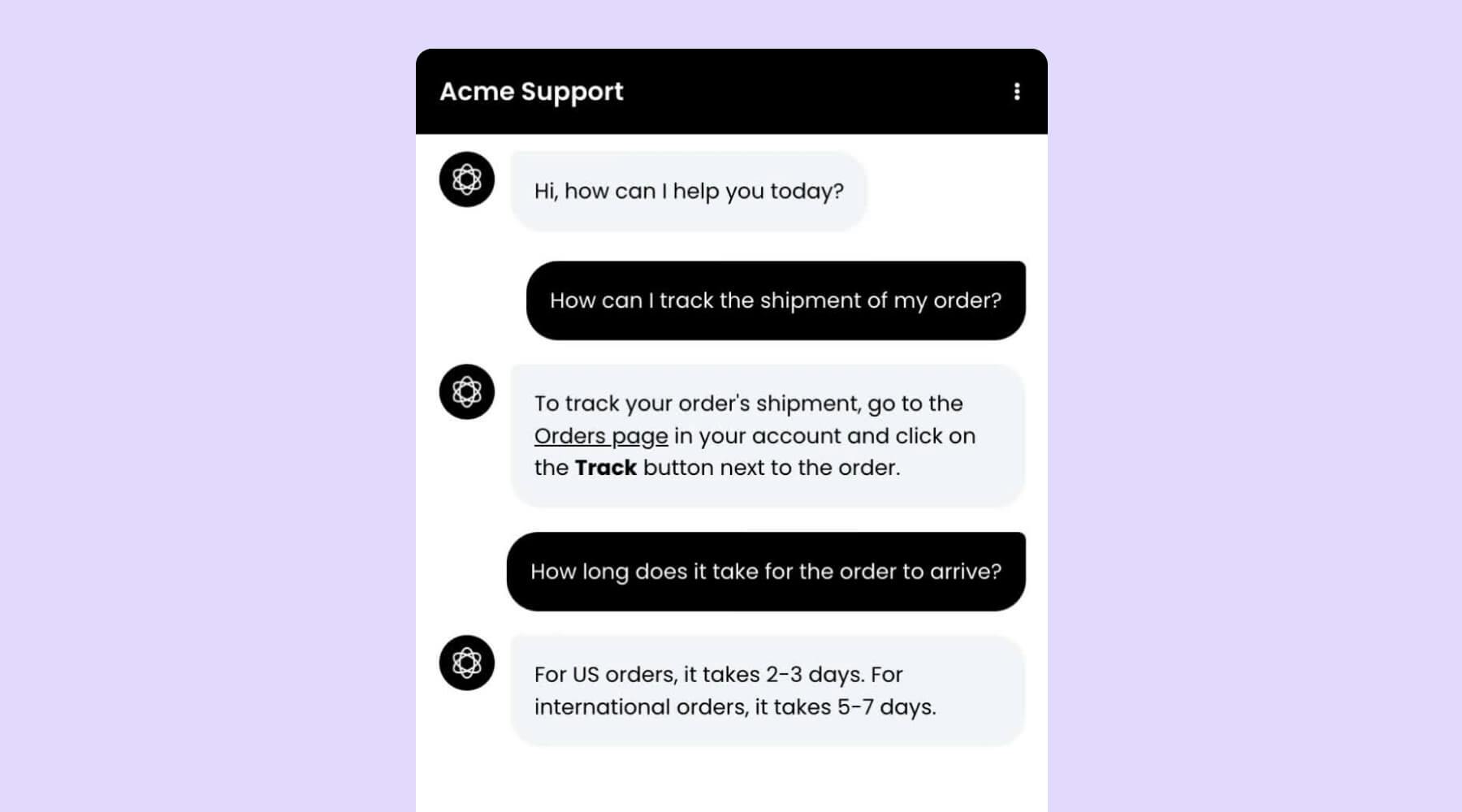 You can embed chatbot apps onto your WordPress website to automate parts of your customer support, such as:
Directing customers to information: Chatbots can be programmed with a knowledge base of frequently asked questions and their corresponding answers, allowing users to quickly find the information they need without leaving the website.
Onboarding: Use chatbots to help new users navigate your website, understand its features, and get started with the platform or service.
Routing customers to the right agent: Chatbots, when faced with an issue they can't resolve, transfer the conversation to a suitable human agent.
Fielding questions during off-hours: Chatbots are online 24/7, so they're able to handle requests while your support team is unavailable.
Bookings: Allow customers to book appointments, meetings, or reservations via your chatbot.
Collecting Leads: Engage website visitors, ask qualifying questions, and collect contact information from potential leads using your AI chatbot.
How Does a Chatbot for WordPress Benefit Your Business?
Reduced Customer Service Cost
AI chatbot software handles many repetitive tasks, reducing the workload for your support staff. This way, you don't require many people on your customer support team, which can save you hiring costs in the long run.
Increases Customer Engagement
Provide instant responses to customer queries 24/7 and proactively message users with custom greetings to boost engagement. You can also make use of multilingual chatbots to expand your reach and communicate with customers in their native language.
Collects Customer Feedback
Chatbots allow you to collect customer feedback at a faster rate. Automatically send users feedback surveys or ask for their opinion during AI conversations to gather large amounts of data without the need for human interference.
Customers are more likely to answer a survey or feedback question if they don't have to redirect to another tab — ask them during a live chat in real-time to make the process as seamless as possible.
Criteria to Consider When Choosing a Chatbot for WordPress
Automatic Setup
When choosing a chatbot for WordPress, make sure the bot is easy to set up and train. The quicker you can build and customize the bot, the more time you'll have to focus on more complex aspects of your business. For example, many chatbot tools offer no-code builders and pre-made templates to simplify your chatbot creation.
Artificial Intelligence Technology
NLP and ML help chatbots detect customer intent and generate accurate responses to user concerns. Without this artificial intelligence technology, your bot will struggle to follow conversations and resolve tickets. Opt for a chatbot that uses advanced AI to ensure high-quality support.
Integration Capabilities
Finally, your chatbot should integrate with your other tools and systems for a more unified workflow. Make sure to choose a WordPress chatbot that supports various third-party integrations, including different web hosting platforms, CRMs, and so on.
5 Best Chatbots for WordPress Websites 2023
Now that we've covered the basics of WordPress chatbots, let's move on to discussing the best chatbot tools for your WordPress sites.
In this list, we'll be going over each chatbot's key features, pricing, and pros and cons to help you decide which one best suits your professional needs.
Here's a quick look at the chatbots we'll be covering:
1. Chatling
Best Overall Chatbot for WordPress
Chatling lets you add personalized AI chatbots to any WordPress website without any code. Instantly respond to customers with accurate replies round-the-clock to boost deflection and resolution rates by up to 50%.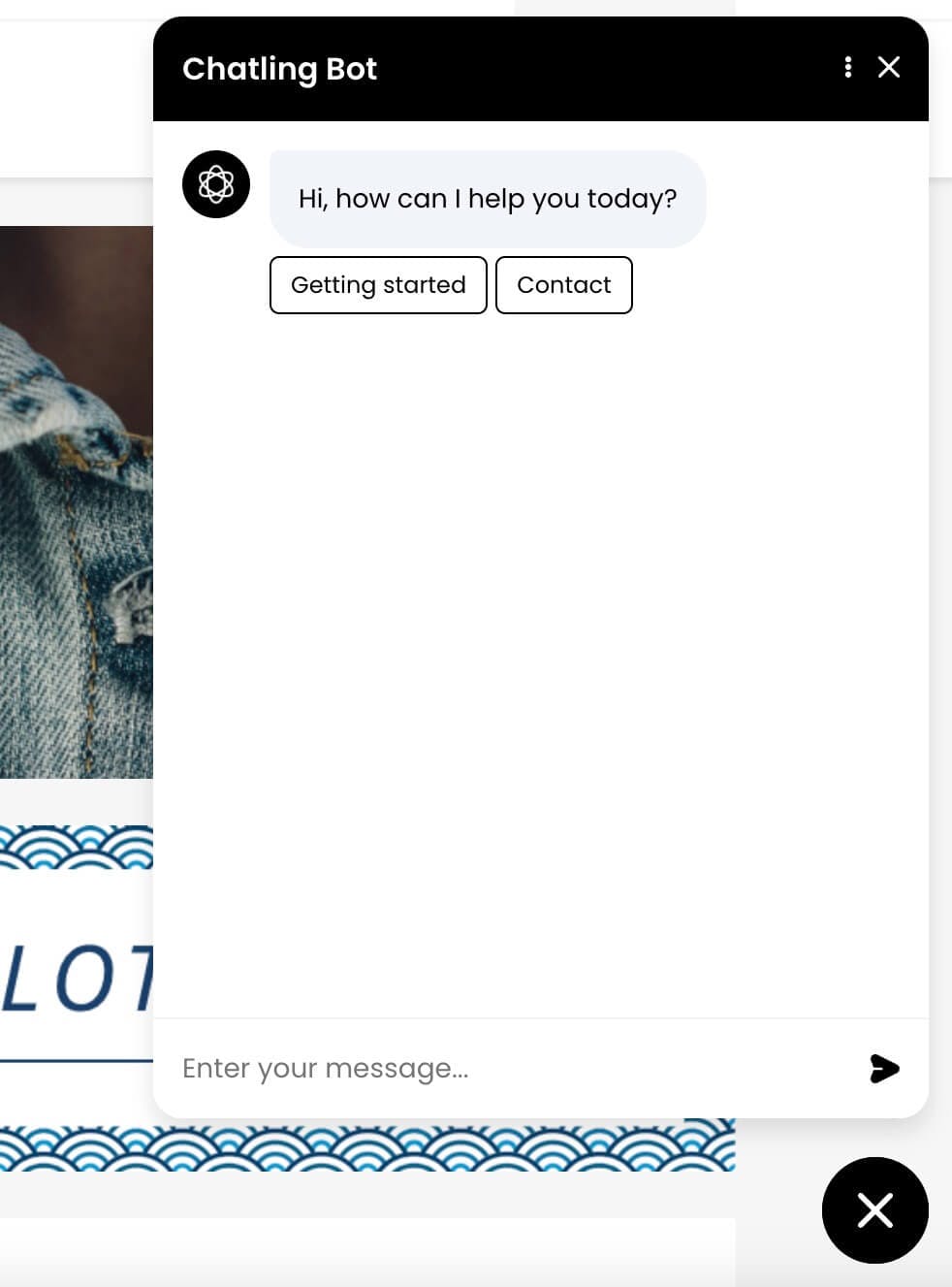 Your Chatling chatbot is trained on your business' data, so it can reliably answer customer questions and direct them to resources. You can train your bot with a variety of different data sources, including documents, URLs, sitemaps, and more — simply enter the resources and watch your bot train itself in minutes.
Our chatbots are also able to respond in different languages, allowing you to provide multilingual support to customers across the globe.
Key Features
Add Data Sources: Train your chatbot using data sources such as FAQs, sitemaps, documents, and website content. Enter URLs, upload files, or manually input text for your chatbot to automatically ingest. You can add as many resources as you'd like — the chatbot should complete its training in just a few minutes.
Customize the Chatbot: Edit your chatbot widget's design to suit your website theme. Customize your logo, text color, chat box width, and more.
Embed on Your Website: Integrate your chatbot onto any number of websites instantly without writing a single line of code.
Get Insights from Conversations: Track conversations to monitor your chatbot's performance and gain insight into what customers are requesting. Identify any inaccuracies in your AI-powered responses and fine-tune your bot with further training if necessary.
Multilingual: the chatbot can automatically understand and respond to user questions in over 100 languages.
Collect leads: display forms within the chatbot to collect leads' information, such as their name, email address, website URL, and more.
Pricing
Chatling has a free plan available, which comes with 1 chatbot, 35 AI message credits (i.e., AI responses), 500,000 training characters, and 5 file uploads (1 MB file size). We also allow you to integrate your chatbot onto an unlimited number of websites regardless of which plan you choose.
If you want access to more chatbots and credits along with full chatbot customization, upgrade to one of our paid plans:
Basic ($15/month)
Pro ($35/month)
Ultimate ($99/month)
Business ($299/month)
Premium features include GPT-4 access, unlimited file uploads, and branding removal.
Pros & Cons
Pros
Free plan.
Unlimited chatbots.
Full chatbot customization.
Automatic setup.
GPT-4 access.
Supports multiple data sources.
Monitor chatbot conversations.
Unlimited websites available on every plan.
Boost deflection & resolution rates.
Multilingual support.
24/7 availability.
No-code chatbot integration.
Reduces support workload & ticket volume.
Cons
No live chat available yet.
2. Tidio
Best for Increasing Customer Conversions
Tidio is a customer service platform designed to help businesses build AI-powered chatbots that simplify customer service.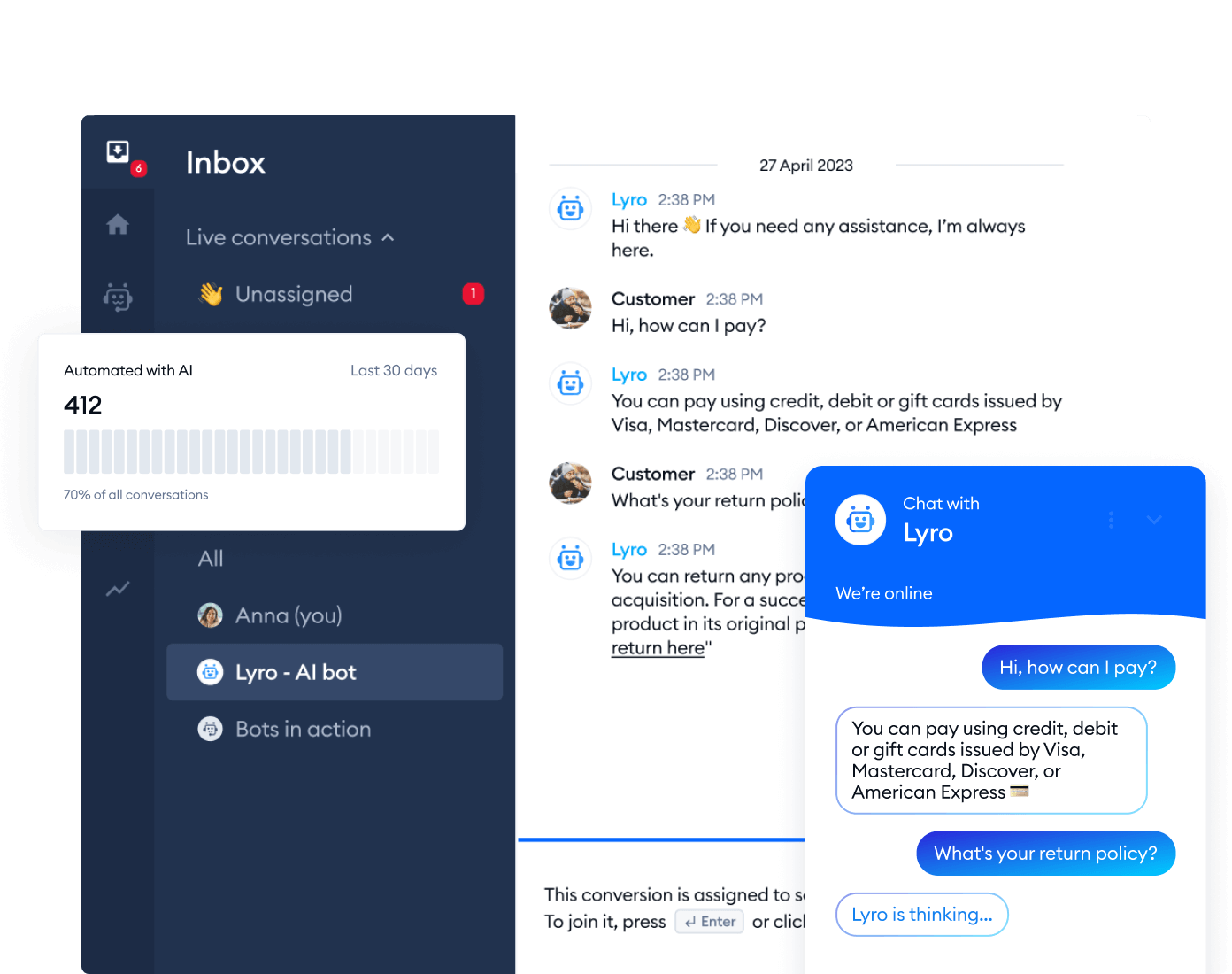 With Tidio, you can build chatbots quickly using 35+ pre-defined templates. You can also write answers for commonly asked questions and Tidio will deliver those responses when customers ask similar questions.
Finally, Tidio also allows you to qualify leads and collect user data to better inform your marketing campaigns.
Key Features
Lead Generation: Automatically gather and qualify leads based on their user behavior on your site. Collect customer emails for your marketing campaigns and greet users with customized messages to increase conversions.
Product Recommendations: Suggest products that suit customer interests and offer free shipping for certain thresholds to increase your average order value. Your chatbot uses customer purchase histories or product page visits to determine the best product recommendations.
Automated Discounts: Offer discounts to customers when they view their cart to reduce cart abandonment and boost your sales.
Pricing
Tidio provides a free plan as well as five premium subscriptions:
Starter ($29/month)
Communicator ($25/month/seat)
Chatbots ($29/month)
Chatbots & Communicator ($29/month + $25/month/seat)
Tidio+ (starts from $394/month — custom pricing)
Free features include 100 chatbot triggers, 3 agent seats, and 50 chatbot conversations. If you upgrade to a paid plan, you get advanced analytics, up to 40,000 chatbot triggers, and more user seats.
Pros & Cons
Pros
Free plan.
Custom plan.
Unlimited tickets.
Supports many third-party integrations.
Analytics.
Chat widget customization.
Chatbot triggers.
Canned responses.
Automated email marketing.
Automated satisfaction survey.
Cons
Limited seats for every plan except Tidio+
AI-powered conversations (Lyra AI) cost extra (optional add-on).
Limited chatbot conversations & triggers for every plan except Tidio+
3. Smartsupp
Best for Reducing Support Volumes
Smartsupp reduces your support ticket volume with fast responses, 24/7 availability, and real-time order updates (for Shoptet).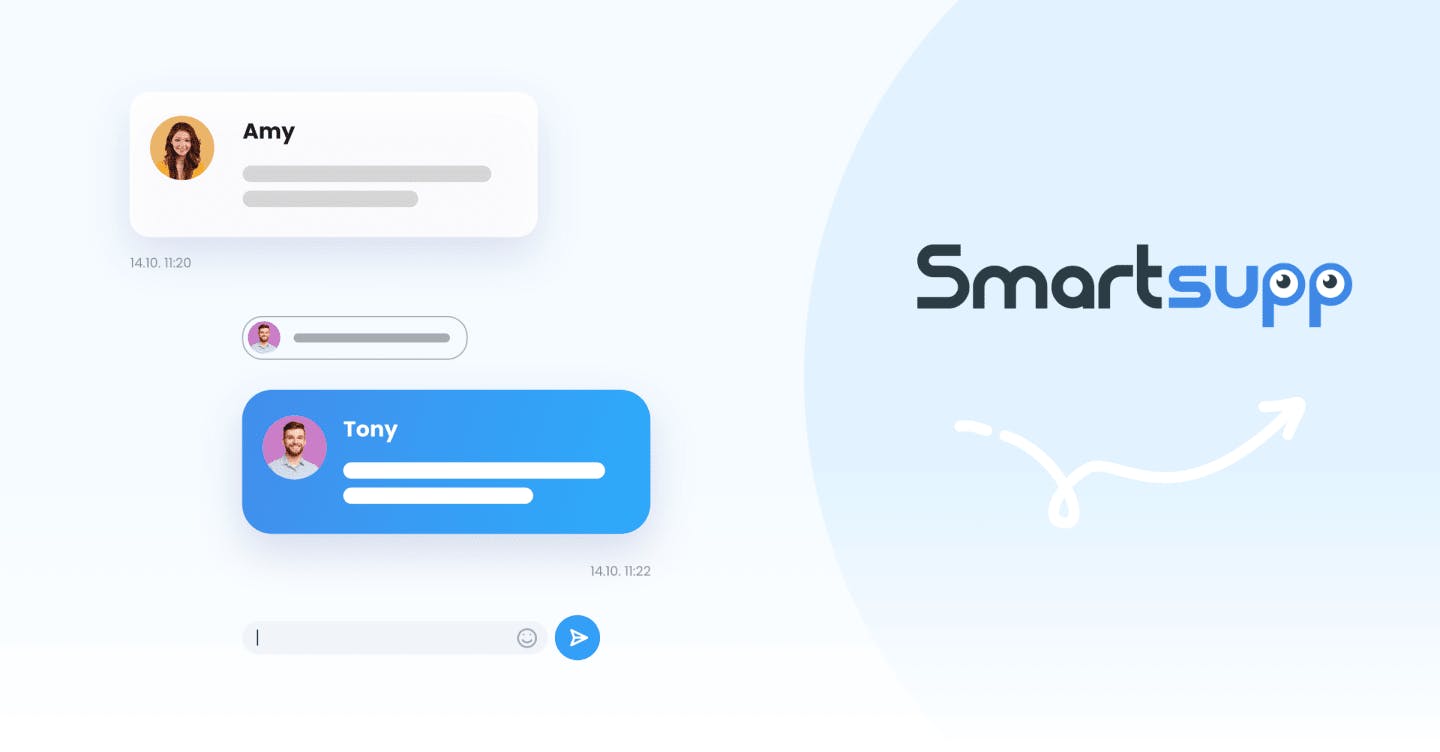 Easily set up your AI bot using their chatbot templates and start serving customers with AI-powered product suggestions, package tracking, FAQ answers, and more.
Key Features
Promote and Upsell Products: Provide customers with an AI sales assistant to help guide them through their shopping journey. Allow customers to easily find what they're looking for using a series of menu options via your AI chatbot.
Acquire Customer Details: Collect valuable customer details and use that information to decide which menu options to offer users. This helps you gain a better understanding of your target demographic and helps further optimize your AI-powered sales guidance.
Filter Inquiries: Prioritize the use of chatbots for initial user interaction to qualify leads and filter out irrelevant requests. Only significant inquiries will be forwarded to human agents, streamlining customer support workflows and achieving faster resolution rates.
Pricing
Smartsupp offers a completely free plan, which comes with 1 agent seat, live chat, and 100 conversations per month.
If you wish to access AI chatbots, however, you have to subscribe to their paid plans:
Standard ($19.50/month)
Pro ($48/month)
Ultimate (custom pricing)
With their premium plans, you receive 100-500 chatbot conversations/month (upgradable to 10,000/month), up to 5 automatic messages, and multilingual support.
Pros & Cons
Pros
Free plan.
14-day free trial.
Custom pricing.
Automatic messages.
Lead generation.
Chatbot customization.
Multilingual bots.
Analytics.
Track visitors in real-time.
Automatically tag and organize conversations.
Cons
Limited chat history.
Limited chatbot conversations for every plan except Ultimate.
No AI support on the free plan.
4. Collect.chat
Best for Lead Collection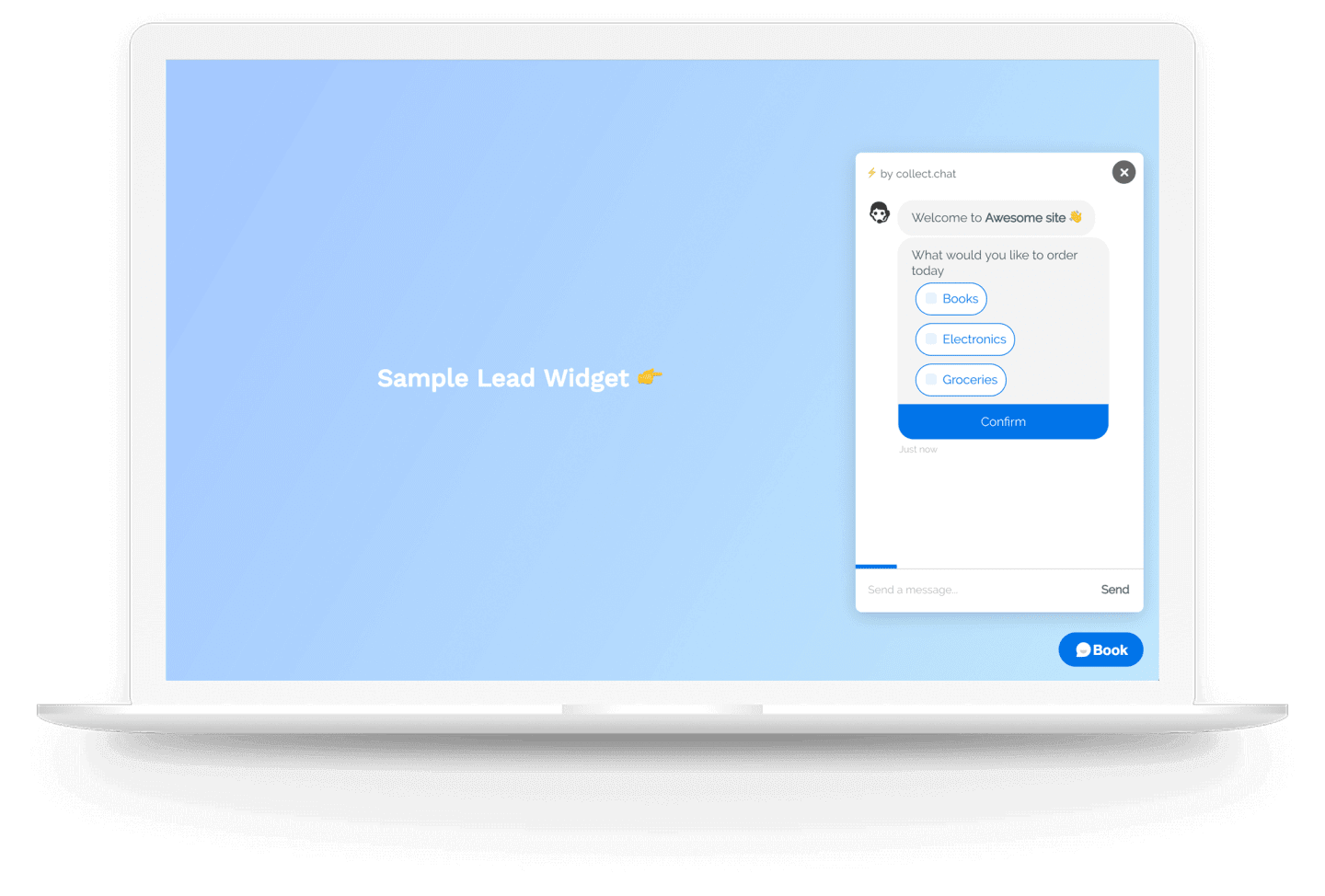 Collect.chat improves your lead collection with mobile-optimized AI chatbots in place of passive forms. Gather feedback more efficiently and gain insight into customer opinions and satisfaction as well as analytics about your conversions.
Utilize their drag-and-drop tool to customize your bot, install your chatbot using the WordPress plugin, and receive instant notifications via email and the Collect.chat dashboard.
Key Features
Drag-and-Drop Builder: Create your chatbot in minutes using their no-code visual builder. Choose from dozens of templates and share or install your bot using share links, WordPress plugins, or HTML code.
Book Meetings: Allow customers to book meetings via your chatbot to fully automate the process. All appointments will be added to your calendar with reminders set to ensure you never miss a meeting.
Integrate with Apps: Connect Collect.chat with over 100 third-party apps, which includes Mailchimp, Salesforce, and Slack — no coding expertise needed.
Pricing
Collect.chat has a free plan along with three paid subscriptions:
Lite ($18/month)
Standard ($35/month)
Plus ($69/month)
With their free plan, you gain access to unlimited bots, 50 responses/month, and automated appointment bookings. As you upgrade to their paid subscriptions, you get up to 5000 responses/month, third-party integrations, and custom domains.
Pros & Cons
Pros
Free plan.
Unlimited bots on every plan.
Notification email routing.
Campaign tracking.
Custom domains.
Chatbot insights available on every plan.
Automated appointment bookings.
Third-party integrations.
Both monthly and annual billing options.
Team collaboration.
Cons
No custom pricing.
Limited AI responses per month.
No third-party integrations available on the free plan.
5. Zendesk
Best for Detecting Customer Intent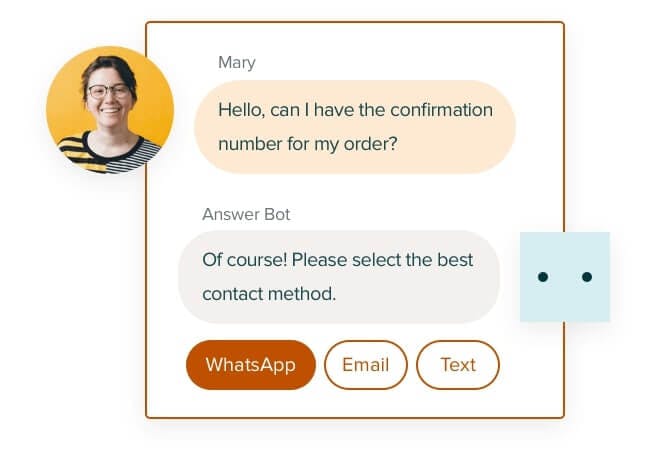 Zendesk provides agents with AI-powered suggestions during conversations to optimize customer support.
The chatbot detects user intent along with other customer details to provide agents with all the context they need before the conversation even starts. Zendesk AI also helps organize and prioritize support tickets across both email and messages to reduce manual sorting.
Key Features
Detect Intent: Agents receive AI response suggestions based on customer intent. Zendesk showcases key insights to help agents understand customer queries and provides them with suggestions, such as article recommendations, in real-time during conversations.
Gather Customer Details & Automate Repetitive Tasks: Use chatbots to collect details from customers, including emails, names, and intent (issue type). Zendesk organizes and handles repetitive or low-level requests, so agents can focus on more complex problems.
Seamless Agent Transfer: If your chatbot struggles to resolve a customer query on its own, it will automatically transfer to the right human agent without any need for manual intervention.
Pricing
To access Zendesk AI, you need to subscribe to one of their Zendesk Suite plans:
Suite Team ($49/agent/month)
Suite Growth ($79/agent/month)
Suite Professional ($99/agent/month)
Suite Enterprise (custom pricing)
Suite Enterprise Plus (custom pricing)
Their cheaper plans offer basics such as prebuilt analytics dashboard, standard bots, and predefined responses. As you upgrade to their pricier plans, you get more advanced AI, multilingual support, and a self-service customer portal.
Pros & Cons
Pros
Free trial.
Custom pricing.
Over 1000 integrations available.
Analytics dashboard.
Self-service customer portal.
CSAT ratings.
Custom triggers & automation.
Skill-based routing.
Automatically identify common topics from customer requests.
Integrated ticketing system.
Cons
No free plan.
Advanced AI costs extra (add-on).
No multilingual support for the cheapest plan.
Conclusion
While WordPress is a great website builder for those on a budget, it lacks any chatbot functionality. It's difficult to handle all your customer requests manually, especially if you're aiming for fast response times, so it helps to automate these workflows with your own chatbot.
Luckily, Chatling allows you to embed personalized AI bots onto any site instantly without any coding. Reduce support volumes with automated conversations and boost resolution rates by up to 50%.
Try Chatling for free today to start streamlining your customer support with intelligent AI chatbots.