Delivering consistently high-quality customer support on your Squarespace site can be a challenge—especially when scaling your business. Agents can only review and respond to so many support tickets at once, after all!
Luckily, chatbots are here to help.
With the right chatbot, you can automate most of your customer support tasks and free up time for more complex, high-level problems. But which one should you choose?
In this article, Chatling will be helping you answer that very question with our top five picks for the best chatbots for Squarespace sites.
Read on to find out more.
What Is a Chatbot for Squarespace?
Chatbots are tools that use natural language processing (NLP) and artificial intelligence (AI) to analyze messages from customers and respond with relevant responses (either preset or generated on-the-fly).
When integrated with a Squarespace site, the applications are endless—you can use these chatbots to:
Capture lead information conversationally
Respond to common questions without burdening support staff
Route customers to the right agent
Provide customer service without downtime
Chatbots like Chatling are trained on your business' data sources to give them access to relevant, accurate information. They're also typically no-code tools, meaning it's easy for anyone to implement them on a Squarespace site without technical know-how.
Why Are Chatbots for Squarespace Important?
24/7 Customer Support
Chatbot apps help you provide instant responses to customer requests at any time of the day. You can resolve small problems or answer simple queries much quicker than if you were to respond manually with a human agent.
Saves Time and Resources
An AI chatbot designed for Squarespace handles small-scale repetitive tasks, allowing your staff to focus on more complex issues. This enhances your overall ticket resolution rate and minimizes the risk of backlog.
Understanding Your Customers
Chatbots can also help you analyze user data to understand areas where customers are struggling, how you're failing to meet their needs, and what changes need to be made to better serve them.
You Build Customer Relationships
Utilizing multilingual chatbots is great for expanding your business and building customer loyalty. If you provide support in a user's preferred language, they'll feel more comfortable communicating their issues. Nurturing these customer relationships helps improve user satisfaction and reduces the likelihood of churn.
Criteria to Consider When Choosing a Chatbot for Squarespace
Multi-Channel Support Options
Your chatbot should work well with Squarespace and integrate with other third-party apps your customers might use to seek out support.
For example, Chatling offers third-party integrations with platforms like Squarespace and WordPress as well as channels like WhatsApp, Messenger, and Slack (coming soon).
Pricing Structure
Make sure you look into each tool's pricing structure to make sure it can support your needs now and in the future.
Tools like Chatling use tiered pricing where higher tiers offer more advanced features and higher limits. When you need to upgrade, changing your plan is as easy as clicking a button.
Alternatively, chatbots like Ada offer personalized plans tailored to your specific requirements. Rather than adhering to predefined pricing structures, costs are determined based on the features you need and the size of your business.
Automate Many Activities
Finally, consider the chatbot's features and how many activities it can automate.
For example, Tidio's AI chatbot automates answers to questions about orders, product availability, and returns so customers can be fully informed about your service without the need for manual input.
5 Best Chatbots for Squarespace
Now that we've gone through some of the basics behind AI chatbots, it's time to discuss the best chatbot for Squarespace websites.
In this list, we cover basic details such as pricing plans and key features to ensure you receive all the information you need to make an informed choice.
For those in a hurry, here's a quick look at the different chatbots we'll be discussing:
1. Chatling
Best Overall Chatbot for Squarespace
Chatling allows you to integrate your own personalized AI chatbot onto any website without writing a single line of code.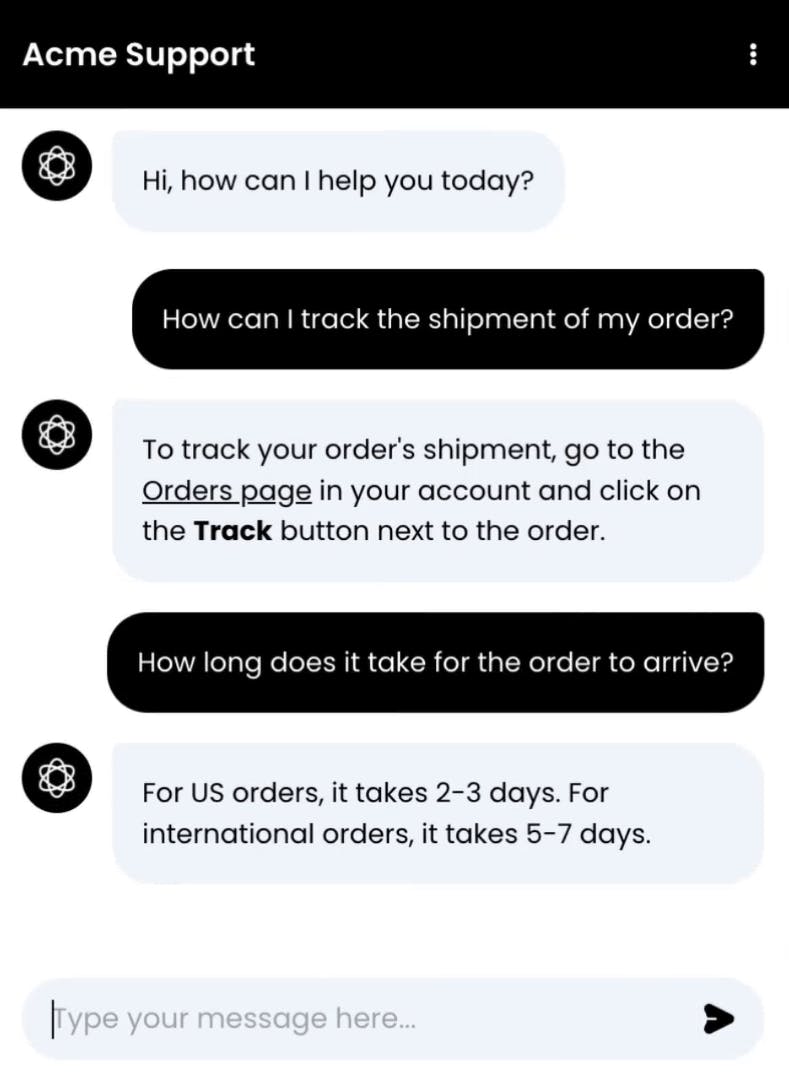 Chatling's AI chatbots are trained on your business's data sources — website content, knowledge bases, documents, sitemaps, and more — to reliably answer a wide range of customer questions. Just connect your data sources and watch as your chatbot trains itself in minutes.
Chatling chatbots also offer multilingual support, so you can communicate with customers from around the world.
Key Features
Add Data Sources: Enter data sources to train your chatbot. We support many resources, such as sitemap or website URLs, FAQs, and custom text. Add as many as you'd like, and the bot should start automatically consuming the data and train itself within minutes.
Customize the Chatbot: Personalize your chatbot widget's appearance to match your branding or website design. Edit the text color, bot icon, chat box width, and more.
Embed on Your Website: Implement your chatbot on any Squarespace website instantly without writing a single line of code.
Detailed analytics: Gain insights into the performance of the chatbot and monitor its effective with key metrics.
Multilingual: Automatically detects and responds in the same language as the user.
Get insights from conversations:Track conversations to gain insight into customer intent and analyze your chatbot's performance to see if it's providing accurate answers.
Pricing
Chatling has a completely free plan available, which provides you with 1 chatbot, 500,000 training characters, 35 AI message credits (1 credit = 1 AI response), and the ability to implement your chatbot on an unlimited number of sites.
If you're looking for more chatbots, credits, and training characters along with full chatbot customization, subscribe to one of our premium plans:
Basic ($15/month)
Pro ($35/month)
Ultimate ($99/month)
Business ($299/month)
Our paid plans also give you access to GPT-4, removed branding, and unlimited file uploads (for training your chatbot).
Pros
Free plan.
Unlimited file uploads.
Unlimited chatbots.
Unlimited websites for every plan.
No-code chatbot implementation.
Automatic setup.
Multilingual support.
24/7 availability.
Full chatbot customization.
Cost-effective solution.
GPT-4 access.
Multiple data sources supported.
Track chatbot conversations.
Increases deflection & resolution rates.
Lessens ticket volume & support workload.
Cons
Limited file size.
No custom pricing.
Limited AI message credits.
2. Tidio
Best for Boosting Sales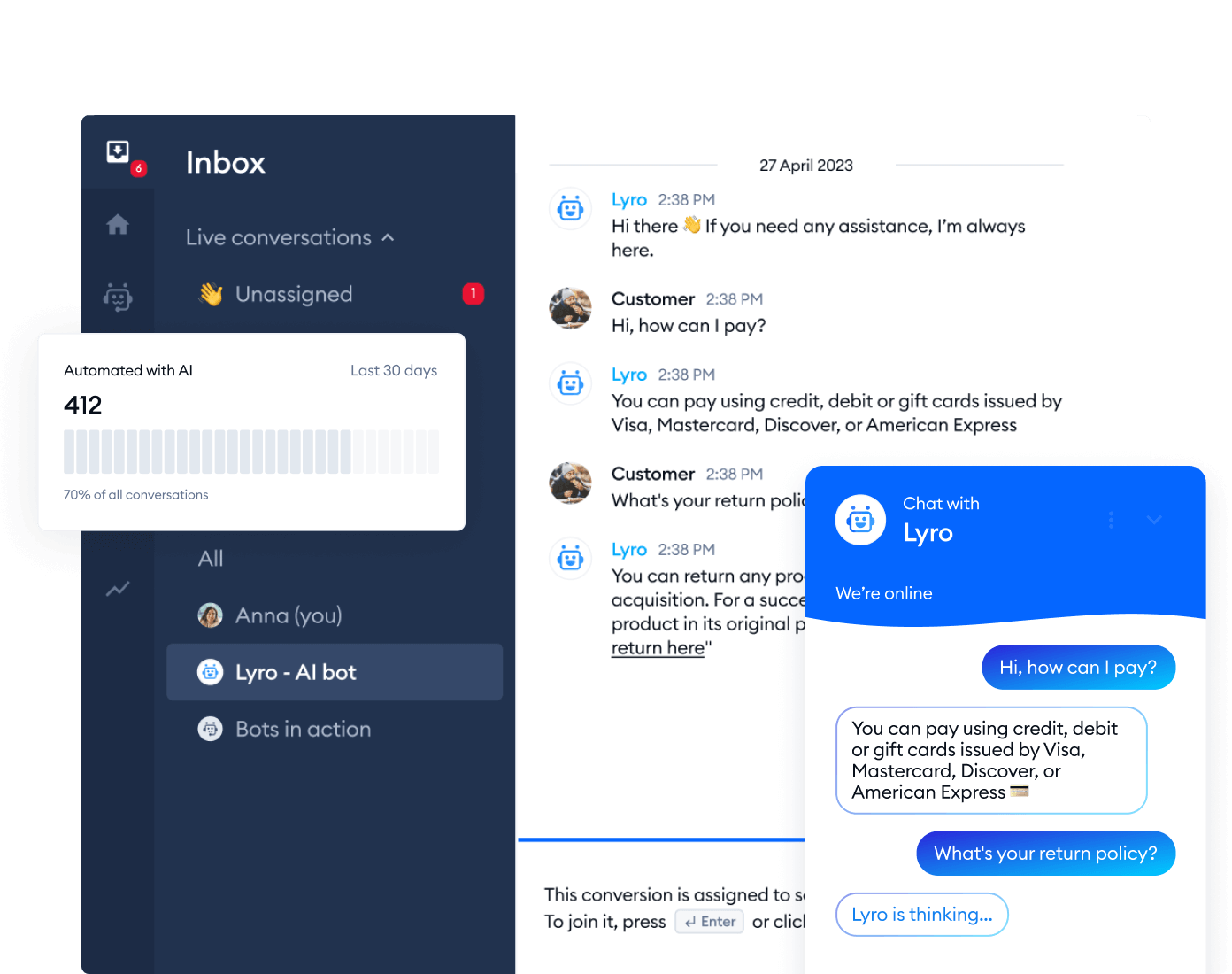 Tidio helps boost your sales with various automated workflows for proactive customer support, including helping with payments, offering discounts, and recommending products to customers. Easily set up your AI chatbot with over 35 pre-made templates, and collect information from your customers with goodbye surveys to better understand their wants and needs.
Key Features
Proactive Support: Reach out with help before customers contact you with on-page triggers.
Product Recommendations: Provide personalized product recommendations based on what customers have viewed or already bought on your website to increase your average order value. You can also offer free shipping for certain price thresholds, so customers are more likely to add extra items to their cart.
Automated Discounts: Automatically offer customers discounts when they view their cart to minimize cart abandonment.
Pricing
Tidio offers a free plan along with five paid subscriptions:
Starter ($29/month)
Communicator ($25/month/seat)
Chatbots ($29/month)
Chatbots & Communicator ($29/month + $25/month/seat)
Tidio+ (starts from $394/month — custom pricing)
With the free plan, you get 50 chatbot conversations, 100 chatbot triggers, and 3 agent seats. If you purchase their premium plans, you can access up to 40,000 chatbot triggers, custom seats, and analytics.
Pros
Free plan.
Custom pricing.
Analytics.
Widget customization.
Unlimited tickets.
Various third-party integrations.
Chatbot triggers.
Automated email marketing.
Canned responses.
Automated satisfaction survey.
Cons
Costs extra to remove branding (optional add-on).
Limited seats for every plan except Tidio+
Limited chatbot conversations & triggers for every plan except Tidio+
3. BotPenguin
Best for Automated Appointment Bookings
BotPenguin lets customers book appointments and demos conversationally via chatbot. It also keeps your calendars synched so you never miss a meeting.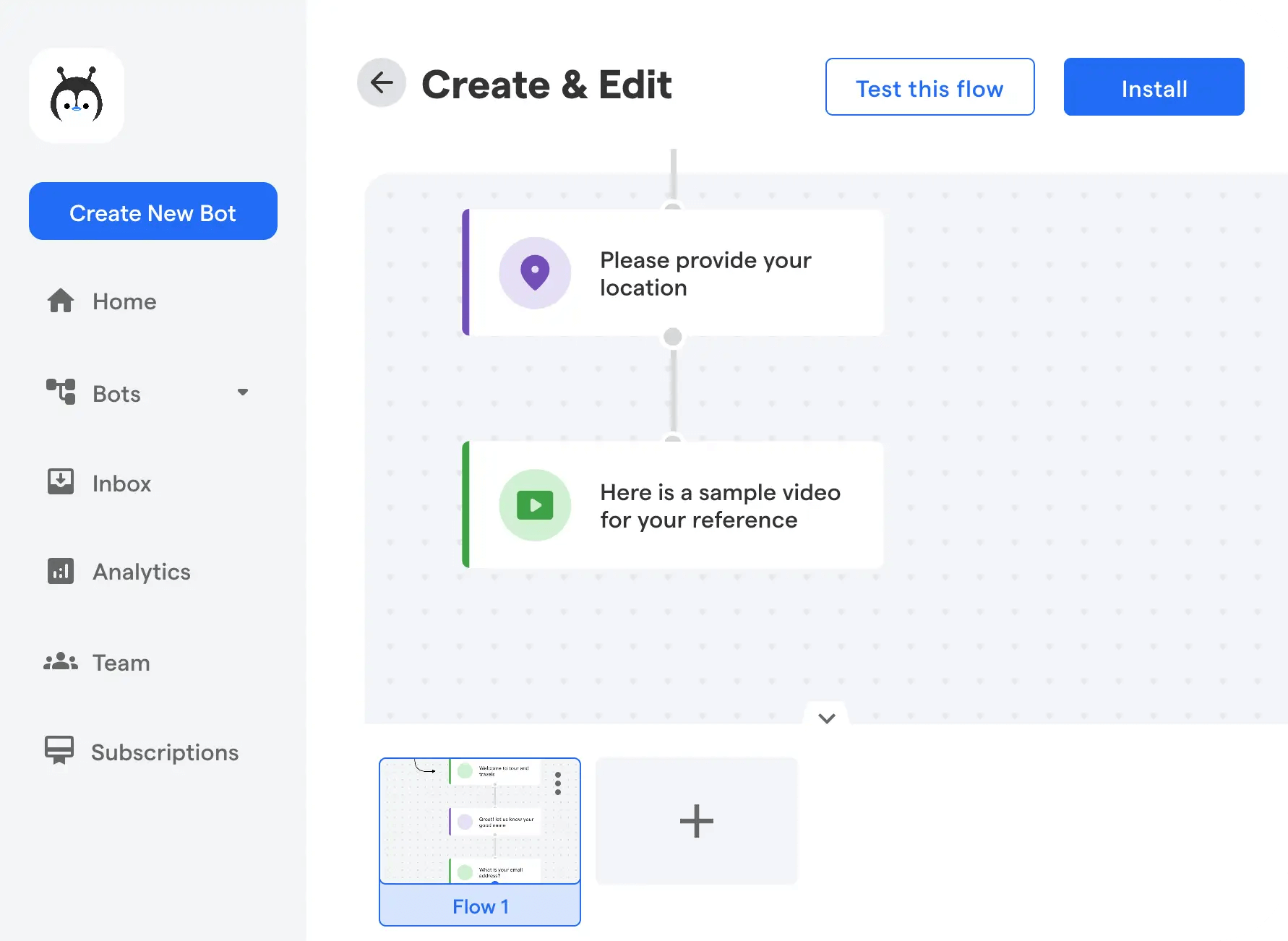 They offer a drag-and-drop builder, templates, and 2-click installation to make implementing your chatbot as simple as possible. Train your chatbot using website data and FAQs to improve its responses.
Key Features
Live Chat & Training: Add a live chat widget to your Squarespace site, so customers can easily access your chatbot. Use your website data when training your bot to teach it how to answer FAQs instantly.
Appointment or Demo Booking: Gather leads with your chatbot and let customers book demos without the need for manual interference. BotPenguin will add appointments to your calendar after bookings are made to keep you up-to-date.
Chatbot Builder: Create a no-code chat with their drag-and-drop builder. Make use of their engaging pre-made templates, and just drag and drop elements to create your own chat flows.
Pricing
BotPenguin is available for free, but you're limited to 1 chatbot and 2,000 messages/month for 1 team member.
For up to 500,000 messages/month, unlimited chatbots, and 3+ team members, you'll have to purchase one of their paid plans:
King ($5 – $200/month for 3,000 to 500,000 messages/month)
Emperor (custom pricing)
Pros
Free plan.
Custom plan.
Multilingual support.
50+ templates.
Unified inbox.
Unlimited bots.
60+ native CRM integrations.
Conversational landing page.
Unlimited data storage.
Customer segments.
Cons
Prices can get expensive for 50,000+ messages per month.
Unlimited messages only available for the Emperor plan.
Removed branding only accessible on the Emperor plan.
4. ChatBot
Best for Personalizing Customer Conversations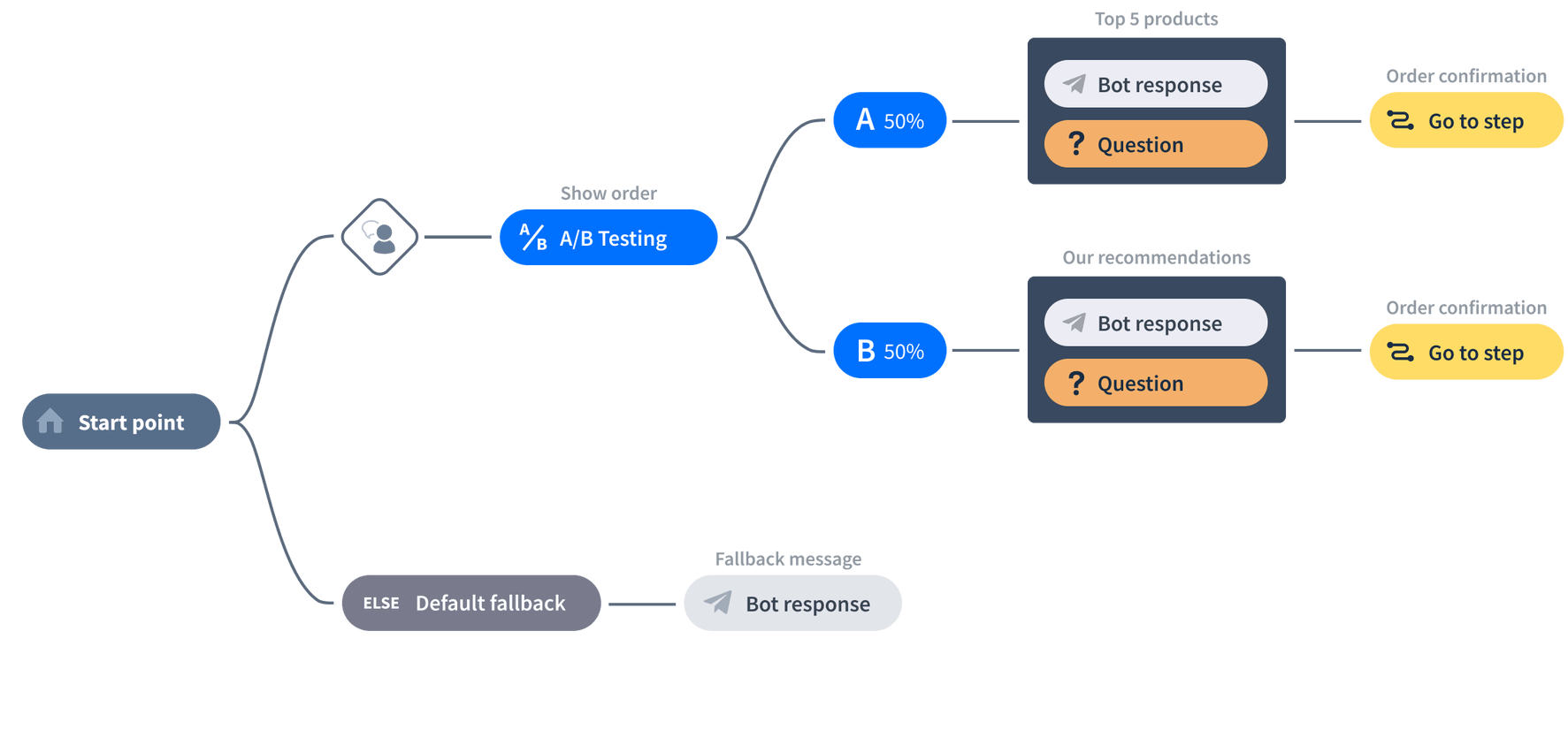 ChatBot comes with a visual chatbot builder so you can easily customize bot responses and personalize customer conversations to your liking. Choose from various chatbot response actions, and simply drag and drop conversation blocks to build different chat flows.
Key Features
Templates: Build and set up chatbots within minutes using ready-to-use templates for various occasions, which includes gathering customer feedback, collecting tickets, and responding to repetitive questions.
Automated Greetings & Personalized Recommendations: Proactively interact with customers using customized greetings to encourage conversations. You can also provide tailored product recommendations and allow customers to order via your chatbot.
Visual Bot Builder: Freely design chatbots with their visual drag-and-drop builder. Test your chat flows using the in-built testing tool before launching the bot.
Pricing
ChatBot offers four different pricing tiers:
Starter ($52/month)
Team ($142/month)
Business ($424/month)
Enterprise (custom pricing)
As you upgrade your plan, you get access to over 5 chatbots, 25,000+ conversations, and full training history. Every subscription, however, comes with unlimited chat flows, various third-party integrations, and chatbot analytics.
Pros
14-day free trial.
Custom plan.
No-code chatbot creation.
Unlimited chat flows for every plan.
Unlimited active chatbots.
Team collaboration.
Version history.
Training history.
Customizable chat widget.
Reporting.
Cons
No free plan.
Expensive prices.
Limited conversations for every plan except Enterprise.
5. Kommunicate
Best for Third-Party Integrations
Kommunicate supports third-party integrations with different NLP or LLM (large language model) tools along with various CRM, messaging, and analytics platforms. Create custom bots with their no-code GUI builder and add your AI chatbot to any site.
Key Features
Codeless Bot Integration: Integrate with no-code chatbot builders like Dialogflow and Amazon Lex to build custom bots with ease.
Customization: Personalize your chatbot logo and color scheme to better suit your branding.
Dashboard: Access all customer conversations from one centralized dashboard. Send chat transcripts to different team members, monitor support tickets across multiple channels, and customize role assignments and access permissions to organize your ticket resolution.
Pricing
Kommunicate has three paid tiers:
Lite ($100/month)
Advanced ($200/month)
Business (custom pricing)
The Lite plan offers basic features such as bot integrations, bot-to-human hand-off, and simple reporting. With the pricier plans, you receive advanced analytics, unlimited chat history, multilingual support, and generative AI.
Pros
30-day free trial.
Omnichannel support.
Integrates with many third-party tools.
Generative AI.
Lead collection forms.
Chat transcripts.
Multilingual bots.
Bot-to-human hand-off.
Chatbot templates.
Unlimited bots.
Cons
No free plan.
Expensive pricing.
Custom bots are only available on the Business plan.
Conclusion
Squarespace is a great website builder, especially for those looking to start their own online store. However, despite its many useful features, Squarespace lacks any in-built chatbot functionality, so it can be difficult to handle large volumes of support tickets.
Luckily, Chatling allows you to build personalized AI chatbots for any Squarespace site code-free. Implement the bot in seconds to start resolving simple queries without any manual input.
Try our free plan today to get your AI chatbot set up and trained in minutes.