Handling customer requests can be very time-consuming, especially if you receive lots of menial requests or repetitive questions. Fortunately, AI chatbot apps such as Chatling allow you to automate customer interactions, which reduces the workload of your support team and speeds up your resolution rate.
There are many different chatbot apps available, so it can be difficult to narrow down which one will be the best fit for your business. Worry not, though, because we've done the work for you! In this article, we'll be looking at the very best chatbot apps, delving into what makes them great, including the pricing of each, to make your choice easier.
Ready to get started? Let's go!
What are Chatbot Apps?
Chatbot apps are AI software that simulate human speech, which allows them to understand and respond to people in written or spoken conversations, predominately online. You'll often see them appear when you enter a website, where it acts as a customer support agent answering questions, sending reminders, and solving simple queries.
Chatbots use machine learning and natural language processing (NLP) to analyze data and improve their method of speaking. You also have the option to set rules for your chatbot app to control certain responses. For instance, you can make your chatbot say a custom welcome message whenever someone visits your site.
Why are Chatbot Apps Important?
Provide Customer Support 24/7
Chatbot apps are programs that don't require sleep, so they can stay online and provide customer support 24/7. This can reduce waiting times and elevate customer satisfaction since you're able to resolve issues round-the-clock.
Increase Sales
Chatbot apps are also capable of automating marketing activities, such as giving product recommendations or offering discounts to customers. You can also send reminders about abandoned baskets after a certain period of time to increase the chances of conversion.
Reduce Costs and Boost Operational Efficiency
Chatbot apps reduce the amount of work your support team has to handle, which means less staff is required. You can avoid having to hire more staff while increasing the efficiency of your ticket resolution with automated workflows.
Criteria to Consider When Choosing Chatbot Apps
Scalability and Performance
Your chatbot apps should provide accurate responses to customer queries and resolve issues quickly. You should also have the option to scale up in case you require more features as your business grows.
Personalization
The best AI chatbot apps offer some level of customization, from personalizing their responses to editing their appearance. You should be able to tailor the chatbot to suit your business and deliver personalized user experiences. For instance, with Chatling, you're in complete control over the design of your chatbot. You can change the chatbot image icon, its colors to match your branding and even change the size of the textbox onscreen.
Confidentiality and Security
Chatbot apps collect a lot of sensitive customer data, so it's essential for them to have some form of data protection and security in place to prevent leaks from occurring.
Best Chatbot Apps for Automated Customer Service
Now it's time to discuss the best chatbot apps for automating your customer support. For each app, we've detailed its key features and pricing options to make it easier for you to decide which one best accommodates your professional needs.
For those in a hurry, here's a brief look at the chatbot apps we'll be talking about:
#1: Chatling: Best for Customizable AI Chatbots & Instant Responses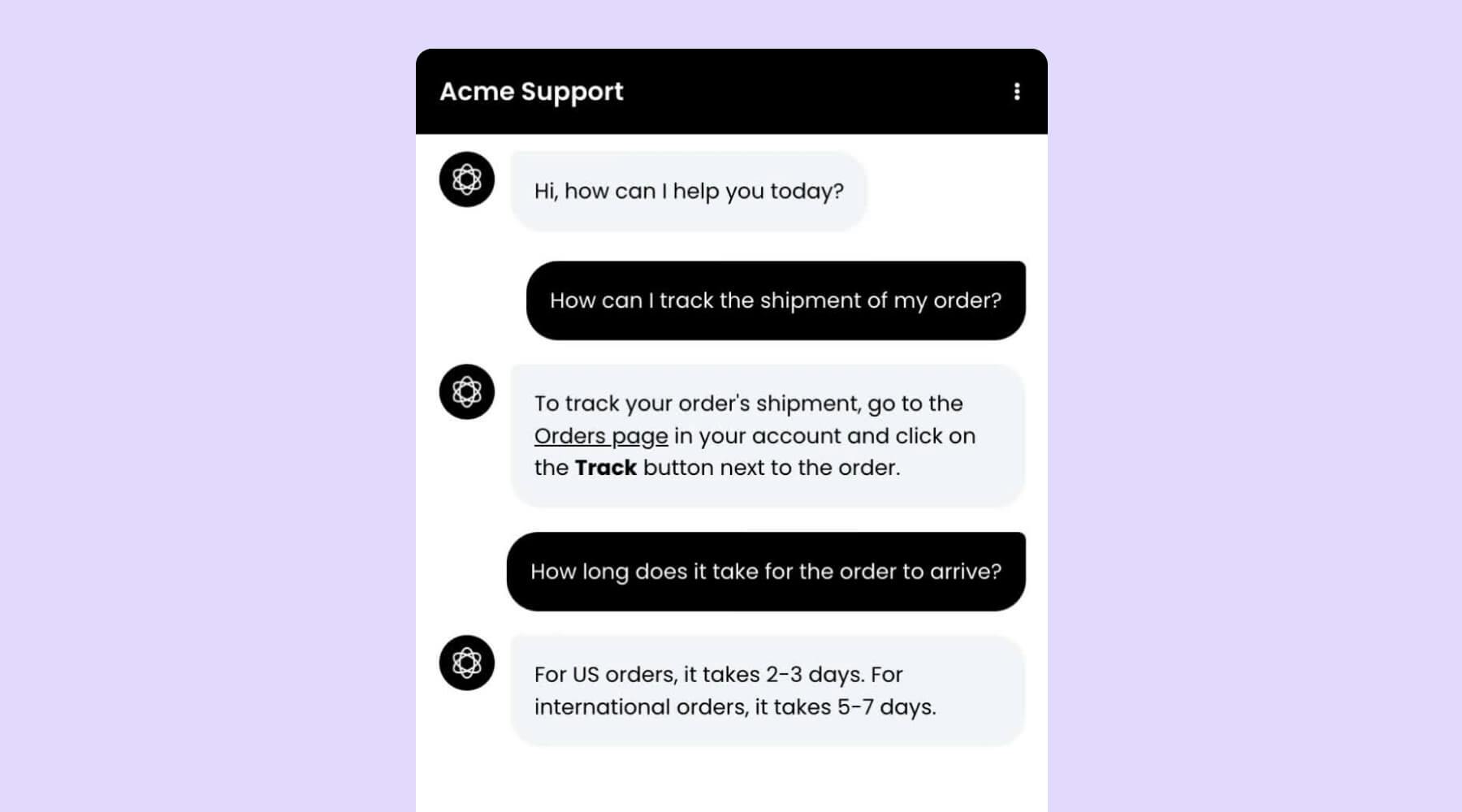 Chatling provides you with your own personalized AI chatbot, which helps boost ticket resolution rates by up to 50%. Train your chatbot using various data sources, such as website content, knowledge bases, documents, and custom text. You can also customize every design aspect to match your brand's image and deliver instant responses to customers in multiple languages with our multilingual chatbots.
Key Features
Add Data Sources: Input resources for your chatbot to consume and learn from. We support multiple types of data sources, including website URLs, sitemaps, FAQs, and custom text. You can enter as many sources as you'd like — the chatbot will start digesting the information and training itself automatically.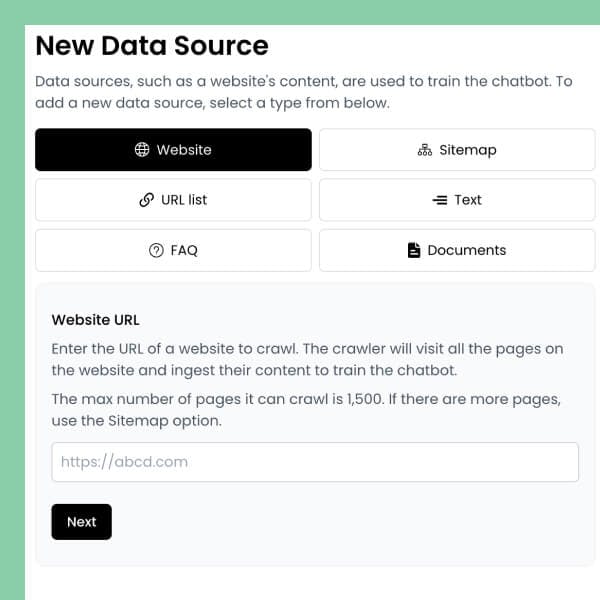 Customize the Chatbot: Edit the chatbot's appearance to suit your branding and configure it according to your business needs.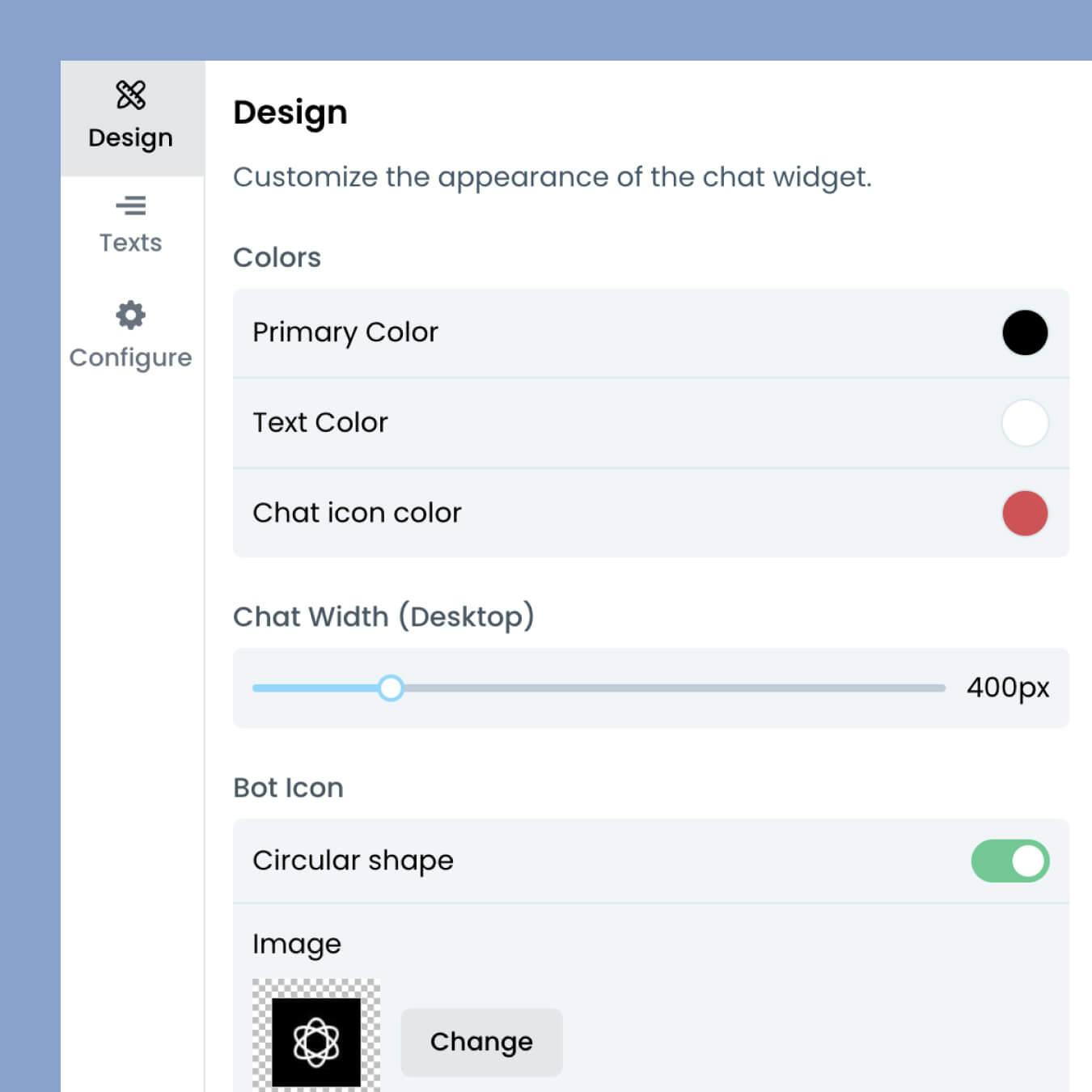 Embed on Your Website: Implement the AI chatbot on your website instantly without writing any code.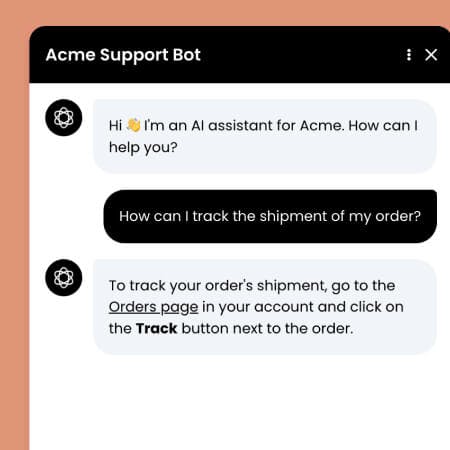 Get Insights From Conversations: View all your AI conversations to see how your chatbot is performing. Learn what customers are requesting and assess the accuracy of the bot's responses.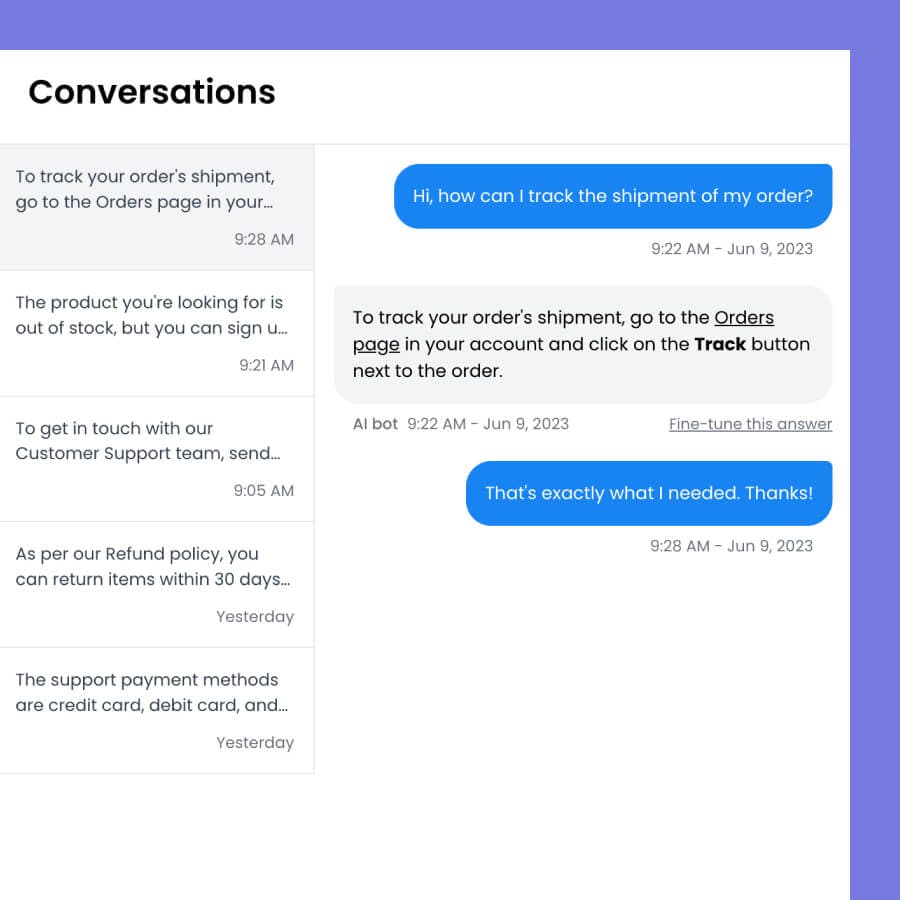 Pricing
Chatling has a free plan available, which offers 1 chatbot, 35 AI message credits (1 credit = 1 AI response), and 500,000 training characters. We also provide paid plans for those who wish to upgrade their number of credits (up to 50,000), characters (up to 15 million), and bots (25+):
Basic ($15/month)
Pro ($35/month)
Ultimate ($99/month)
Business ($299/month)
Premium features also include GTP-4 access, full chatbot customization, and removed branding.
Pros and Cons
Pros:
Free plan
24/7 availability
Setup within five minutes
Multiple types of data sources supported
Reduced workload for support teams
Higher resolution rates
GPT-4 access
Can embed chatbot to an unlimited number of websites
Create unlimited chatbots
Multilingual support
Upload files such as PDFs to train the chatbot
Track chatbot conversations
Conversational
Cons:
No live chat yet
Integrations are limited
#2: ManyChat: Best for Automated Marketing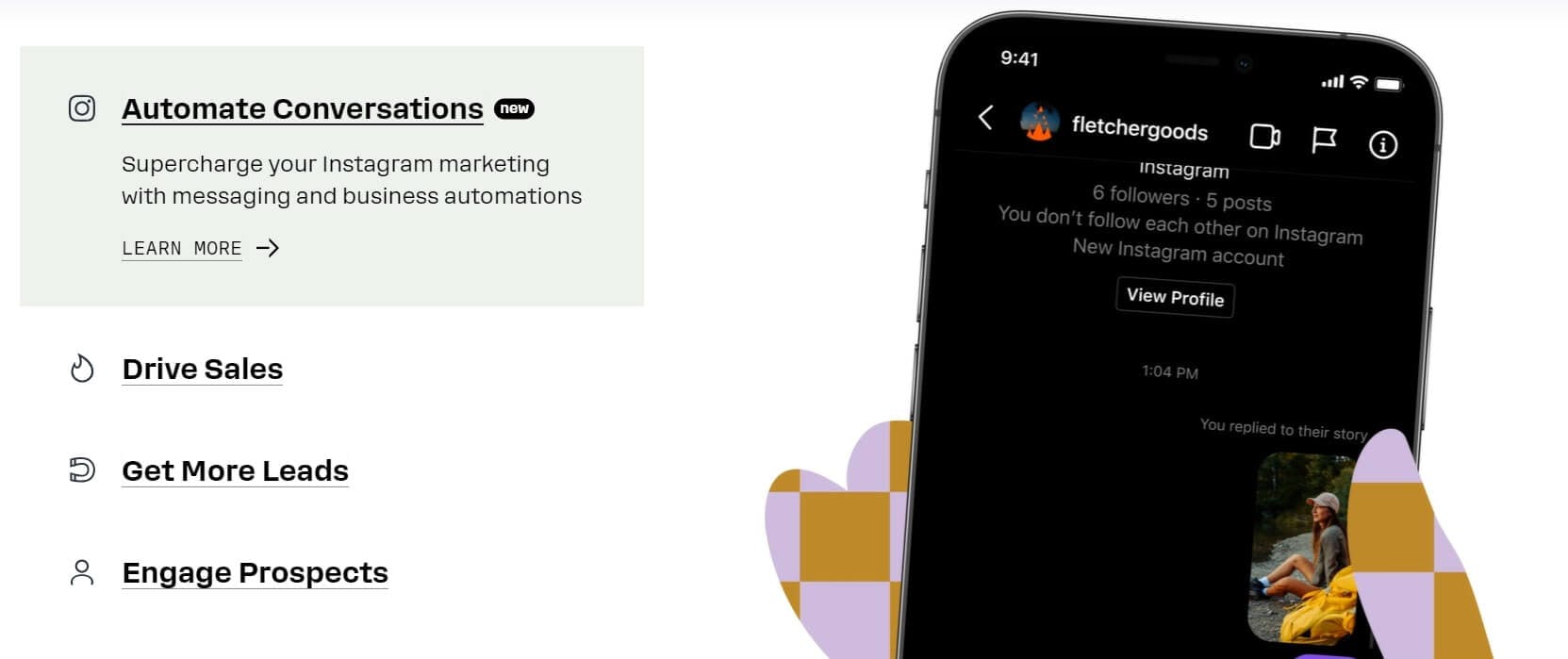 ManyChat allows you to automate your marketing activities via AI-driven social media and SMS conversations. Conduct chat marketing campaigns to boost awareness and deliver personalized experiences with product recommendations to drive conversions.
Easily design your own custom chatbot using their pre-made templates and drag-and-drop builder. You can generate leads, increase sales, and provide instant support on Instagram, Facebook, and WhatsApp channels.
Key Features
Deliver Instant Support: Speed up your customer service with pre-built answers to FAQs. If your chatbot cannot resolve an issue, customers are given the option to contact a human staff member via live chat.
Increase Product Sales: Assist customers in finding the right product through chatbot messaging. Ask about their interests via product quizzes, answer any queries, and send product recommendations to increase the chances of conversion.
Deliver Coupon Codes & Deals: Run messaging campaigns such as automated giveaways, special offers, and contests with your AI chatbot to boost sales. Encourage customers to start conversations with you to generate leads.
Turn Comments into Commerce: Use your chatbot to automatically respond to social media comments to increase online engagement. Answer common queries, suggest newsletter sign-ups, provide recommendations and more.
Pricing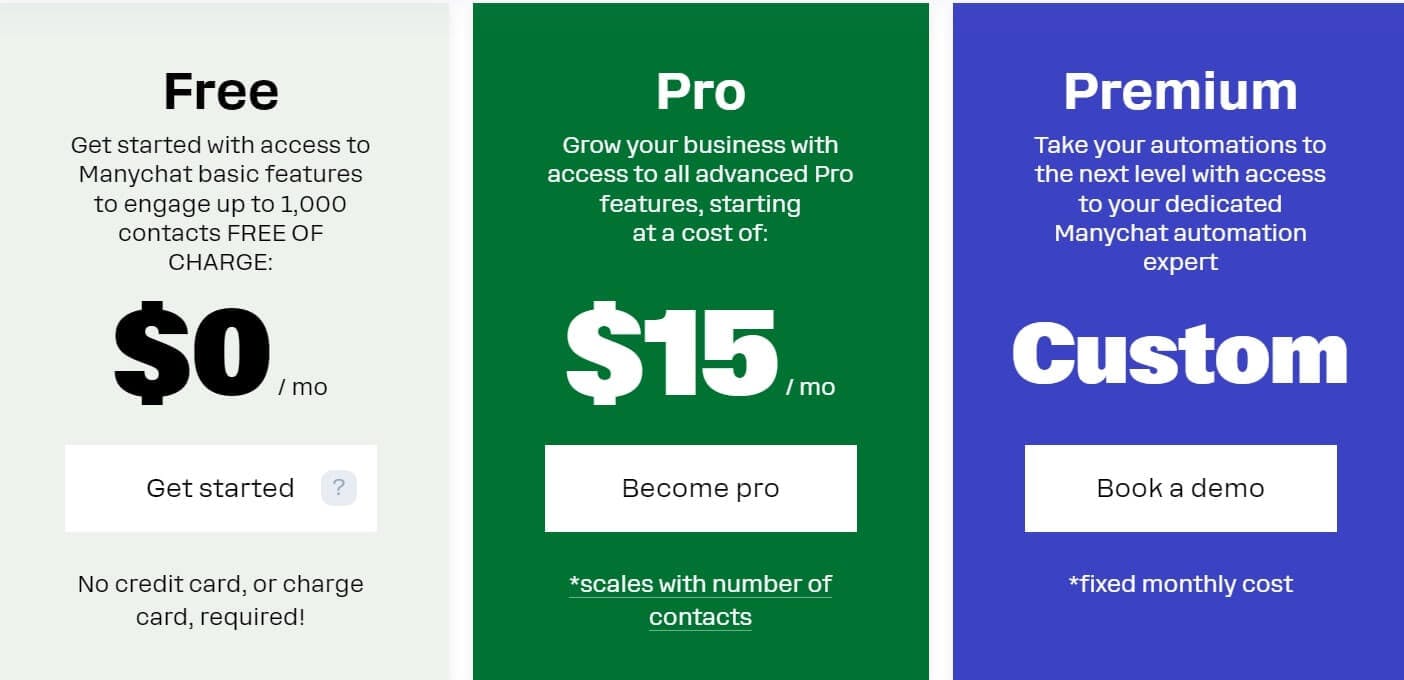 ManyChat offers a free plan along with two paid subscriptions: Pro ($15/month) and Premium (custom pricing). With the free plan, you're able to access key features such as automated conversations (with up to 1,000 contacts), social media integrations, basic growth tools, and user segmentation (10 customer tags).
The paid plans, on the other hand, get rid of any limitations and provide you with SMS and email support. You also receive analytics tools, custom chatbots, and custom integrations.
Pros and Cons
Pros:
Free plan
Custom plan
Social media support
Automated marketing activities
Bot-to-human hand-off
Growth tools
Analytics
Custom-built solutions
Cons:
Custom bots are only available for the Premium plan
Prices increase with your number of contacts (can become quite expensive)
Limited options for customizing chatbot appearance
#3: Verloop.io: Best for Multilingual AI Customer Support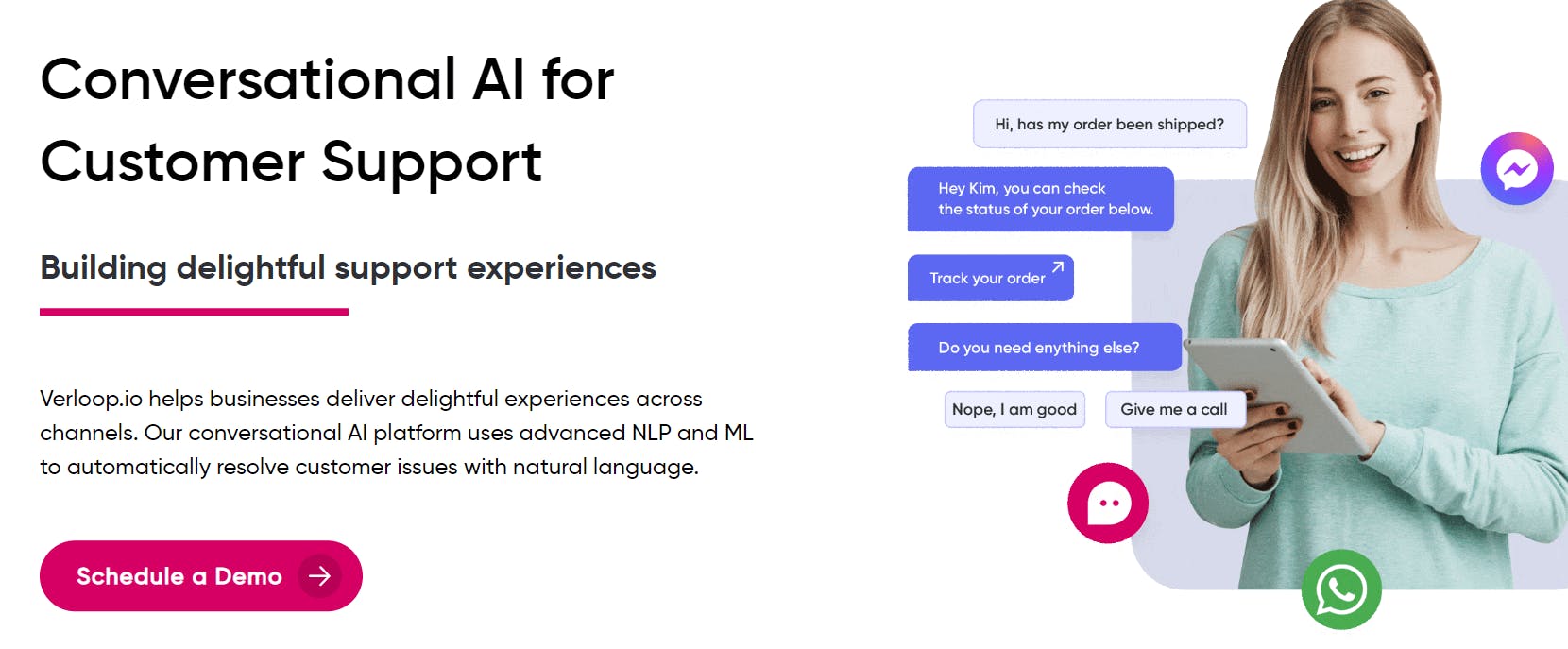 Verloop.io is a conversational AI designed to deliver quality multilingual support. Interact with customers on their preferred channel and automatically resolve issues with NLP-powered chatbots. You can also use data from your CRM tools to build unified customer profiles and personalize user experiences.
Key Features
Powerful AI: Customize your chatbot's method of speaking and train it to answer customer concerns with accuracy. You can also enable agent transfers, self-service, and more.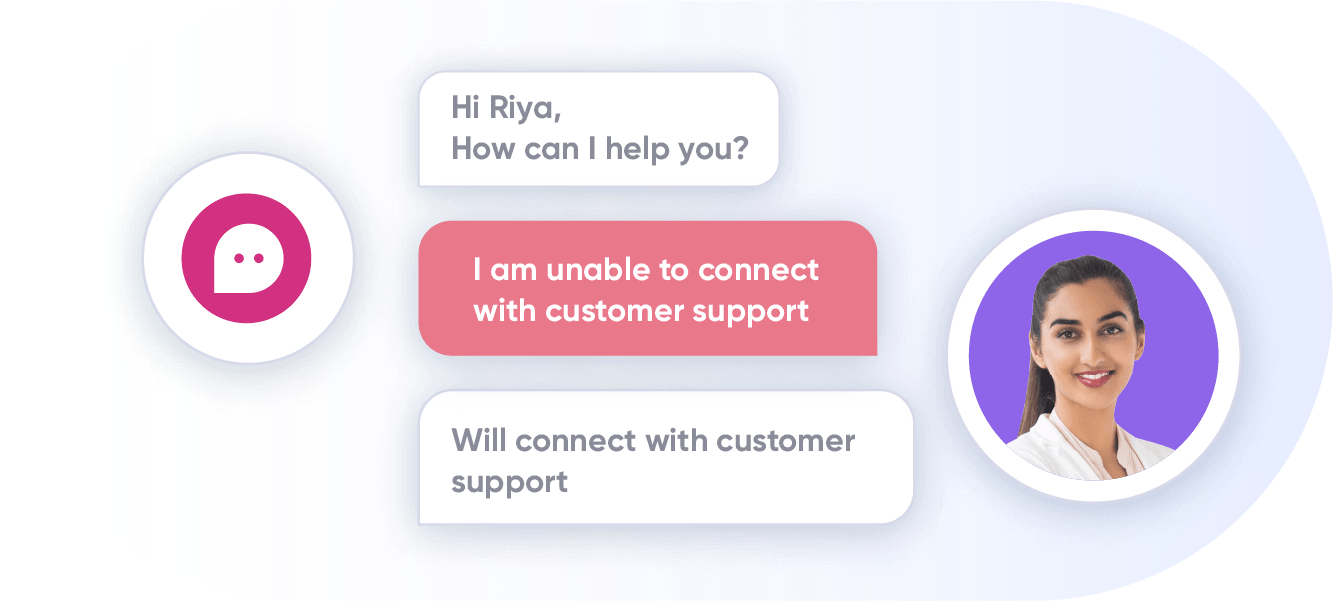 Multilingual: Their chatbot is able to comprehend customer queries in multiple languages and ask follow-up questions to learn more about an issue. With the power of machine learning and NLP, Verloop.io can provide effective solutions 90% of the time.
Dashboard & Reporting: Track your chatbot's efficiency and compare its performance with your human agents' to gauge your overall productivity. View analytics such as CSAT (customer satisfaction), average response time, and resolution time.
Pricing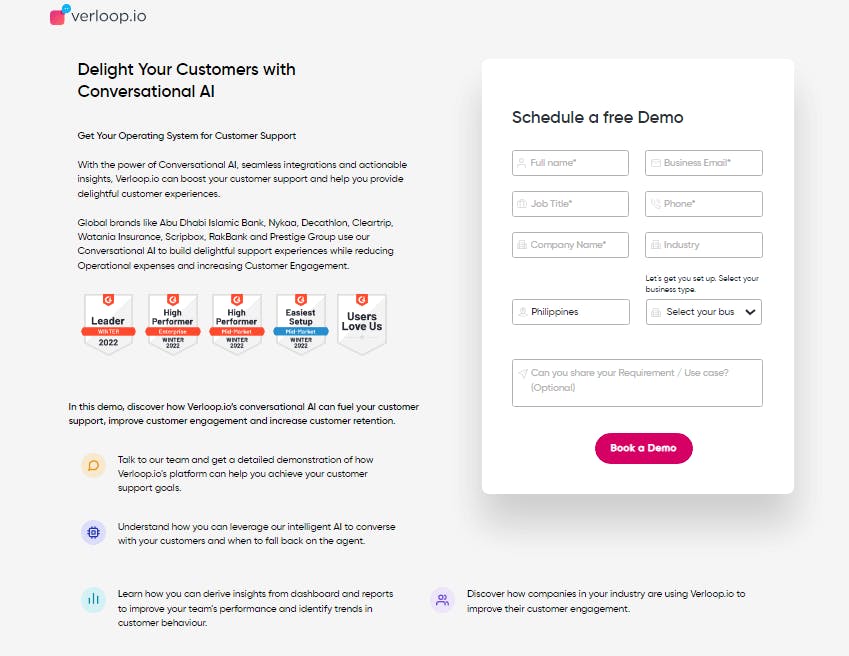 Verloop.io doesn't provide any pricing information on its site. However, they do have a free demo you can book by filling out a form.
Pros and Cons
Pros:
Agent transfer
Multilingual support
NLP-powered FAQ
Analytics dashboard
Live chat
Supports multiple conversation channels
CRM integrations
Multi-factor authentication
Cons:
No free plan
No pricing information on their site
Limited analytics
#4: Chatfuel: Best for Increasing Customer Conversions
Chatfuel is an AI chatbot for e-commerce businesses aiming to boost sales and increase lead generation on social media or websites. Automate customer conversations via your own chat app and guide them through conversion funnels with chatbot marketing. You can also use their AI to answer common questions, schedule bookings for customers and send reminders, gather feedback, and much more.
Key Features
AI Support: Offer instant support with their AI-powered chatbot to efficiently resolve user concerns. This should improve customer satisfaction and reduce your churn rate.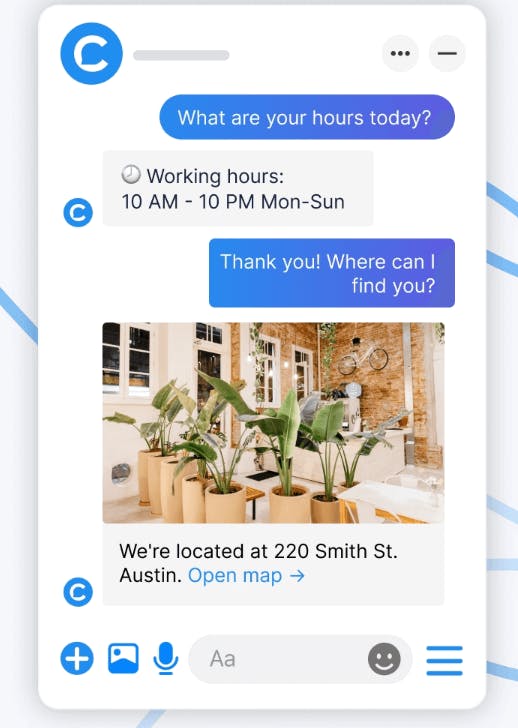 Make Bookings: Allow customers to schedule bookings in just a few clicks. Automatically send reminders and updates to ensure they don't miss their event.
Product Recommendations: Their AI chatbot understands customer preferences and uses that information to provide quality product recommendations. It guides users through the transaction process and answers queries along the way to encourage sales. You can also send new product announcements and updates to bring customers back to your site.
Collect Feedback: Gather customer feedback via chatbot messages to gain insights into your user satisfaction. The chatbot will ask for feedback after a purchase has been completed and show you the results.
Pricing

Chatfuel offers five pricing options for Facebook + Instagram along with two plans for WhatsApp:
Entrepreneur ($14.99/month — 500 conversations)
Startup ($24.99/month — 1,000 conversations)
Small Business ($59.99/month — 3,000 conversations)
Growing Business ($119.99/month — 10000 conversations)
Enterprise (custom pricing)
WhatsApp Business ($49/month — 1,000 conversations)
WhatsApp Enterprise (from $300/month)
Each plan comes with a set amount of conversations per month, with extra conversations priced at $0.02/month ($0.01/month for the Growing Business plan).
Pros and Cons
Pros:
Free trial
Custom plans
Boosts sales
Automated feedback requests
Product recommendations
Schedule bookings
Instant customer support
Flexible pricing plans
Cons:
No free plan.
Limited analytics.
Limited customization options.
#5: WATI: Best for Building WhatsApp Chatbots
WATI lets you create no-code AI chatbots with their drag-and-drop builder so you can automate your customer support on WhatsApp. Boost response rates via in-app messaging and SMS, and manage thousands of conversations with automated workflows. WATI also allows you to send timely reminders about orders and appointments to update customers on their progress.
Key Features
Chatbot Support: Build no-code chatbots that easily respond to common queries and have them automatically transfer to a human agent when necessary. Engage with customers via WhatsApp for faster response times.
Confirmation & Support: Auto-send billing updates and order confirmations using AI chatbots and offer 24/7 customer support.
Timely Updates: Provide customers with periodic reminders about their appointments, orders, or queries to let them know they're being processed.
Integrations: Connect WATI with various third-party platforms such as Zapier, Google Sheets, and HubSpot.
Pricing
WATI has three subscription plans available:
Standard ($49/month)
Pro ($98/month)
Enterprise (custom pricing)
You can also choose to purchase their two optional add-ons: custom subdomain ($50) and Shopify integration ($4.99/month). As you upgrade your plan, you receive a more advanced chatbot builder, a higher number of chatbots and keywords (for auto-reply), and more conversations per month.
Pros and Cons
Pros:
7-day free trial
No-code chatbot builder
Various third-party integrations
Custom workflows
1,000 free conversations per month
Unlimited contacts on every plan
Timely updates
Bot-to-human hand-off
Cons:
No free plan
Limited users for every plan except Enterprise
Limited reporting tools
Conclusion
Customer support often requires you to deal with a lot of mundane or repetitive tasks, so it's more efficient to automate replies with chatbot apps. Tools such as Chatling allow you to build customized AI chatbots without coding to greatly boost your resolution rates.