Real estate chatbots have become a remarkable technology that is transforming the industry.
These intelligent virtual assistants can significantly reduce response times, resulting in substantial cost savings for businesses. In fact, implementing real estate chatbots can lead to a 30% reduction in operational costs.
In this Chatling guide, we'll offer insights into why these chatbots are crucial, key factors to consider when selecting one, and a curated list of the top seven real estate chatbots available.
Let's dive in.
View table of contents [+]
What Is a Real Estate Chatbot?
Real estate chatbots are virtual assistants that handle inquiries about buying, selling, and renting homes.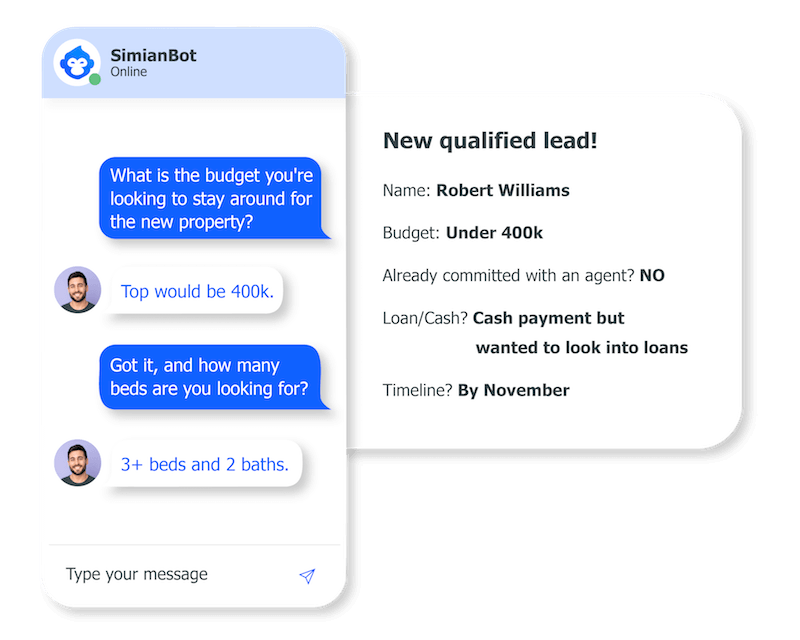 There are all kinds of tasks real estate chatbots can help out with, including:
Guiding clients through the buying or renting process
Answering FAQs and providing information
Scheduling viewings
Connecting customers with agents
Gathering feedback from clients
…and more.
How do they work? There are two main types of real estate chatbots.
Simple chatbots use pre-set rules to respond to customer queries. For example, if a customer asks about the features of a particular house, they will receive an automated response with the relevant information.
Advanced chatbots like Chatling use natural language processing (NLP) and machine learning to interpret customer queries and provide tailored responses. Chatling can train on your real estate website, listing documents, policies, and more to answer all kinds of customer questions automatically.
Why Are Real Estate Chatbots Important?
Personalized Recommendations: Enhances customer experience and increases deal closure likelihood.
Omni-channel Integration: Chatbots can be integrated across multiple platforms for a seamless customer experience.
Multilingual Support: Chatbots can communicate in multiple languages, catering to global clients.
Cost-Efficiency: Implementing chatbots reduces the need for a large customer service team, saving money on salaries and training.
Improved Efficiency: Chatbots can handle multiple inquiries simultaneously, reducing customer wait times.
Enhanced Engagement: Chatbots transform static forms into interactive experiences, improving customer satisfaction and conversion rates.
Criteria To Consider When Choosing A Real Estate Chatbot Platform
Multilingual
Your chatbot needs to be multilingual. This means it should be able to communicate in multiple languages, catering to a diverse range of customers from various backgrounds and locations.
Integrations
The chosen platform should allow easy integration with your existing systems. This could include your CRM, email marketing software, or other tools that you use in your business.
Integrations
The platform should offer integrations with other tools and software you use in your business. This could include integrations with social media platforms, email marketing software, CRM systems, and more.
Dashboard and Analytics
Tracking your real estate chatbot's performance is crucial. Find a platform with an easy-to-use dashboard and analytics tools. These analytics offer insights into customer interactions, preferences, and areas for improvement.
Pricing
When evaluating the platform, consider the pricing structure. Ensure the cost fits your budget and provides good value for your investment. Assess the available pricing options to make an informed decision that meets your financial expectations and delivers a desired return on investment.
7 Best Real Estate Chatbots
Chatling
Tidio
ChatBot
Tars
Collect.chat
Engati
Landbot
1. Chatling
Chatling is an AI chatbot solution that helps real estate firms automate customer service.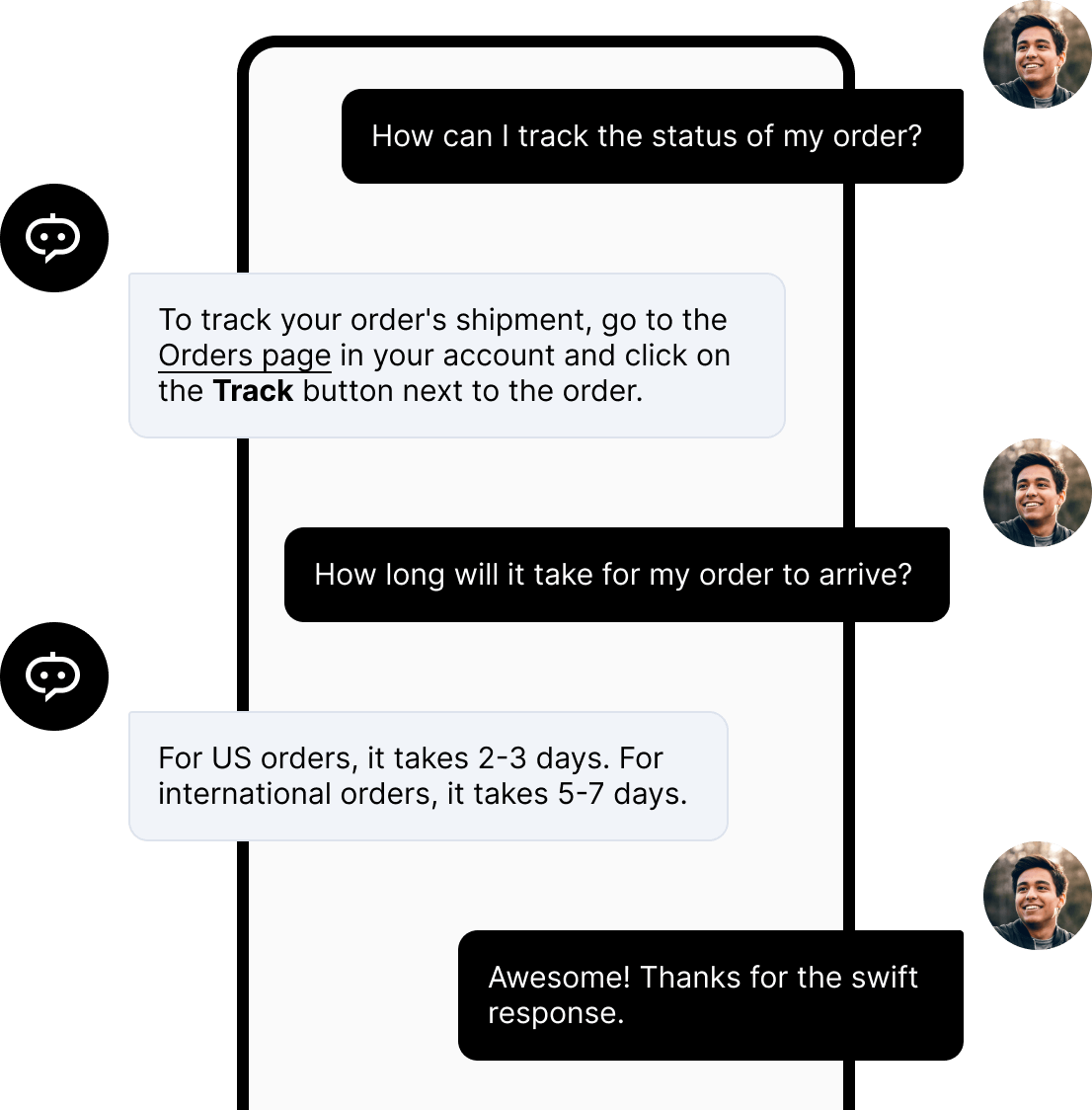 It's easy to train your Chatling chatbots by connecting websites, FAQs, and knowledge bases or uploading documents (DOCs, PDFs, TXTs, etc.). Your chatbot will process these resources in minutes and use the information to answer customer questions accurately.
Chatling also features deep customization, so you can build chatbots and widgets that look (and sound) on-brand.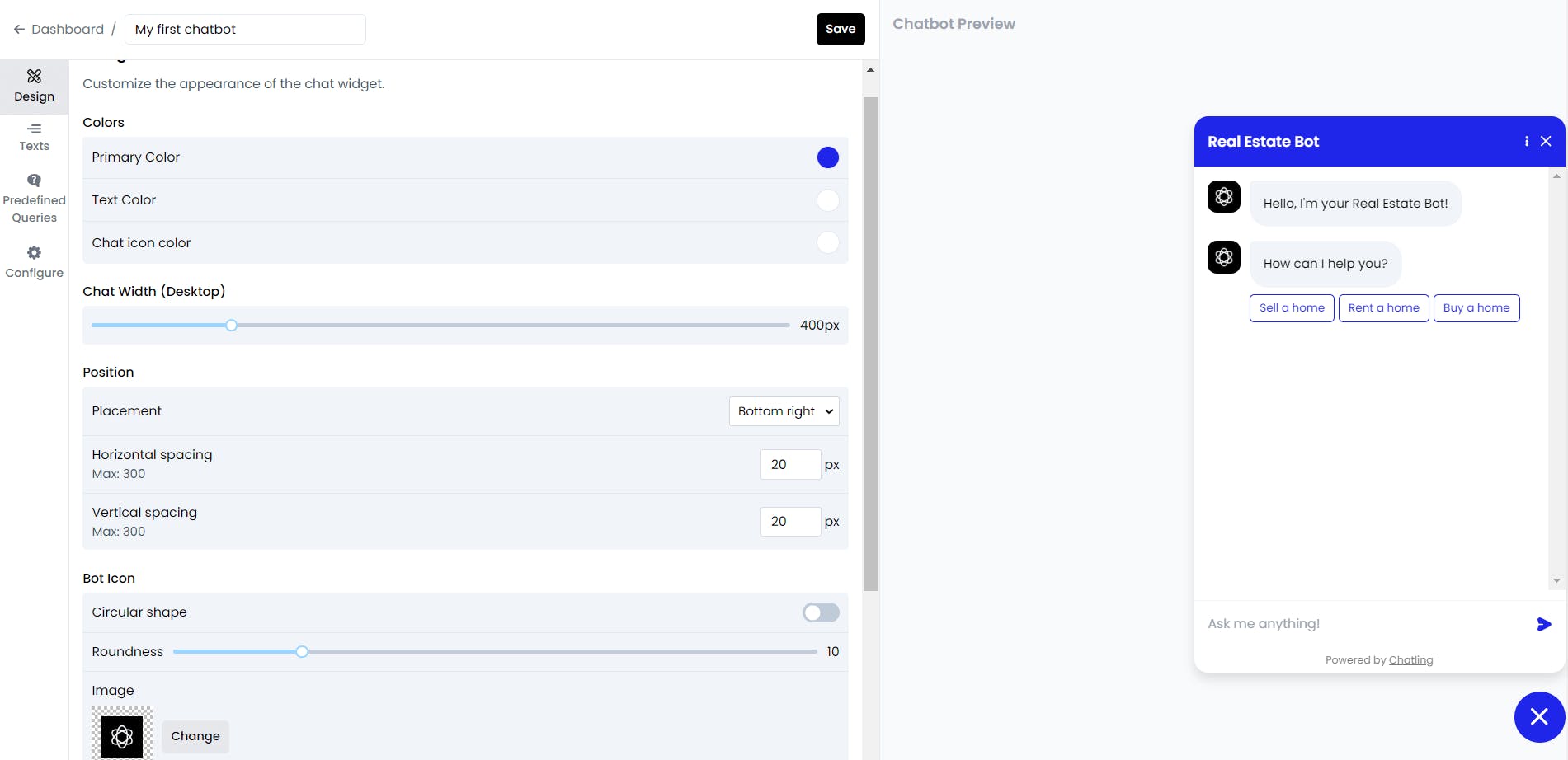 Key Features
Flexible Training: Train your chatbot with website content, knowledge bases, documents, and sitemaps to arm you chatbot with information about listings, policies, and more.
Conversational AI: Understand intent and context to offer accurate, relevant, human-like responses.
24/7 Availability: Never miss a customer inquiry with 24/7 availability on all your websites.
Deep Customization: Make sure your chatbot is on-brand and looks at home on any website.
Native Integrations: Easily integrate with any platform through native integrations with WordPress, Shopify, Squarespace, Wix, and PrestaShop (and others through our API).
Multi-Lingual Support: Communicate with customers in their preferred language.
Analytics: Measure your chatbot's impact and keep tabs on common questions and concerns to improve your offering.
2. Tidio
Tidio is an all-in-one customer service tool that lets real estate firms build both rule-based and AI chatbots.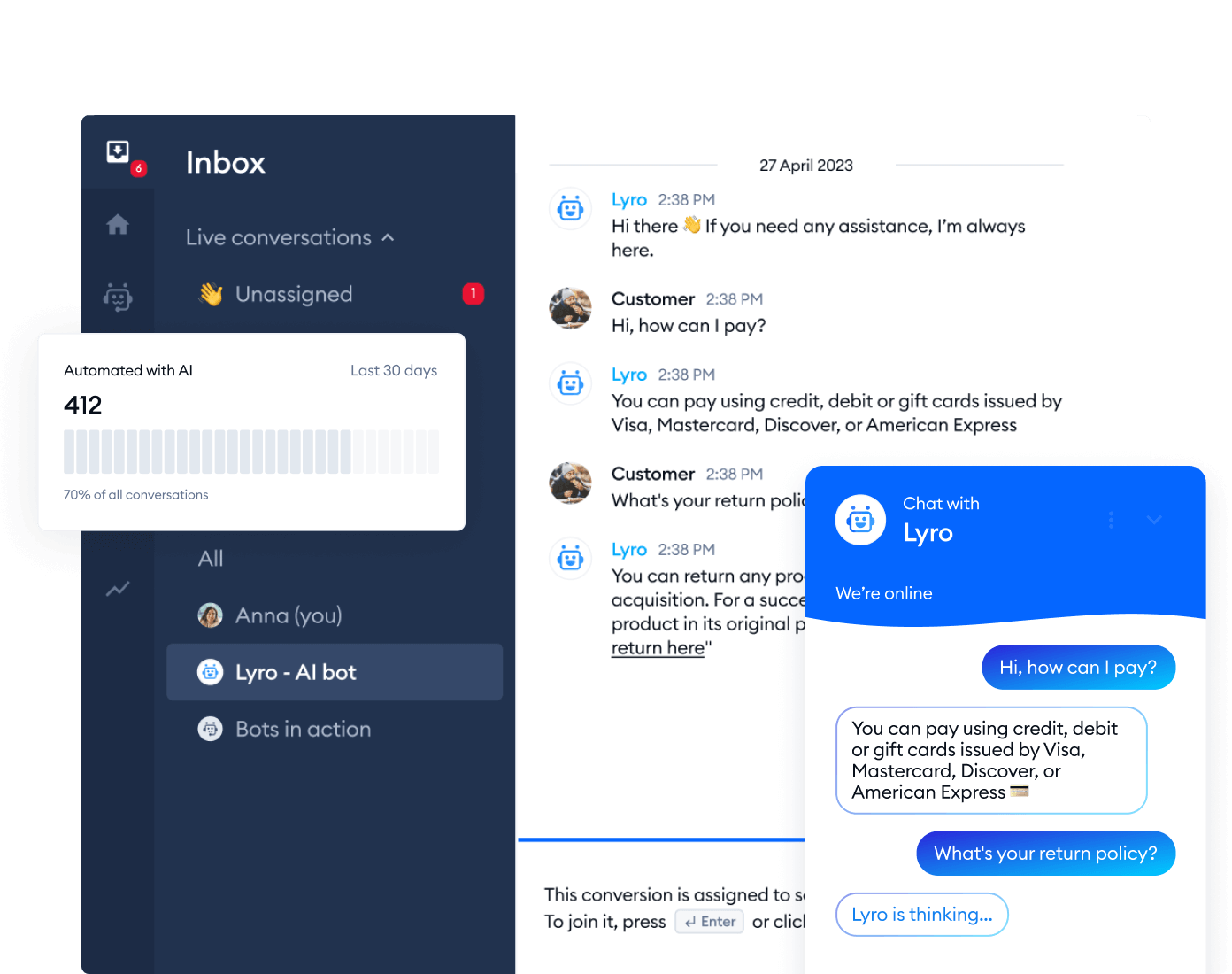 Since Tidio is a live chat tool, first and foremost, its standout features involve mixing chatbots with human support to maximize efficiency. Lyro AI can fully automate many simple tasks, and smart routing can match the right customer service agents to each support conversation.
Key Features
Smart Routing: Automatically route clients to live agents with the right expertise to answer their questions.
Lyro AI: Provide personalized support and solve up to 70% of customer problems with AI.
Analytics: Keep track of your team's performance with comprehensive analytics.
Pricing
Tidio provides pricing plans to cater to different needs. For starters, there's a free plan that supports basic features with a limit of 100 chatbot conversations.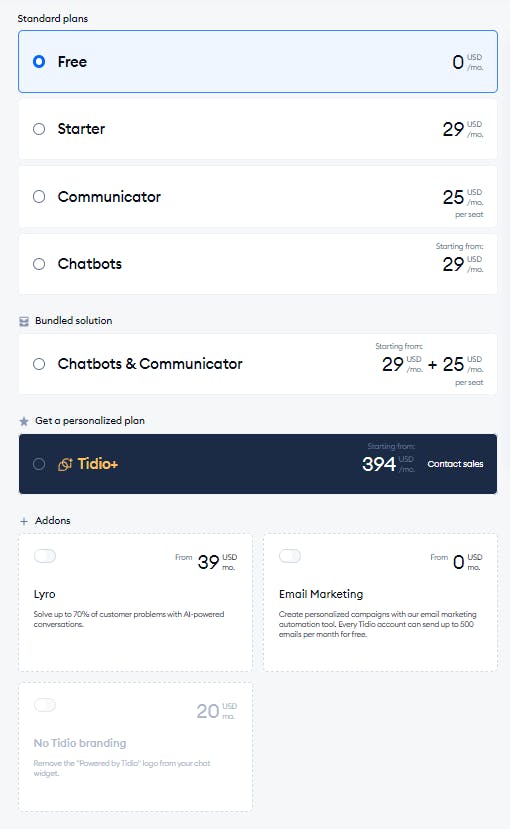 Paid plans include Starter ($29/month), Communicator ($25/user/month), Chatbots ($29/month), and Tidio+ ($394/month). You can add Lyro AI to any plan for $39/month.
Pros & Cons
Pros
Live chat feature gives a competitive edge
Easy-to-use interface
Lots of features
Chatbot brings in leads and subscribers
Cons
Pricing plans may be on the higher side for some businesses
No WhatsApp integration
Some limitations in chatbot flow customization (e.g., moving multiple nodes together)
3. ChatBot
ChatBot is a versatile platform that can empower real estate businesses to create and deploy conversational chatbots.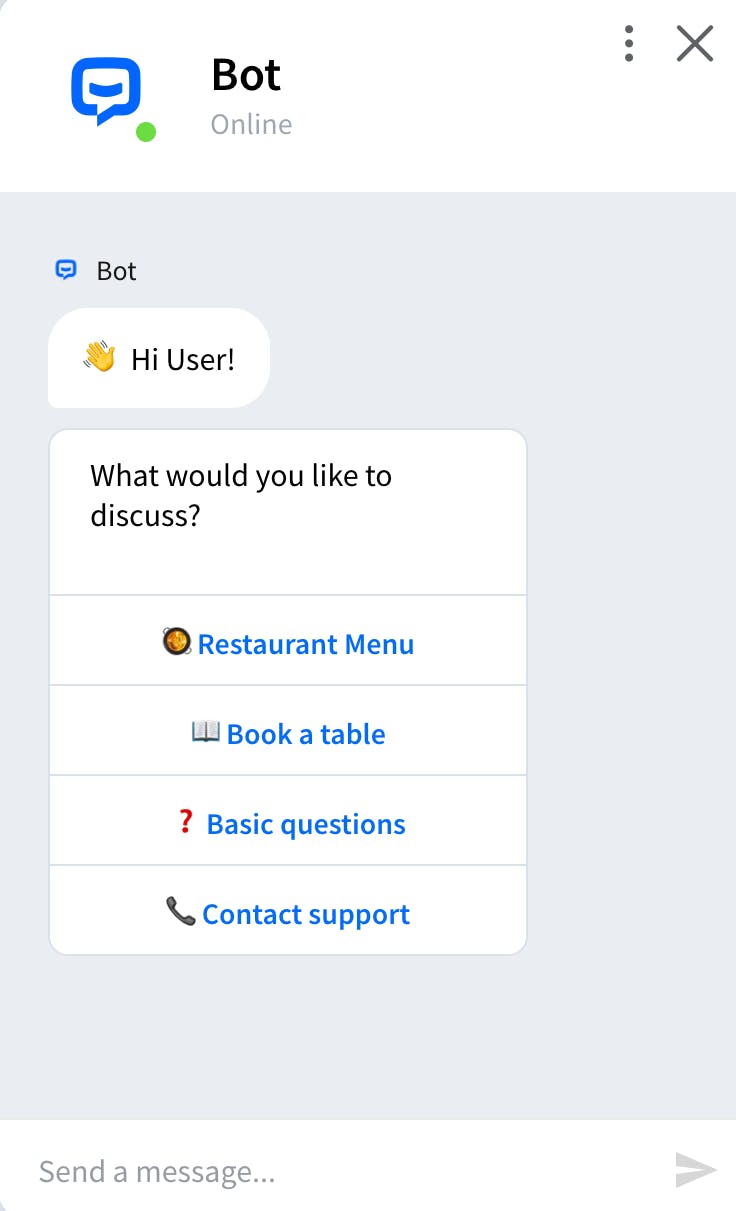 ChatBot offers real estate professionals a variety of features that can help them automate their customer service, drive more engagement, and increase sales. Real estate-specific templates and pre-built modules allow businesses to get off the ground quickly.
Key Features
No-Code Chatbot Builder: Easily build chatbots without any coding skills.
Customizable Chat Widget: Customize the appearance and behavior of your chat widget to match your brand and website design.
Prebuilt Templates: Use customizable chatbot templates to set up your chatbots quickly and modify them to suit your specific needs.
Pricing
Four pricing plans are available—Starter ($52/month), Team ($142/month), Business ($424/month), and Enterprise (custom).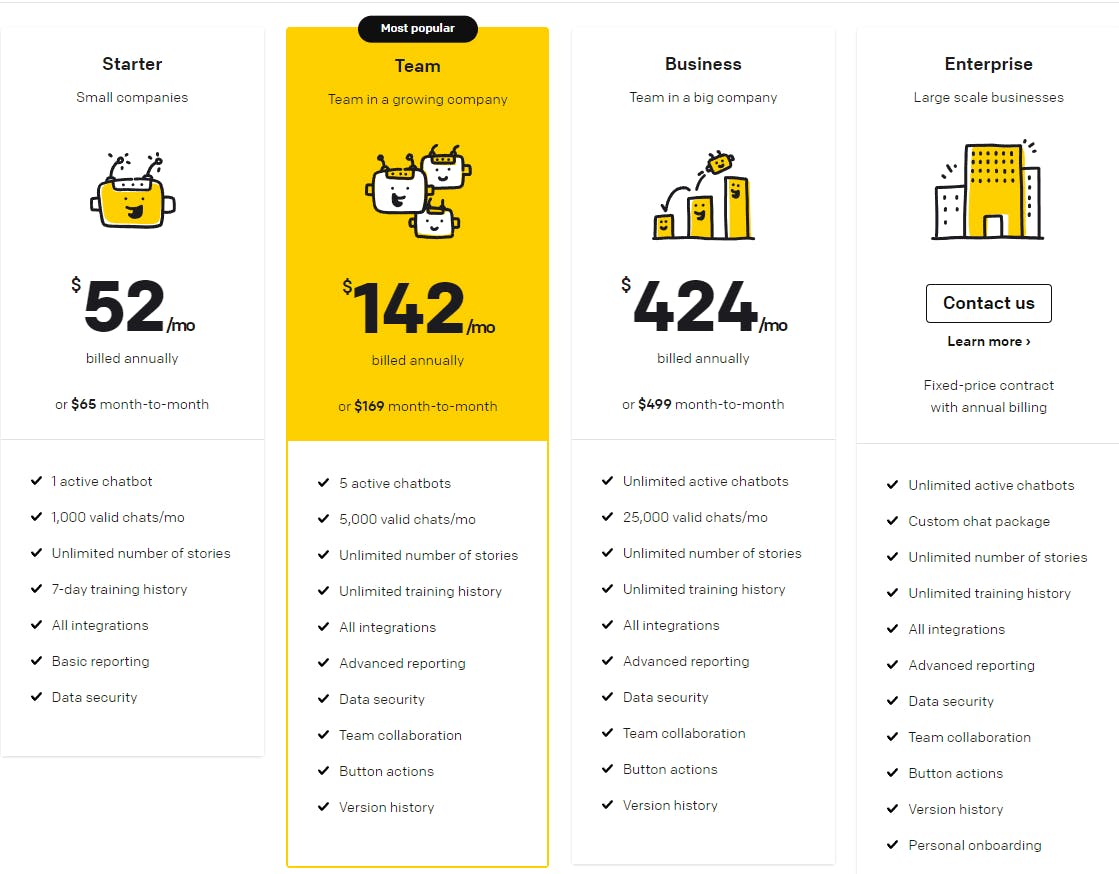 Starter offers one chatbot, Team offers five, and higher tier plans offer unlimited. Higher-tier plans also offer more chats monthly.
Pros & Cons
Pros
Easy to set up and develop bot flow
User-friendly dashboard
Ability to create diverse conversational experiences
One-click integration with multiple platforms and channels
Cons
Higher pricing compared to other alternatives
It may not be suitable for complex queries
No machine learning capability
Limited configuration options for bot display to end users
4. TARS
TARS is a conversational AI platform that can help real estate businesses transform complex processes into intuitive conversations.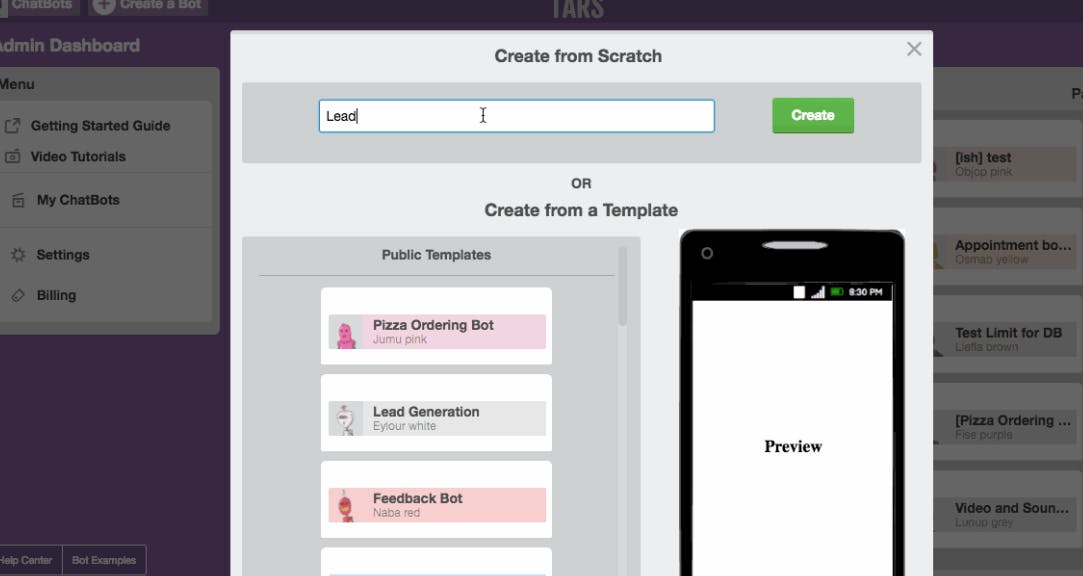 The platform features natural language processing, real-time analytics, and automated customer support. It offers pre-built integrations with popular CRMs and scheduling tools.
Key Features
Multilingual Chatbot: Supports multiple languages, allowing real estate businesses to engage with customers from any location and background.
Multichannel: Create chatbots for your real estate website and WhatsApp business profiles.
Chatbot Analytics: Measure the performance of all active chatbots to fine-tune them for specific goals.
Pricing
You'll need to contact sales for pricing information.
Pros & Cons
Pros
Easy to use and set up
Offers a wide range of chatbot templates
Intuitive workflow
Ability to connect with various APIs and third-party services
Cons
Limited configuration options for some design elements.
Lack of two-way integration with Google Calendar.
Performance issues reported by some users.
Clunky data collection on the backend for some users
5. Collect.chat
Collect.chat is a website chatbot service that can help real estate businesses generate more leads and engage with potential buyers.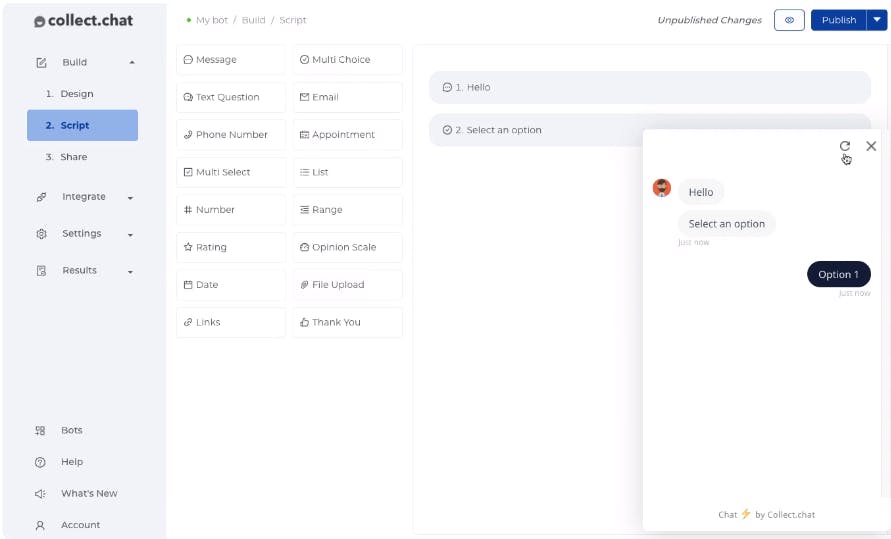 With its 24/7 availability and proactive conversation approach, the chatbot can qualify and convert website visitors into interested homebuyers, saving on acquisition costs and maximizing sales opportunities.
Key Features
Highly-Quality Templates: Choose from a dozen question templates to ask relevant questions to your visitors.
Powerful Visualizations: Visualize the data collected from Collect.chat to solve pain points and make decisions for your business.
Drag-and-Drop Builder: Use drag-and-drop templates to quickly build the chatbot and add it to your website.
Pricing
Collect.chat offers a free plan that offers 50 responses per month.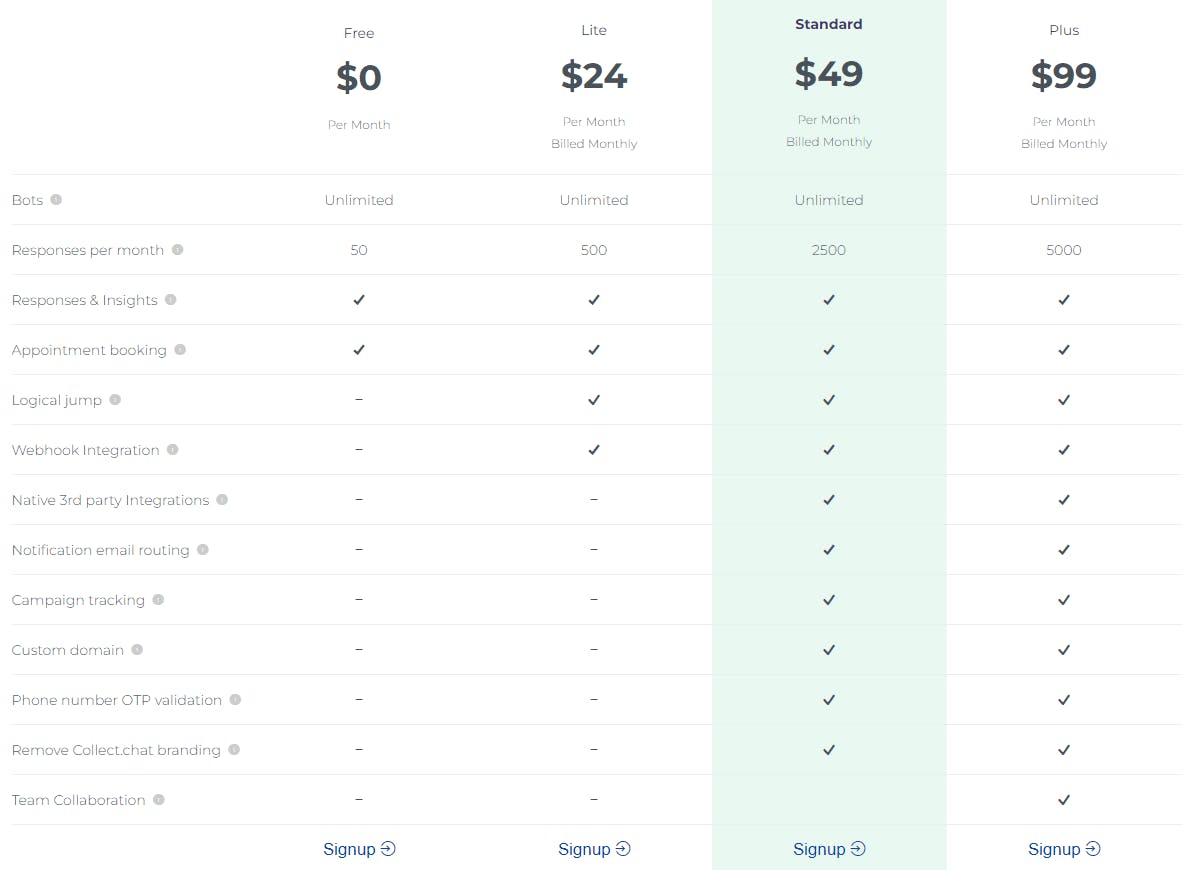 There are also three paid plans—Lite ($24/month), Standard ($49/month), and Plus ($99/month). All plans allow unlimited bots, but you'll need to upgrade for higher response limits and access to certain features.
Pros & Cons
Pros
Good template and intuitive flow of questions
Allows receiving messages through WhatsApp
Easy to use and integrate into a website
Cons
Integration can be difficult
Some options are only available on the paid version
Limited customization features
6. Engati
Engati is a chatbot platform enabling real estate businesses to build chatbots in minutes without programming.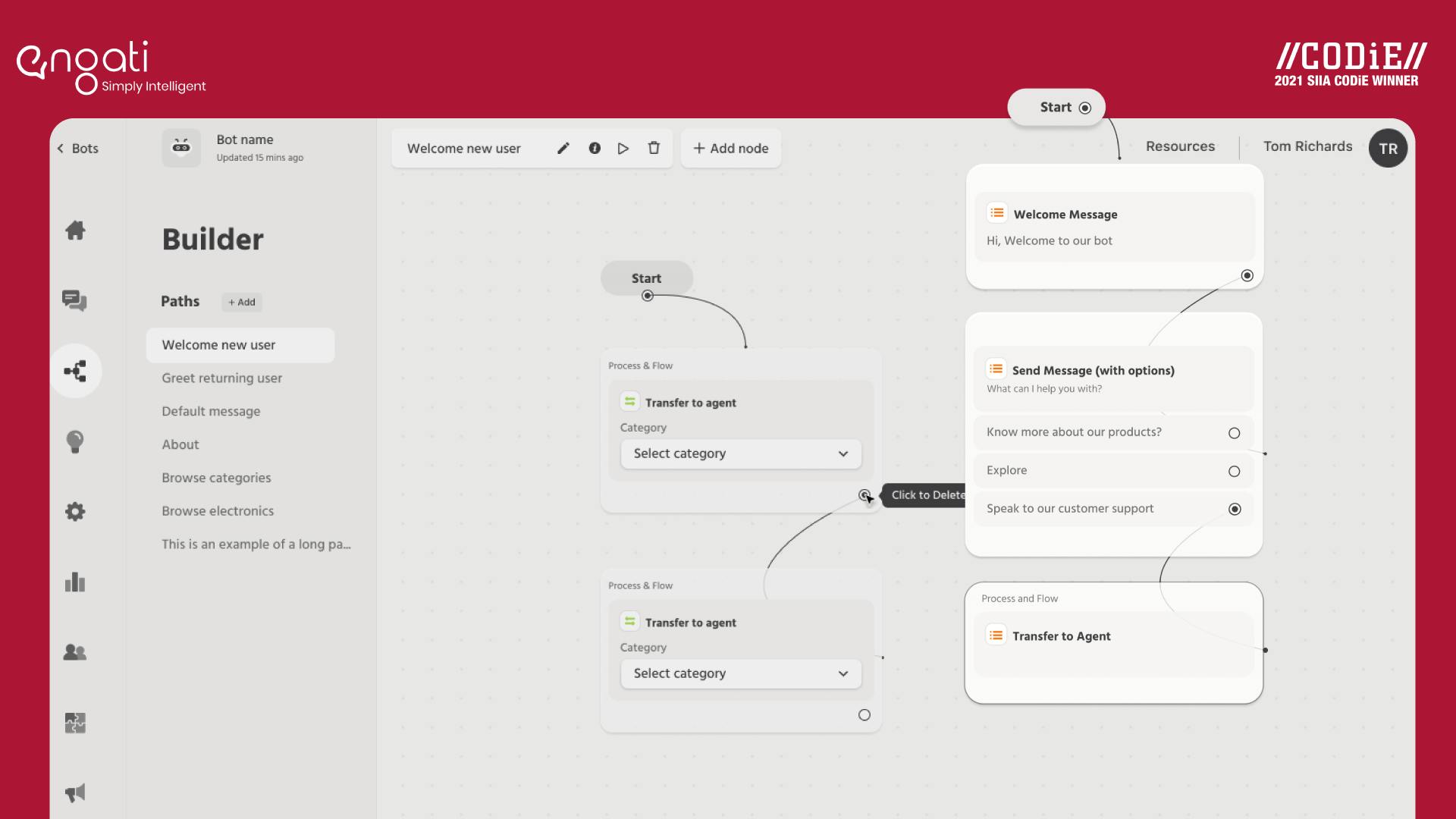 With Engati, you can use advanced integration capabilities, customize your chatbot to match your brand, and quickly build and deploy bots. Engati also offers automated responses to automate customer support, sales, and marketing.
Key Features
eSenseGPT: Its conversational AI platform is powered by eSenseGPT, which enhances the chatbot's capabilities and enables more natural and human-like conversations.
Multilingual Conversations: It supports multilingual conversations, allowing businesses to communicate with customers in their preferred language.
Chatbot Training: It provides tools and resources for training chatbots, making it easy to customize and optimize their performance.
Pricing
You'll need to contact sales for pricing information.
Pros & Cons
Pros
Customizable software with powerful features
It is easy to build intelligent bots without programming
Supports multiple channels for publishing bots
Supports 50+ languages for engaging customers
Cons
Complex navigation and customization options
Difficulty in disconnecting payment methods
Some limitations in customization and integration options
7. Landbot
Landbot is an AI chatbot generator that can help real estate businesses turn leads into revenue and improve client satisfaction.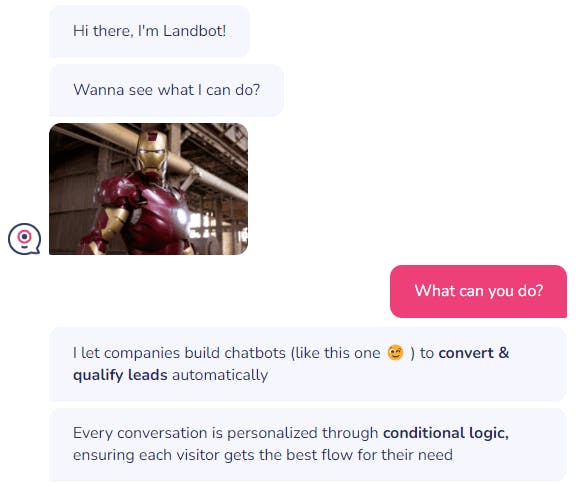 It offers conversational experiences that boost efficiency and quality, generate more leads, increase appointment bookings, and provide 24/7 assistance.
Key Features
Website Chatbot: Generate leads and improve customer experience on the web through a chatbot embedded on your website.
WhatsApp Automation: Automate conversations on WhatsApp
Lead Generation: Capture more leads at a lower cost and improve your marketing performance through engaging chatbot conversations.
Pricing
Landbot offers a free sandbox plan that allows you to test your ideas with 100 monthly messages.

Beyond that, there are three paid plans—Starter ($45/month), Pro ($110/month), and Business ($450/month). More advanced plans offer more user seats and higher monthly chat limits.
Pros & Cons
Pros
Easy to use
Improvements are regularly made to the platform
Cost-effective in terms of quantity of agents/price
Built-in analytics for analyzing traffic
Cons
Delayed response time in customer support
Limited options for condition-based actions
Challenges in setting up Google Tag Manager, Facebook Pixel, and Google Analytics
Conclusion
Choosing the right chatbot platform for real estate is a big deal. It can change how you support and engage customers in this fast-paced industry. These chatbots bring many benefits that can take your business to the next level. They're available 24/7, engage in real-time, give personalized assistance, work across different channels, support multiple languages, save costs, and boost customer engagement.
Looking for a top-notch real estate chatbot platform?
With Chatling, you can offer clients 24/7 availability, real-time engagement, personalized assistance, multilingual support, and better engagement—all at an affordable rate. Don't miss out on this game-changing tool for your real estate business.