Good customer support is the backbone of any business—and chatbots are playing an increasingly important role in delivering it.
ChatBot is a popular chatbot solution that simplifies the process of building, implementing, and managing customer support bots. But other solutions out there address some of the tool's biggest flaws.
What are those flaws? And what are the top ChatBot alternatives? These are the questions the Chatling team will be answering in this guide.
Let's dive in.
What Is ChatBot?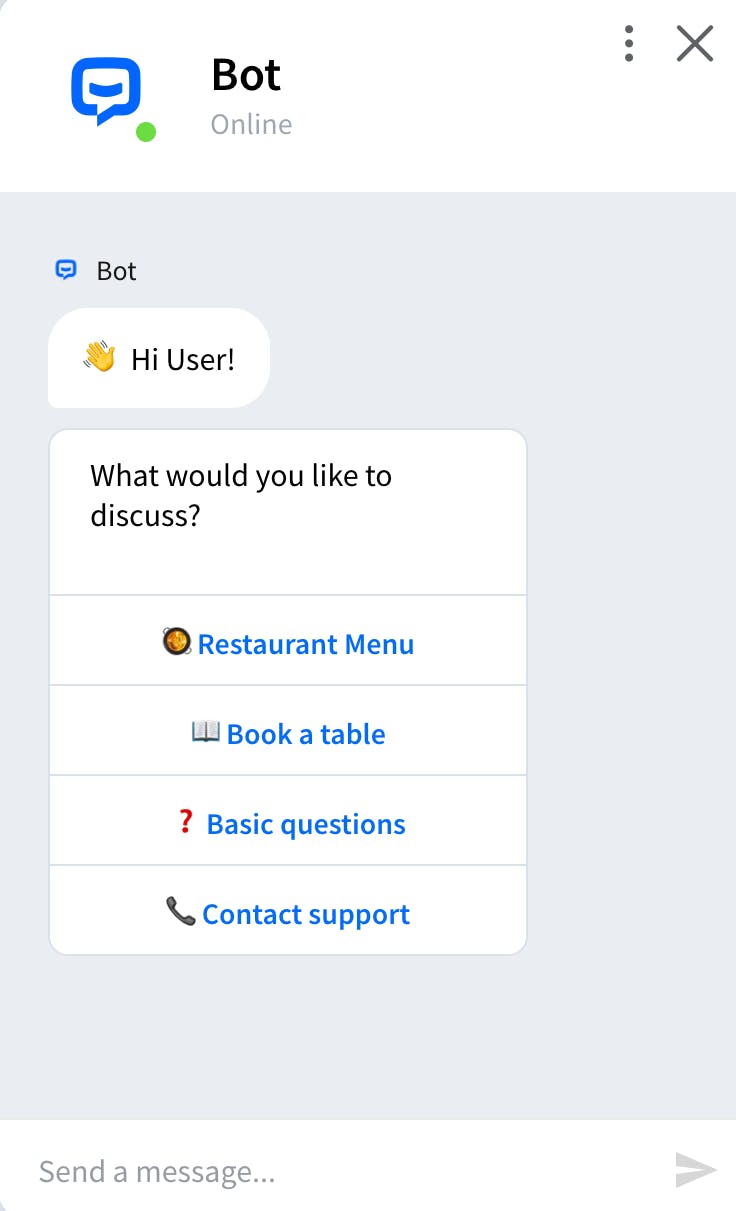 ChatBot is a platform that helps businesses create conversational AI chatbots.
Unlike rule-based chatbots, AI-powered chatbots like ChatBot (and Chatling) use NLP to "understand" the context of customer messages and generate accurate answers based on data you provide during the training stage.
You can tweak ChatBot's responses by skills like gathering customer feedback or collecting leads, as well as personalize the experience with your branding and voice. This level of customization means there are tons of use cases—from sales to customer service.
Why Look for ChatBot Alternatives?
Difficulties Dealing With Customer Dissatisfaction
ChatBot struggles to deal with customer dissatisfaction—especially complex dissatisfaction scenarios. It frequently delivers overly long, tedious responses that don't address the customer's concerns.
Complicated and Expensive Pricing Plans
ChatBot's plans start at $52/month (billed annually) and increase from there. At that (already steep) price, you're still only getting 1,000 conversations per month. Alternatives like Chatling offer much more affordable plans with more message credits.
Complex Set-up and Implementation
ChatBot's easy to use, but the setup could be more straightforward. According to G2 reviewers, the tool's "ease of setup" is below average for tools in its category due to the number of options and settings during the configuration process.
Criteria to Consider When Choosing ChatBot Alternatives
Natural Language Processing
When assessing the scalability of a chatbot, it's essential to consider its training capabilities. Your chatbot development platform should include Natural Language Processing (NLP) training and effective engagement in accurate conversations for both text and speech to ensure it understands user intentions and delivers relevant responses.
Customization Options
Chatbot automation tools should make it easy to customize and train your chatbot, including creating it, setting up chat flows, and adjusting the widget's appearance.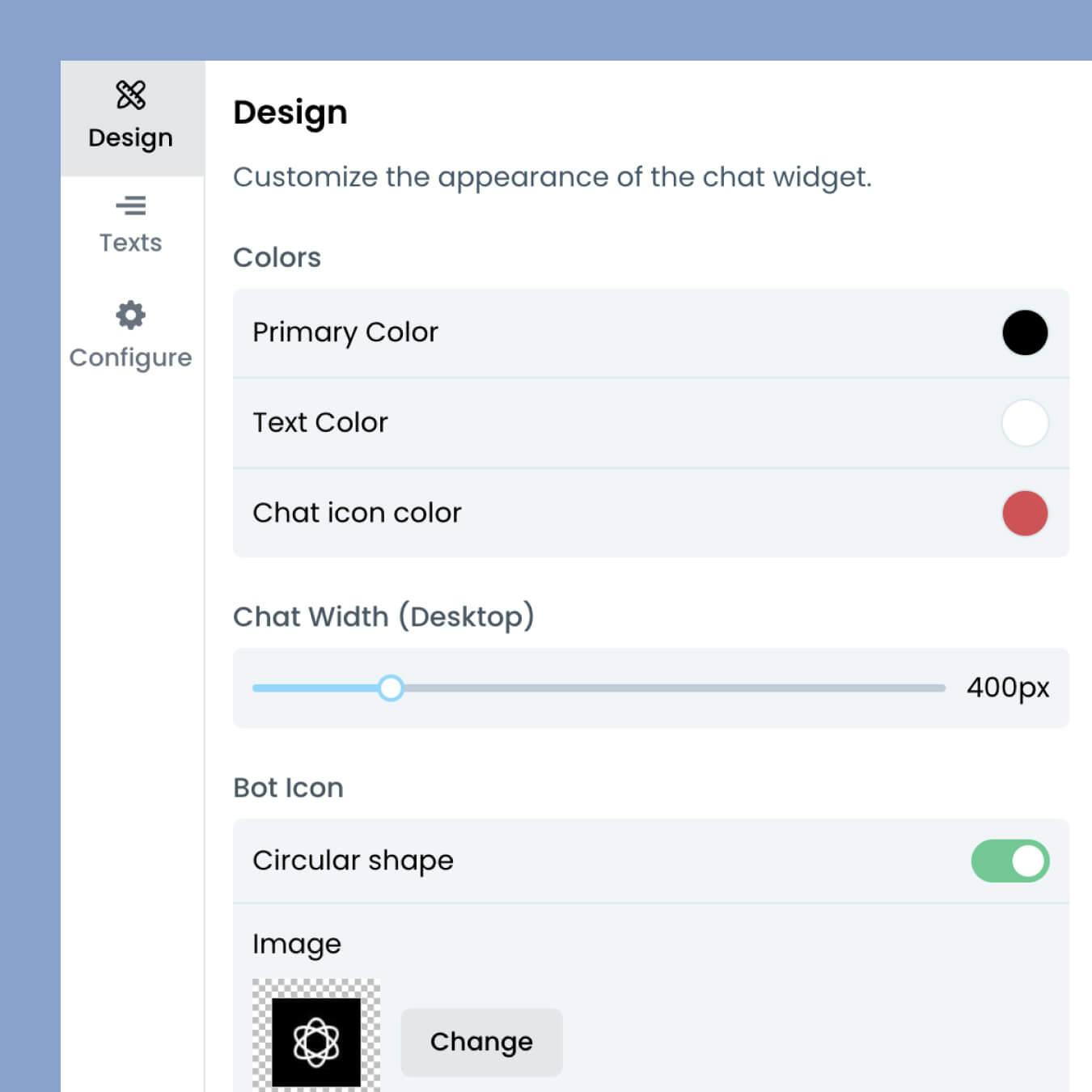 Some tools offer templates and no-code builders for a quick and straightforward setup. For example, Chatling allows you to personalize aspects of your chatbot, like widget color, branding, and more.
Analytics
Finally, look for analytics features that let you unpack common customer questions, understand customer intent more accurately, and identify areas where your chatbot needs improvement.
8 Best ChatBot Alternatives
Here's a quick overview of the tools we'll be covering before we dive into the details:
Chatling
Tidio
Intercom
Manychat
Drift
Chatfuel
Conversica
Botsify
1. Chatling
Chatling is an AI chatbot solution that makes it easy for anyone to train and implement an AI chatbot on their website.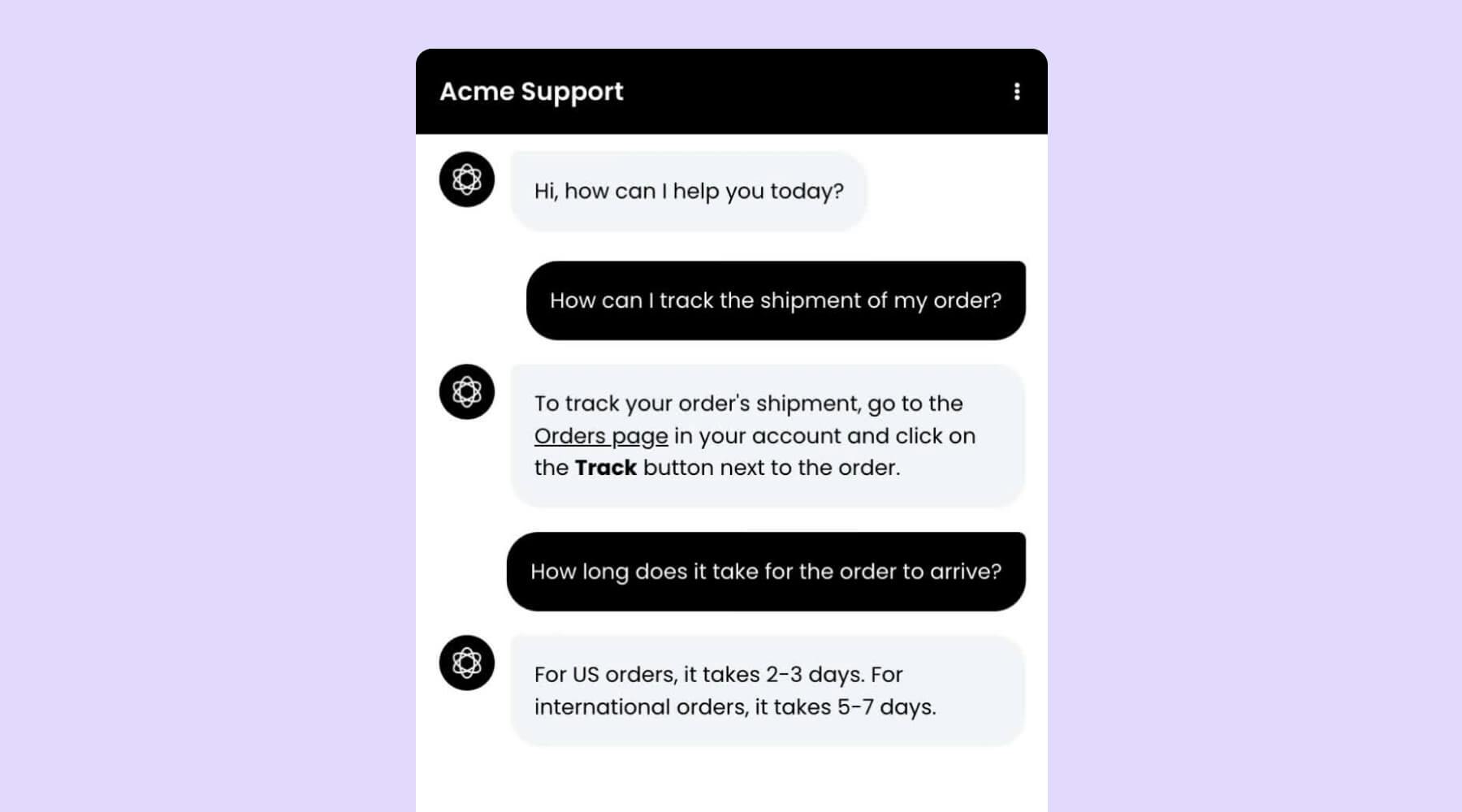 With Chatling, you can train your chatbot on websites, FAQs, knowledge bases, documents, and text inputs to accurately respond to customer inquiries 24/7. You can create bots for customer service, collecting leads, onboarding new customers, and more.
Deep customization features mean your bots will look at home on any website. Plus, you can easily integrate with any platform through native integrations and our API.
Key Features
Flexible Training: Easily train your chatbot using website content, knowledge bases, documents, sitemaps, and more. Just connect your sources and watch your chatbot train itself in minutes.
Conversational AI: Our AI-powered chatbot can understand natural language and provide relevant answers to customer queries.
24/7 Availability: Keep your chatbot running even when you're away. Your customers will always receive fast, accurate responses no matter the time of day.
Analytics: Track your bot's performance with our detailed analytics dashboard. Monitor user engagement, conversation success rate, and more.
Simple integration: Effortlessly connect your chatbot to popular platforms like WordPress, Shopify, Squarespace, Wix, and PrestaShop.
API: Streamline your chatbot's integration process with our easy-to-use API.
Collect leads: Thanks to the chatbot's quick and accurate responses, potential customers immediately get the necessary information.
Multilingual support: The chatbot can understand and answer questions from customers in 50 different languages.
Pros & Cons
Pros:
24/7 availability.
GPT-4 access.
Multilingual support.
Unlimited chatbots.
Conversational AI.
Track chatbot conversations.
Easy setup.
Supports multiple types of data sources.
Embed chatbot on an unlimited number of websites.
Cons:
Live chat is not supported yet.
2. Tidio
Tidio is a customer service platform that (among other things) offers a chatbot solution with AI capabilities.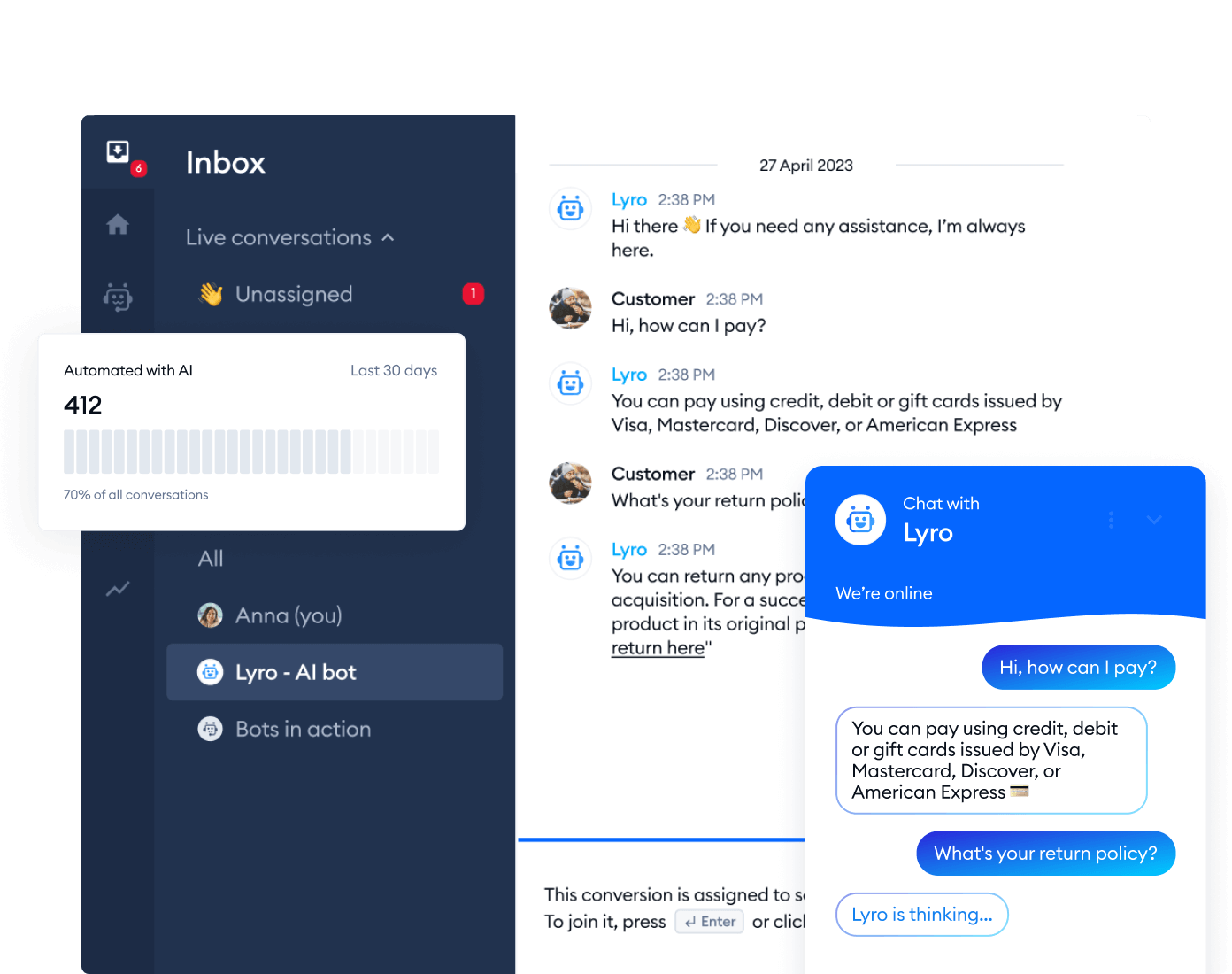 On basic plans, Tidio allows you to build rule-based chatbots that handle routine customer inquiries. If you purchase an add-on, you gain access to Lyro—Tidio's AI-powered chatbot technology—which can automate dealing with customer inquiries, answering complex questions, and routing customers based on intent.
Key Features
Chatbot Builder: Use a visual builder to build a rule-based chatbot
Lyro: Answer complex inquiries and automate tasks using generative AI and NLP.
Lead Generation: Offer incentives and collect customer information.
Pricing
Tidio provides a range of pricing packages: Free, Starter ($29/user/month), Communicator ($25/user/month), Chatbots ($29/user/month), and Tidio+ ($394/month). Each plan offers different limits on live chat conversations and chatbot conversations.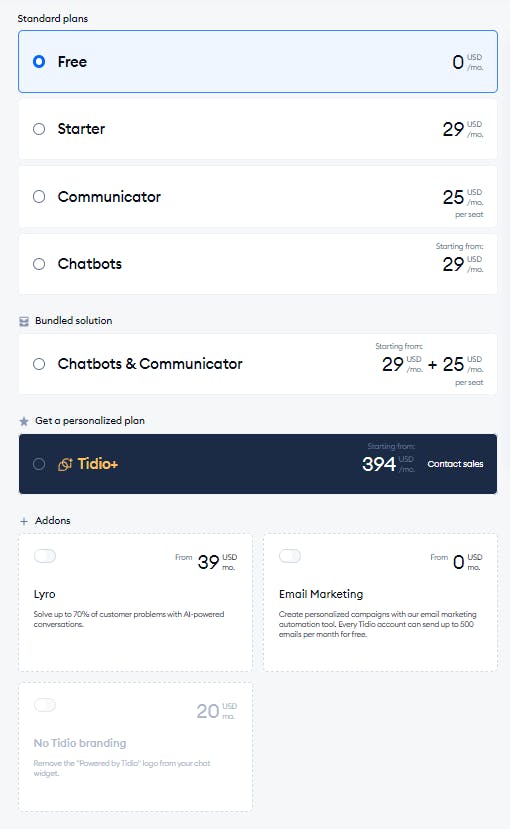 Lyro ($39/month) is an add-on that can be packaged with any plan.
Pros & Cons
Pros:
Live chat.
Ticketing system.
Easy-to-use interface.
Track interactions.
Great technical support.
Cons:
AI chatbots are expensive.
3. Intercom
Intercom is a well-known omnichannel customer support platform that recently launched an AI support chatbot called Fin AI.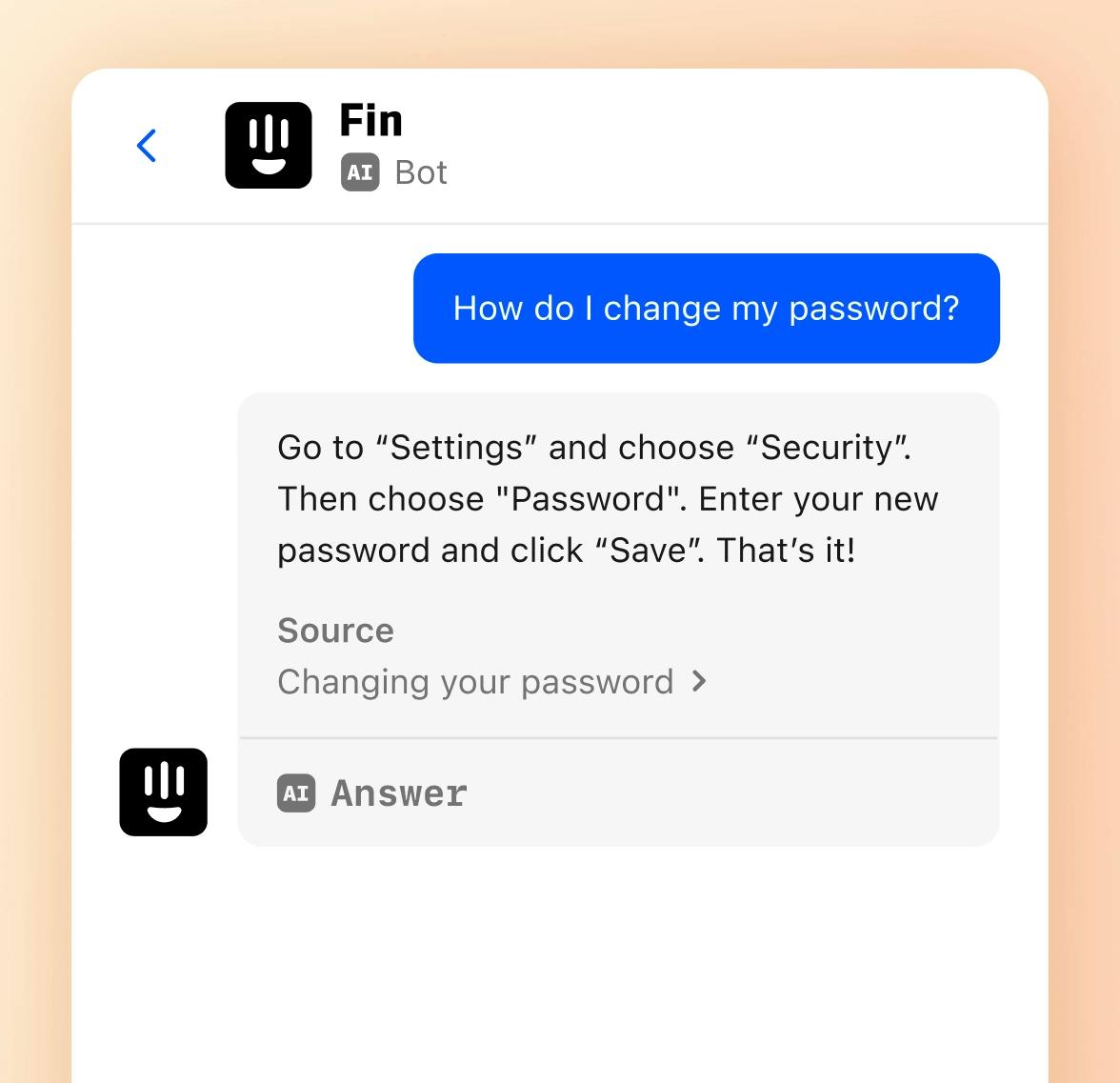 Fin uses advanced OpenAI models to respond to complex questions quickly. Built-in safeguards prevent Fin from answering questions incorrectly or responding in ways that could risk your business or reputation.
Key Features
Safeguards: Fin won't respond to questions or share information that could damage your business or reputation.
Multilingual & Omnichannel: Fin can understand and respond to requests across multiple languages and channels.
OpenAI Models: Fin utilizes advanced OpenAI models to respond to complex questions quickly.
Pricing
Intercom offers usage-based pricing for Fin—-you'll pay $0.99 per resolution.
While paying for results seems like a good deal, this model can get expensive quickly. If Fin resolves 20 requests daily, you'll pay around $600/month.

Pros & Cons
Pros:
Offers free trial.
Multilingual support.
Omnichannel support.
Highly accurate answers.
Custom bots.
Cons
No free plan after the free trial.
Limited customization options.
Usage-based pricing gets expensive.
4. Manychat
Manychat is a chatbot solution that brings chatbots to Instagram, WhatsApp, Messenger, and SMS.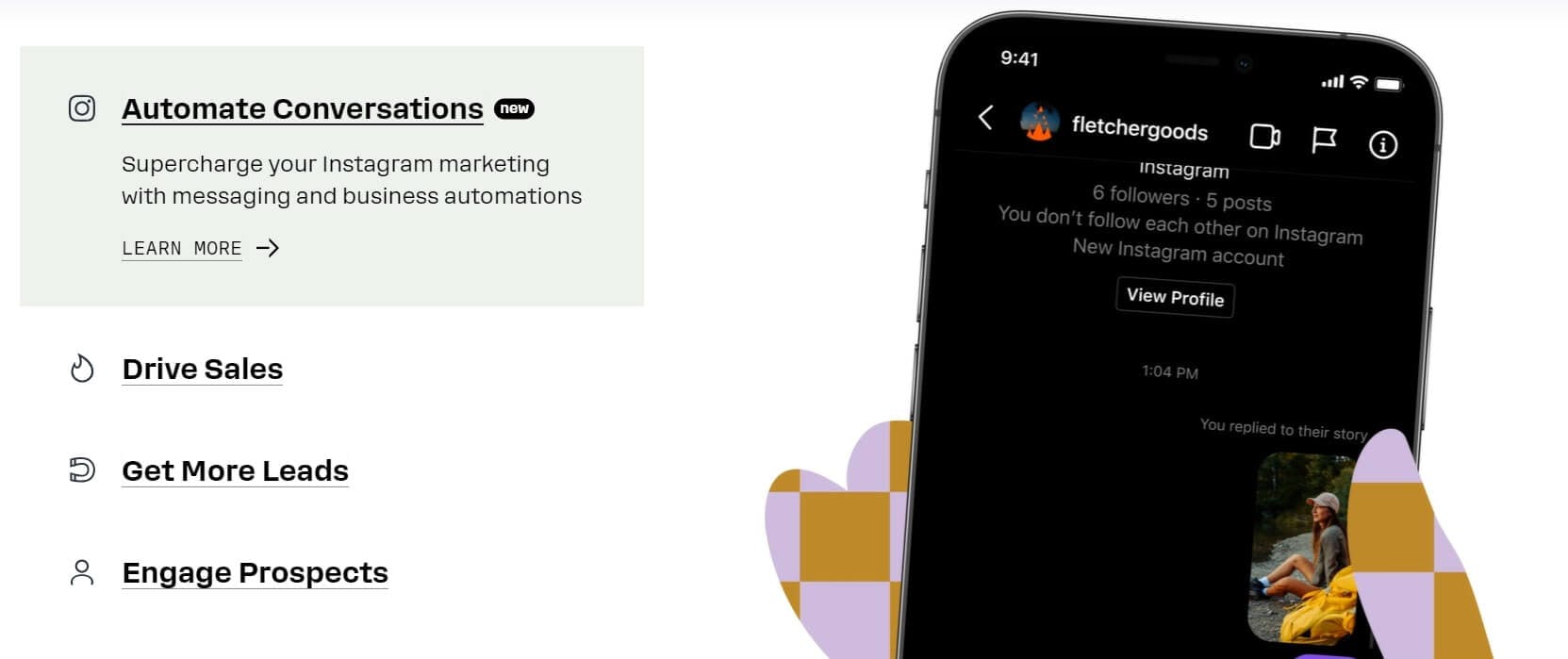 Rather than focusing on website chatbots, Manychat is designed for businesses that want to build customer relationships on messaging platforms. You can quickly build chatbot flows for support, marketing, sales, and more.
Key Features
AI Assistant: Build chatbots using a natural language builder—no coding required.
E-Commerce Support: Offer discounts, update orders, recommend products, and more via automated chats.
Insights & Analytics: See chatbot and business metrics side-by-side to understand how your bot is performing.
Pricing
Manychat provides a free plan and two paid options—Pro ($15+/month) and Premium (custom). The pricing scales with the number of contacts, which means that the $15/mo plan will increase depending on the number of contacts your chatbot engages with.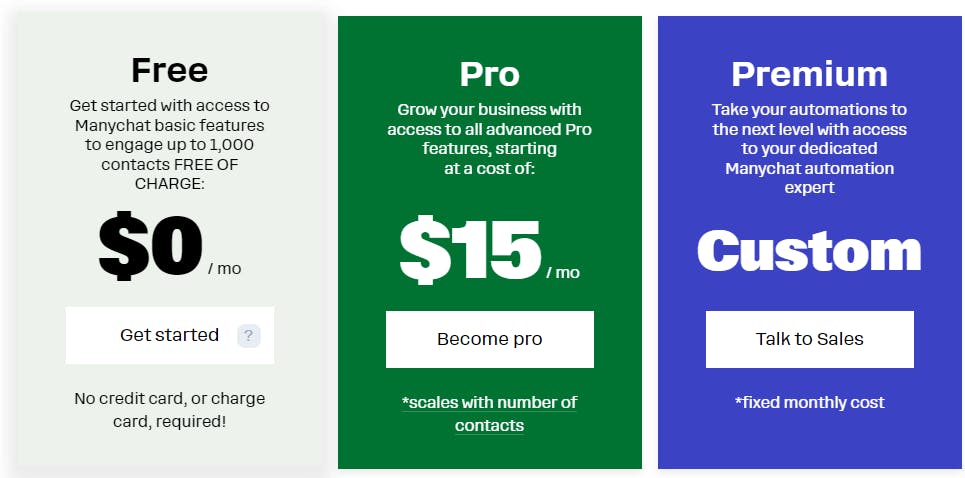 The free plan includes features like automated conversations (up to 1,000 contacts), social media connections, essential growth tools, and customer segmentation (up to 10 tags).
Pros & Cons
Pros:
Free plan.
Custom plan.
Analytics.
Automated marketing campaigns.
Coupons and deals.
Cons:
Custom bots are only available to Premium users.
It can become expensive.
Limited customization options.
5. Drift
Drift is an AI chat platform that enhances customer experiences by delivering personalized messages and supporting multiple languages.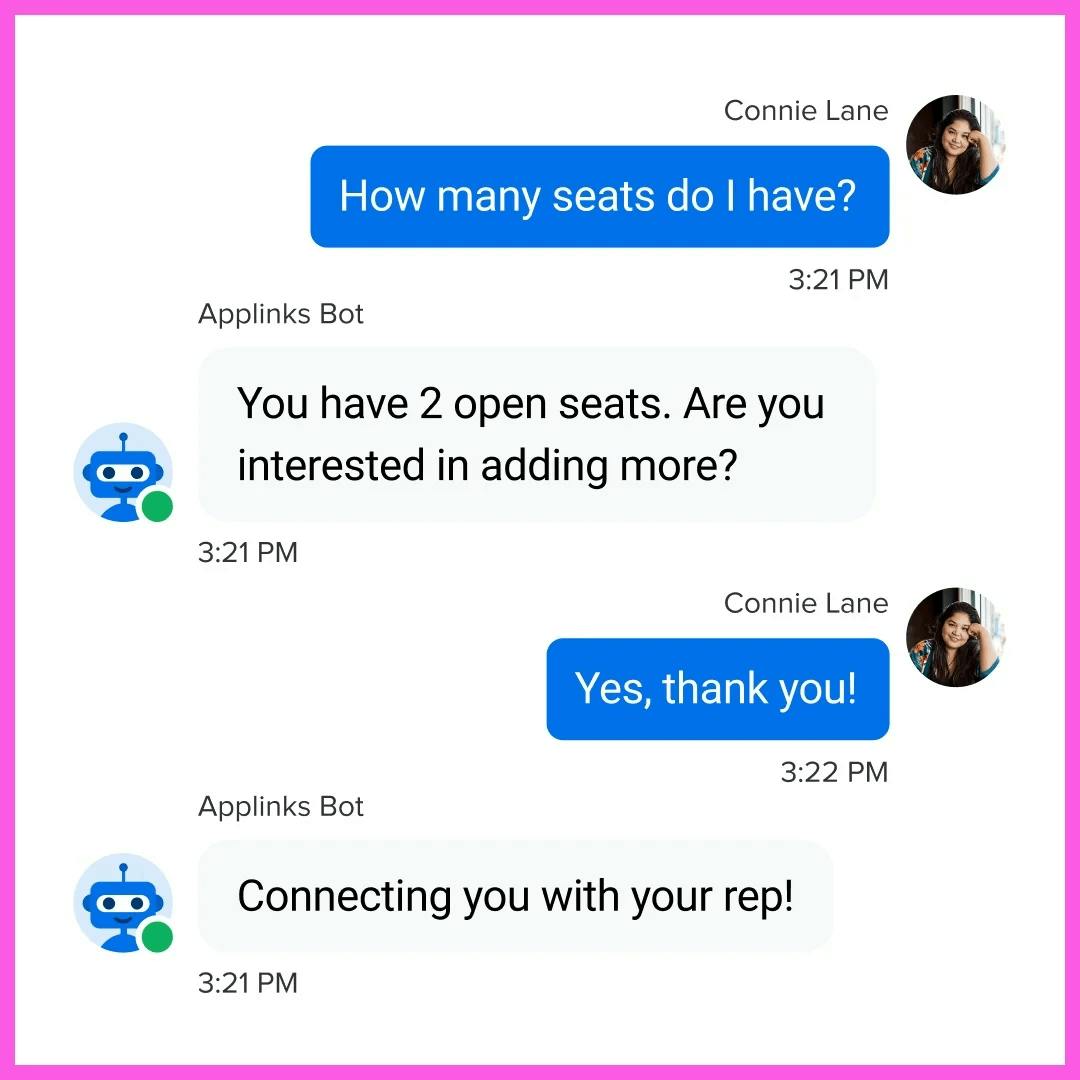 It uses visitor identification software to gather customer data from your CRM and marketing tools, enabling the chatbot to deliver highly personalized conversations with each customer.
Key Features
Fast Answers: Reduce customer wait times and ease the load on your support team by using chatbots to respond to inquiries instantly.
Live chat: Chatbots can transfer conversations to human service representatives when needed.
Advanced metrics: Track live data on your customer support, including CSAT, time-to-resolution, and deflection rate, to evaluate your performance and identify areas for improvement in your chatbot software.
Pricing
Drift offers three pricing choices:

Premium (starting at $2,500/month): Includes essential features like live chat, scheduled meetings through chatbot, custom chatbots, traffic insights, and real-time notifications.
Advanced (custom): Includes routing, A/B testing, and other advanced features.
Enterprise (custom): Includes AI chatbots.
Pros & Cons
Pros:
Custom pricing.
Live chat.
A/B testing.
Audience Insights.
Real-time notifications.
Cons:
No free plan.
Pricing can be expensive for small businesses.
AI chatbots are only for Enterprise plan users.
6. Chatfuel
Chatfuel is an AI chatbot designed for Meta products—Facebook, WhatsApp, and Instagram.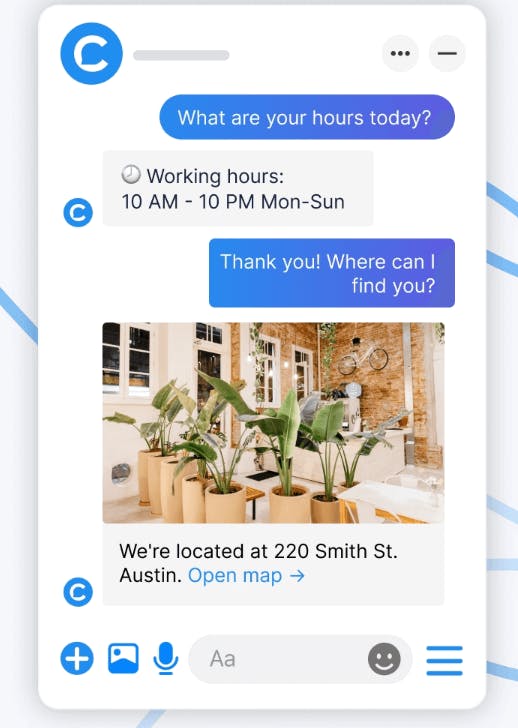 It features an easy-to-use platform built with an AI system that can understand customer inquiries and respond with automated messages. It also provides analytics tools to help you better engage with your customers.
Key Features
Multichannel Support: Automate messaging on Instagram, Facebook, WhatsApp, and your website (through the Facebook Messenger live chat widget).
Collect Feedback: Collect user feedback through chatbot messages to understand customer satisfaction better.
Schedule Bookings: Allow customers to schedule bookings in just a few clicks. Automatically send reminders and updates to ensure they don't miss their event.
Pricing
Chatfuel has separate plans for Facebook + Instagram and WhatsApp.
For Facebook + Instagram:
Entrepreneur ($14.99/month — 500 conversations)
Startup ($24.99/month — 1,000 conversations)
Small Business ($59.99/month — 3,000 conversations)
Growing Business ($119.99/month — 10,000 conversations)
Enterprise (custom)
For WhatsApp:
WhatsApp Business ($49/month — 1,000 conversations)
WhatsApp Enterprise (starting from $300/month)
Each plan includes a certain number of monthly conversations, and additional conversations are billed at $0.02/month ($0.01/month for the Growing Business plan).
Pros & Cons
Pros:
Offers free trial.
Schedule bookings.
Instant customer support.
Flexible pricing plans.
Product recommendations.
Cons:
There is no free plan after the trial.
Limited analytics.
Limited customization options.
7. Conversica
Conversica brings the power of GPT to website chats, email, and SMS to help businesses uncover revenue opportunities at scale.
The tool can quickly switch contexts and adjust its approach between channels, languages, and customers to give a highly human-like experience. It features robust intent analysis to understand customer needs and deliver responses, links, and resources that convert.
Key Features
Conversational AI: Leverage natural language processing and powerful AI to engage customers more deeply.
Omnichannel & Multilingual: Switch between channels and languages to create authentic conversations based on contact preferences while working toward your end goal.
Reports & Analytics Dashboard: Track, analyze, and enhance the performance of your AI assistant with the help of detailed reports and analytics.
Pricing
Contact sales for a quote.
Pros & Cons
Pros:
Immediate notification.
High response rates.
Keeps the email positive, helpful, and professional.
Supplies information and links.
Cons:
The interface is overcomplicated.
It needs a lot of trial and error testing.
AI interpretation is not always correct.
8. Botsify
Botsify's multilingual chatbot, compatible with 100+ languages, enhances lead generation through conversational AI.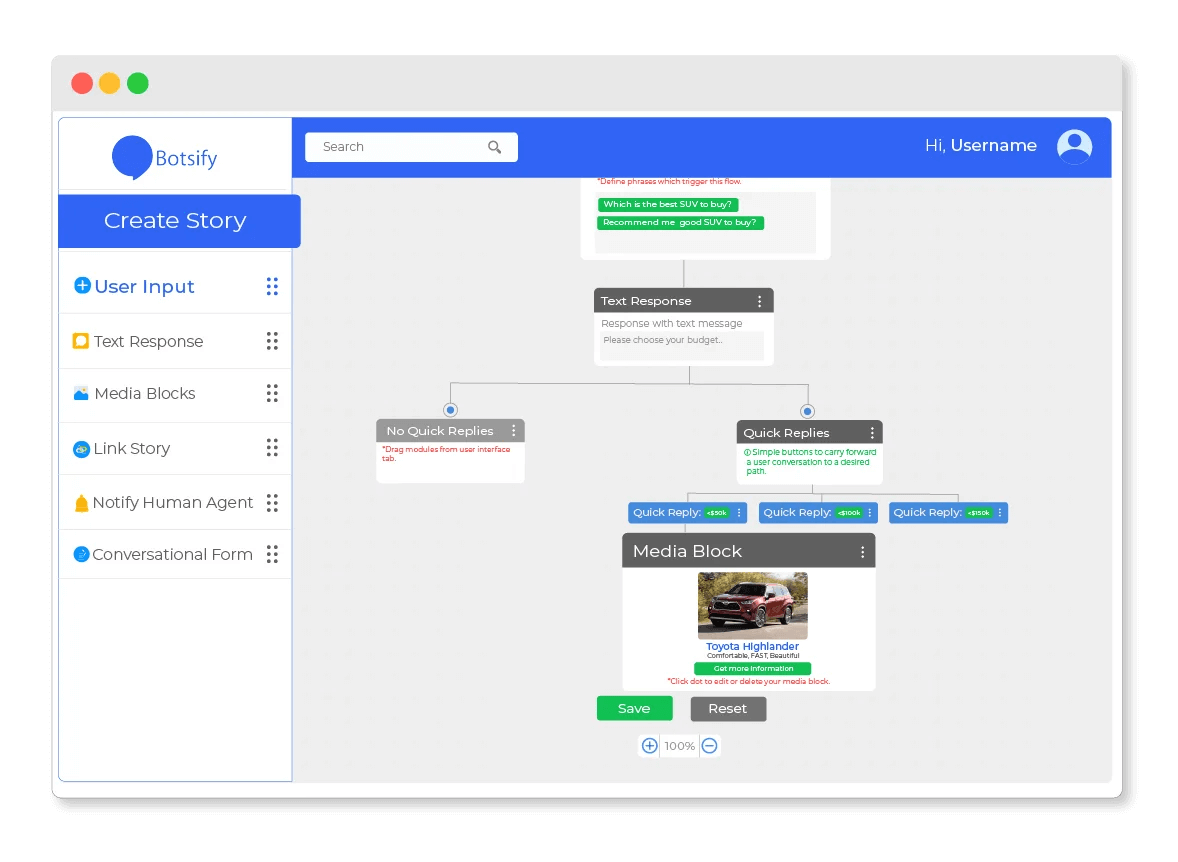 Create your AI chatbot effortlessly using their drag-and-drop builder, personalize conversation forms for lead qualification, and automate sales procedures to elevate revenue.
Key Features
Omnichannel: Connect with customers through diverse channels, including Instagram, Facebook, WhatsApp, and your website.
Live Chat: Efficiently manage customer support by seamlessly transferring to live agents when the multilingual chatbot can't resolve an issue.
Integrations: Connect your chatbot to 100+ apps like Slack and Shopify, and rely on Botsify's developers, designers, and testers for chatbot support when needed.
Pricing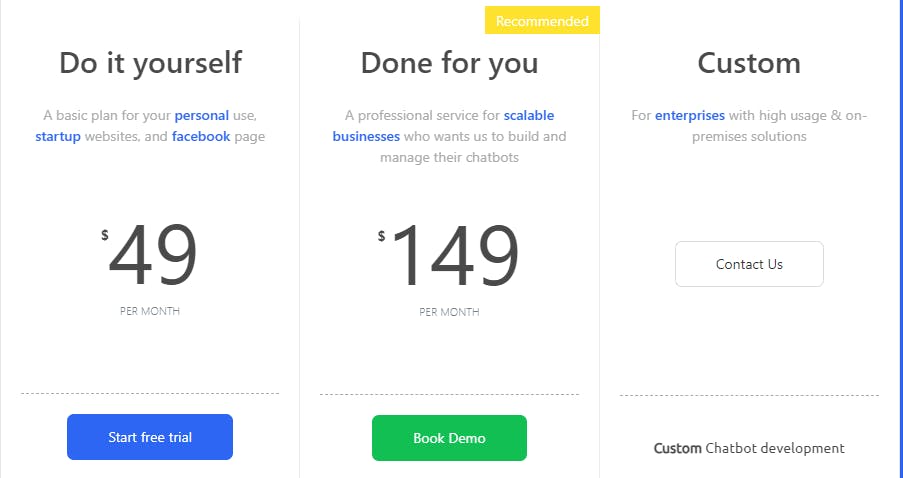 Botsify offers three pricing choices:
Self-Service ($49/month): Ideal for personal use and startup websites, this plan includes two chatbots, 5,000 monthly users, and unlimited conversations and forms.
Managed Service ($149/month): For those seeking a more comprehensive solution, this plan provides more chatbots, unlimited users, and custom chatbot development.
Custom (custom pricing): Tailored pricing to meet specific requirements and needs beyond the standard plans.
Pros & Cons
Pros:
14-day trial.
Omnichannel support.
Unlimited conversations.
100+ integrations.
Lead generation forms.
Live chat.
Cons:
There is no free plan after the trial.
Limited chat history.
Conclusion
ChatBot is a popular chatbot solution with a lot going for it—but it isn't perfect. The tools above solve many of the platform's biggest challenges, while the pricing plans provide a range of price points for users of all sizes.
At Chatling, we offer businesses a simple AI chatbot tool they can trust. Add data sources to train your bot, implement it on unlimited websites in minutes, and automate most of your customer interactions across sales, marketing, and support.
Get started for free today!