If you're looking to start an online store, Shopify is the go-to commerce platform for many companies.
Aside from their extensive e-commerce tools, they also support a variety of different third-party integrations — including AI chatbots. Chatling, for instance, allows you to integrate your own personalized bot into any Shopify site with just a few clicks.
For anyone running an online business, resolving customer requests is essential to improving user satisfaction. However, if you're receiving large amounts of requests at a time, it can take a while to get through all of them. That's why it's worth investing in an AI chatbot to automate your customer support.
Read on to find out more about the best chatbot for Shopify platforms.
What Is a Chatbot for Shopify?
A chatbot for Shopify is an AI-powered tool that uses machine learning (ML) and natural language processing (NLP) to simulate human conversation.
These chatbot apps integrate with Shopify websites and help automate low-level customer support tasks, such as:
Directing customers to self-service support resources
Offering information on estimated shipping times and delays
Routing customers to the correct agents based on their questions
Collecting customer information conversationally
To enable chatbots to generate accurate responses to frequently asked questions and product-related questions, you'll typically need to train them using resources like your website content and knowledge bases.
This process ensures that the chatbots can provide relevant information when customers need it.
How Does a Chatbot for Shopify Benefit Your Business?
Streamlined Operations and Increased Productivity
AI chatbot software for Shopify helps streamline your customer service and ticket resolution. Automate repetitive tasks, such as FAQ management and low-level support, and free up your agents for more complicated issues.
Provides On-Demand Information
Provide customers with an easy and interactive method of gaining information about your brand. Instead of navigating through your FAQ pages and documentation, they can have answers handed right to them via your AI chatbot.
Room to Scale up
With the help of multilingual chatbots, you can address more concerns and reach customers across the world — regardless of their native language. Automating your customer support also allows you to resolve many requests at a time, increasing your resolution rates and overall customer satisfaction.
Criteria to Consider When Choosing a Chatbot for Shopify
No-Code Automation for Specific Workflows
When choosing a chatbot for Shopify, make sure the bot is easy to build and implement. Many chatbots provide no-code builders and prebuilt templates to make setting up your bot quick and simple, even for those with no coding expertise.
Secured Customer Information
Chatbots collect a lot of personal customer information, so you have to pick a tool that protects that data with a solid security system. Since Shopify also allows for online transactions, you must keep your customers' payment details safe from hackers to avoid legal repercussions and damaging your reputation.
Supports Comprehensive Reports and Analytics
Choose a tool that provides you with insight or analytics into your bot's performance and customer requests. This is valuable data that you can use to fine-tune your chatbot and fill knowledge gaps that are leading to negative customer experiences.
5 Best Chatbots for Shopify
In case you're in a rush, here's a brief look at the chatbots we'll be covering:
Now, let's dive into the details.
1. Chatling
Best for Improving Ticket Resolution Rates
Chatling uses AI-powered chatbots trained on your business's data to boost your ticket resolution rates by up to 50% with your own personalized AI chatbots.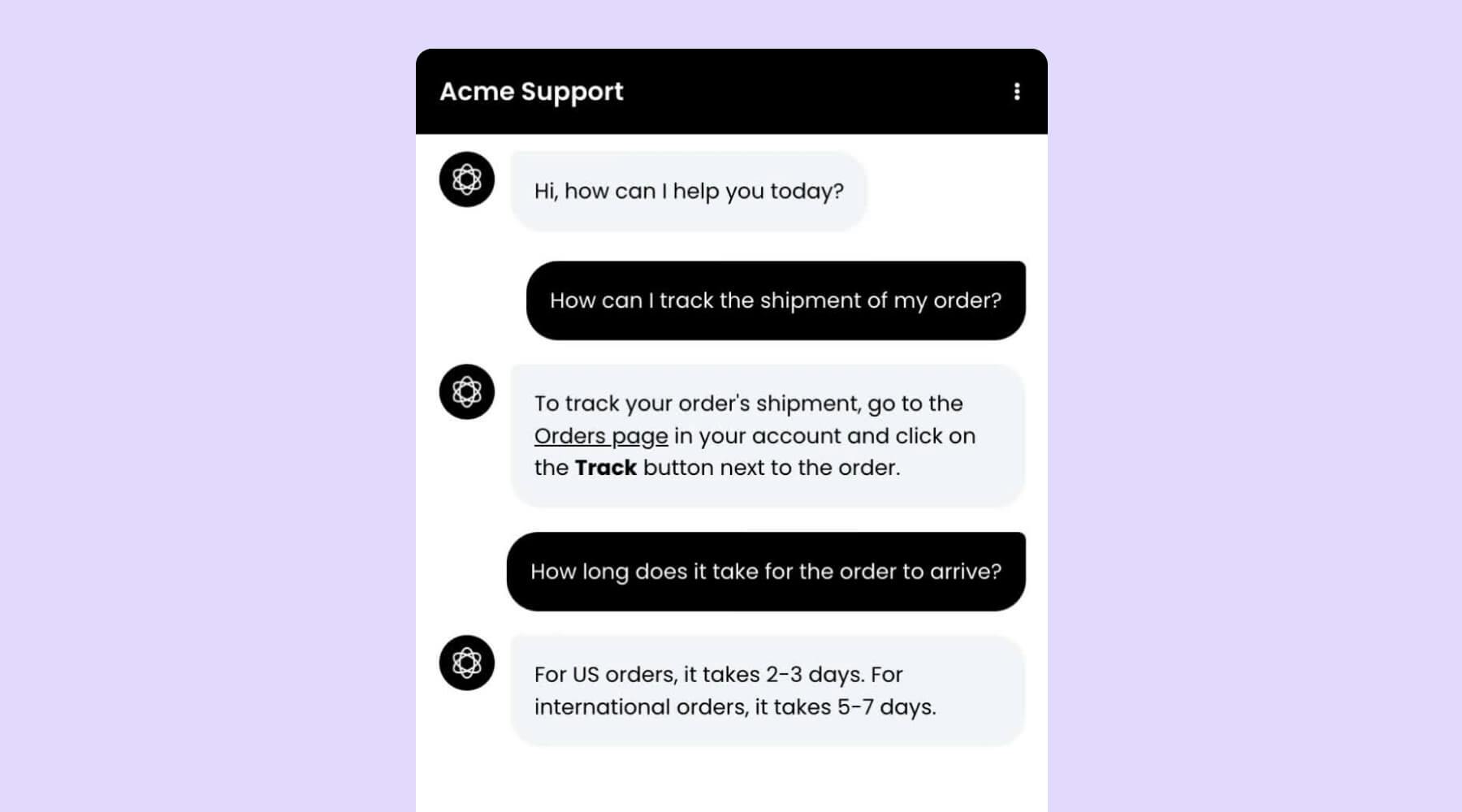 Customize your bot's design to match your branding and embed it onto any Shopify site with a few clicks — no developer required. Then simply connect your data sources (including FAQs, documents, sitemaps, and more), and your chatbot will train itself in minutes.
We also offer multilingual support, so you can provide automated responses in any language to accommodate a wider customer base.
Key Features
Add Data Sources: Train your chatbot using different types of data sources, such as sitemaps, website URLs, knowledge bases, and more. Add as many resources as you'd like — once integrated, your chatbot should complete its training in just a matter of minutes.
Customize the Chatbot: Edit your chatbot's design to match your brand. Customize things like text color, bot icon, chat box width, and more.
Embed on Your Website: Instantly embed your AI chatbot onto an unlimited number of websites without writing a single line of code.
Get Insights From Conversations: View your chatbot conversations to monitor your bot's performance and get insights into common customer requests. If necessary, you can fine-tune your bot's responses to increase its accuracy.
Gather leads: Embed a form within the chatbot to automatically collect the information of your potential leads and follow up with them.
Pricing
Chatling offers a completely free plan, which comes with 1 chatbot, 35 AI message credits (i.e., AI responses), 500,000 training characters, and the ability to embed your chatbot on an unlimited number of websites.
If you want to increase your chatbot and credit limitations as well as access full chatbot customization, you must upgrade to one of the paid plans that Chatling offers.
The premium plans provide you with unlimited file uploads, GPT-4 access, more message credits, and removed branding.
Pros
Free plan.
Unlimited websites available on every plan.
Multilingual support.
24/7 availability.
Unlimited chatbots.
Boosts resolution rates.
Automatic setup.
Full chatbot customization.
Unlimited file uploads.
Track chatbot conversations.
No-code chatbot integration.
Cost-effective solution.
Reduce support workload & ticket volume.
Supports multiple types of data sources.
GPT-4 access.
Cons
No live chat available yet.
2. Maisie AI
Best for Product Recommendations & Boosting Conversions
Maisie AI is a chatbot that provides personalized product recommendations to customers.
The chatbot provides users with interactive pre-sales questions to narrow down their interests and direct them to relevant products. And since motivated buyers don't need to navigate through your entire product catalog, you can significantly increase the likelihood of conversion.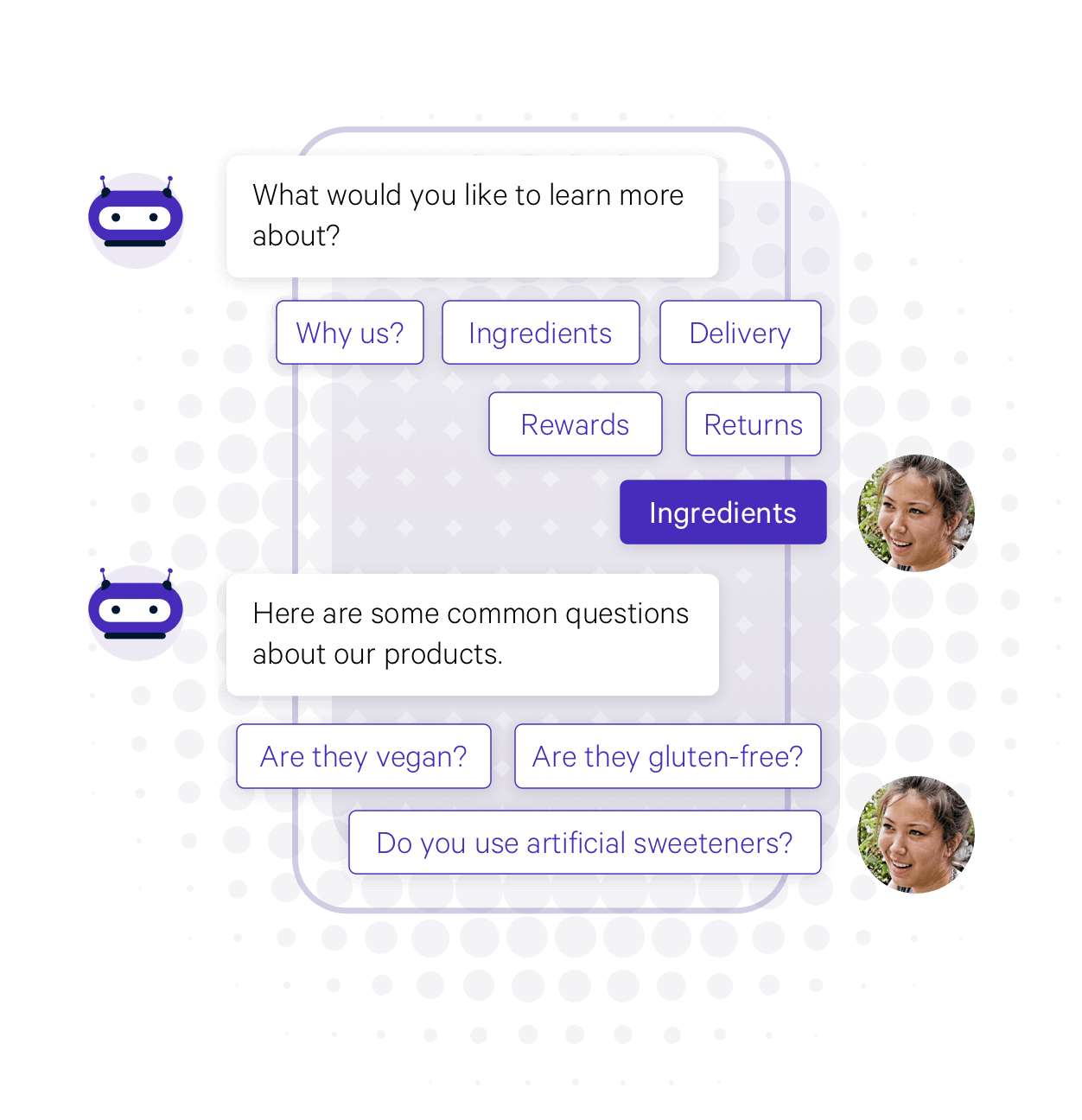 Automate your FAQ management and order status updates to reduce the support workload for your staff. For more complex issues, Maisie AI knows to hand over to your human agents for quicker ticket resolution.
Key Features
Personalized Product Suggestions: Recommend relevant products to customers and answer pre-sale questions instantly to improve conversion rate and average order value.
Build Your Email and SMS Lists: Collect user emails or other contact details with automated opt-ins for newsletter subscriptions, discounts, cart savers, price drops, and so on.
Recover Lost Sales: Send cart reminders, promotions, and back-in-stock alerts to customers via SMS, email, and messengers to incentivize customers to return to your website.
Instant Answers and Order Updates: Deliver customer support 24/7 and provide users with real-time order and shipping status updates to keep them notified.
Pricing
Maisie AI has 7 tiered subscriptions available, which increase in price based on the number of monthly unique visitors you receive:

10,000 visitors ($29/month)
25,000 visitors ($49/month)
50,000 visitors ($79/month)
75,000 visitors ($109/month)
100,000 visitors ($149/month)
199,000 visitors ($299/month)
200,000+ visitors (custom pricing)
Every plan provides you with unlimited website chatbots, unlimited conversations, and bot-to-human handovers. As you upgrade to the more expensive plans, you gain access to premium features such as Klaviyo integration, VIP support, and branding removal.
Pros
14-day free trial.
18 conversational templates.
No-code visual chatbot builder.
Unlimited website chatbots on every plan.
Unlimited conversations.
Handover to live chat.
Lead collection.
Real-time order updates.
Automated cart reminders and promotions.
Product suggestions.
Cons
No free plan.
Limited monthly unique visitors for every plan except custom.
No analytics.
3. Re:amaze
Best for Multipurpose AI Chatbots
Re:amaze comes with three different AI chatbots, which each serve their purpose. Access FAQ bots, order bots, and hello bots to automate workflows such as order updates and resolving customer inquiries. Or, if you're looking to streamless other aspects of your business, you can fully customize your own AI bot for product suggestions, lead collection, and much more.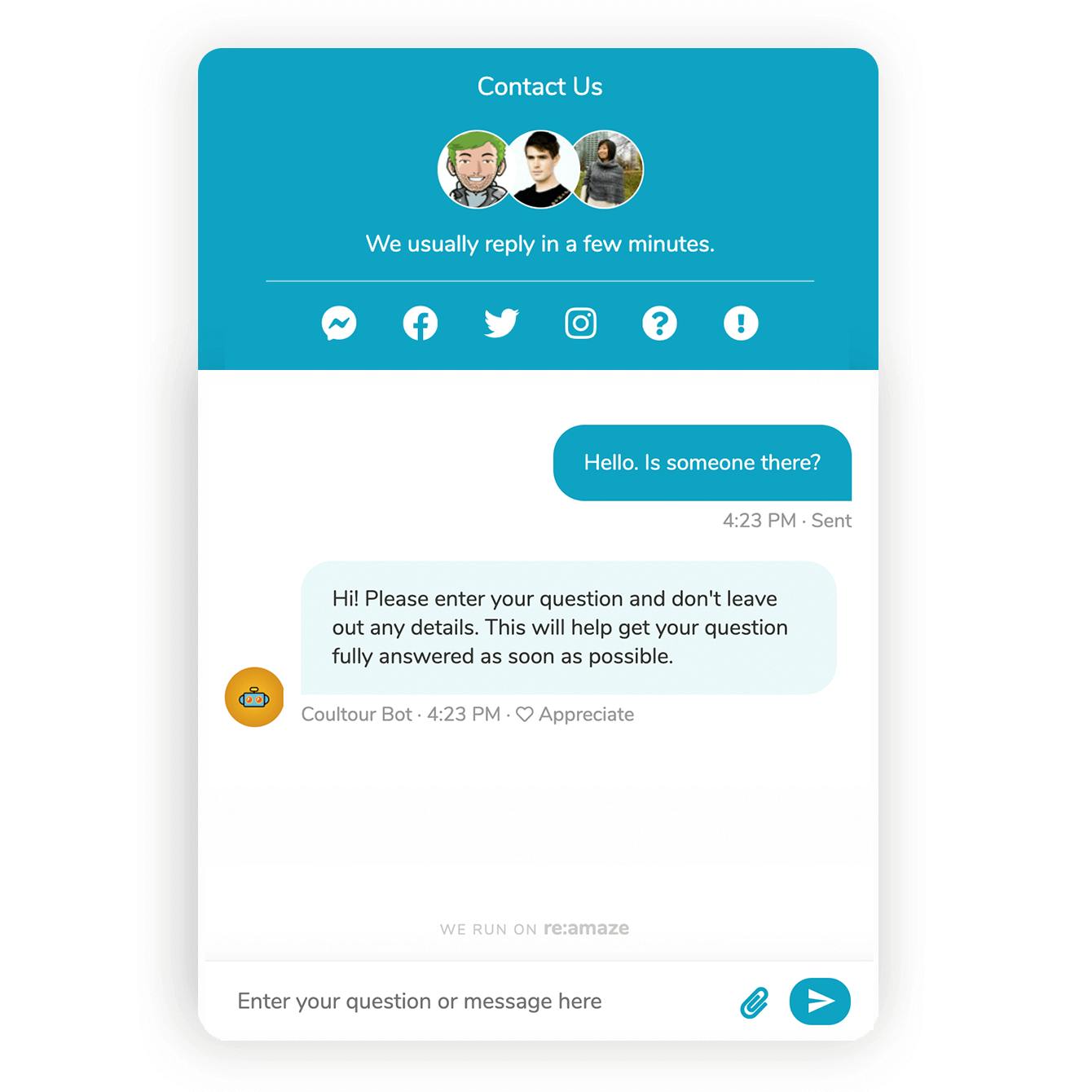 You also have the option to create and send automatic messages as part of a campaign to upsell or cross-sell products, promote discount events, announce new products, and reduce page abandonment.
Key Features
Hello Bot: Automatically identify short customer messages and have your Hello bot ask for more information before transferring the conversation to a human agent.
Order Bot: Update customers on their order status without the need for manual interference. Re:amaze integrates with WooCommerce and BigCommerce as well as Shopify to access order information.
FAQ Bot: Train your bot using FAQ content so it knows how to respond to common customer queries.
Custom Bots: Fully personalize your own custom chatbot for other specific scenarios, including scheduling calls, qualifying leads, and recommending products.
Pricing
Re:amaze has three main pricing options: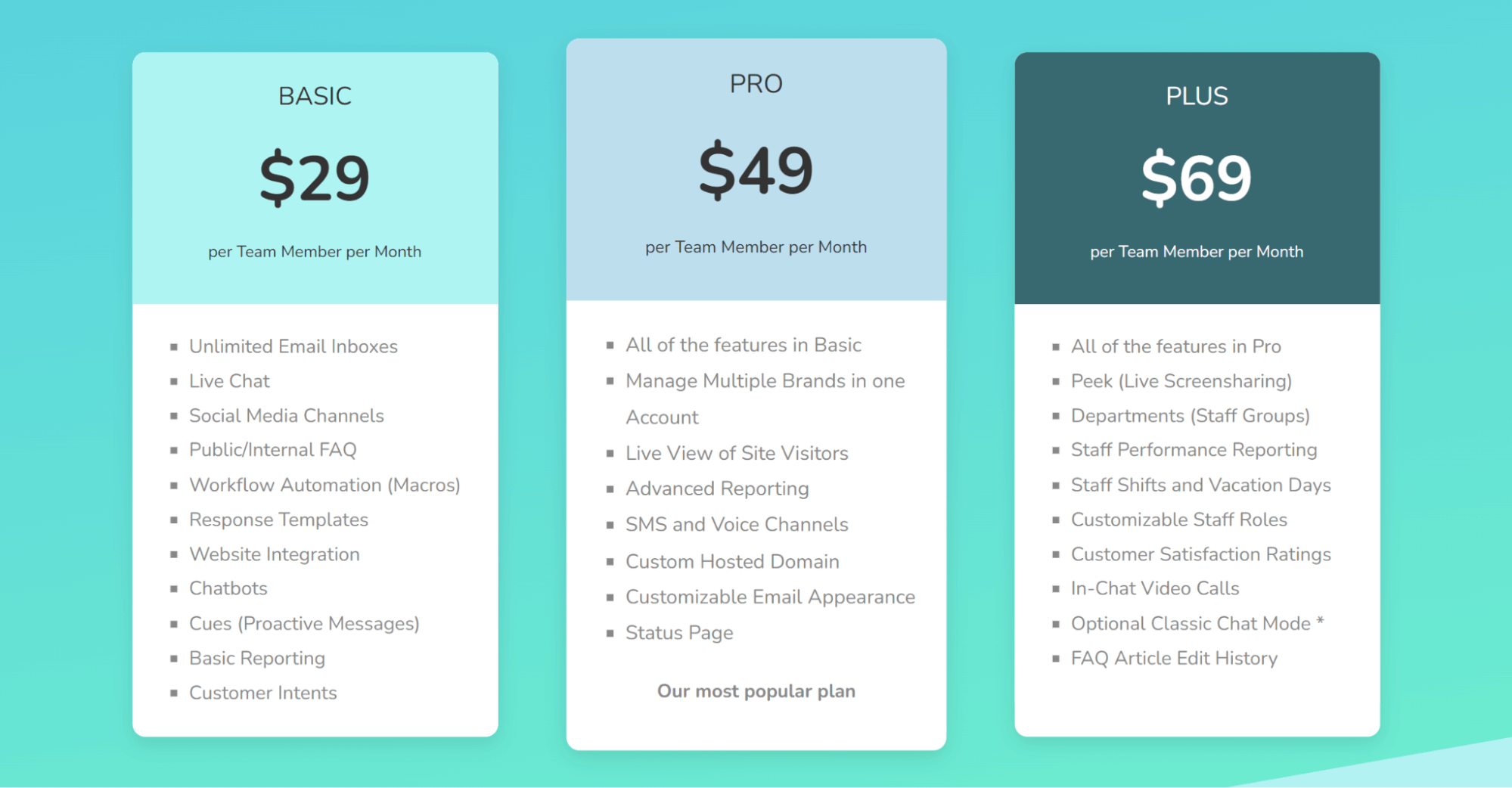 Basic ($29/member/month)
Pro ($49/member/month)
Plus ($69/member/month)
You can also purchase their Starter plan for a flat rate of $59/month (unlimited team members), but you'll be limited to 500 conversations per month. Or, if you're a larger business, contact their sales team to get a custom quote.
As you upgrade your plan, you get access to more advanced reporting, further integrations, and the ability to manage multiple brands on one account.
Pros
Custom plan.
Offers both monthly and annual billing.
Advanced reporting.
Response templates.
Workflow automation.
Unlimited email inboxes.
Multipurpose chatbots.
CSAT ratings.
FAQ article edit history.
Unlimited social channels.
Cons
No free plan.
Prices can get expensive for larger teams (you pay per team member).
You can only manage one brand on the Starter plan.
4. Relish AI
Best for Reducing Cart Abandonment
Relish AI helps you reduce cart abandonment with automated 'exit cart' campaigns, which involves offering discounts and free shipping to encourage customers to complete their purchase. Provide instant answers to product or brand-related questions round-the-clock to eliminate the need for manual browsing and streamline customer journeys.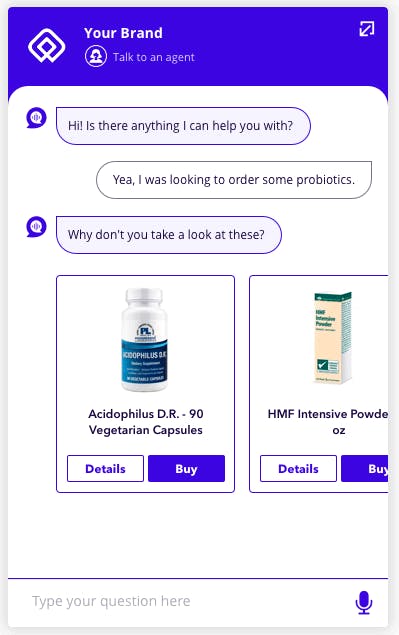 Aside from assisting customers with their shopping, Relish AI can also automate processes such as product returns, newsletter sign-up campaigns, order tracking, and more.
Key Features
Product Discovery: Help customers find the right products to increase conversions and answer any sales-related questions instantly. Utilize Relish AI's automated sales assistant to aid users through their shopping journey.
Instant Answers: Automate responses to general FAQs round-the-clock to greatly reduce your response times.
Real-Time User & Cart Recovery: Recover abandoned carts and re-engage with users using Relish AI's range of sales campaigns, which include 'exit cart' campaigns, newsletter campaigns, 'product in-stock' campaigns, and more.
Lead Generation: Use the chatbot to capture leads and customer emails at a faster pace.
Pricing
Relish AI offers four paid subscriptions, which each allow for a different number of monthly site visitors (maximum):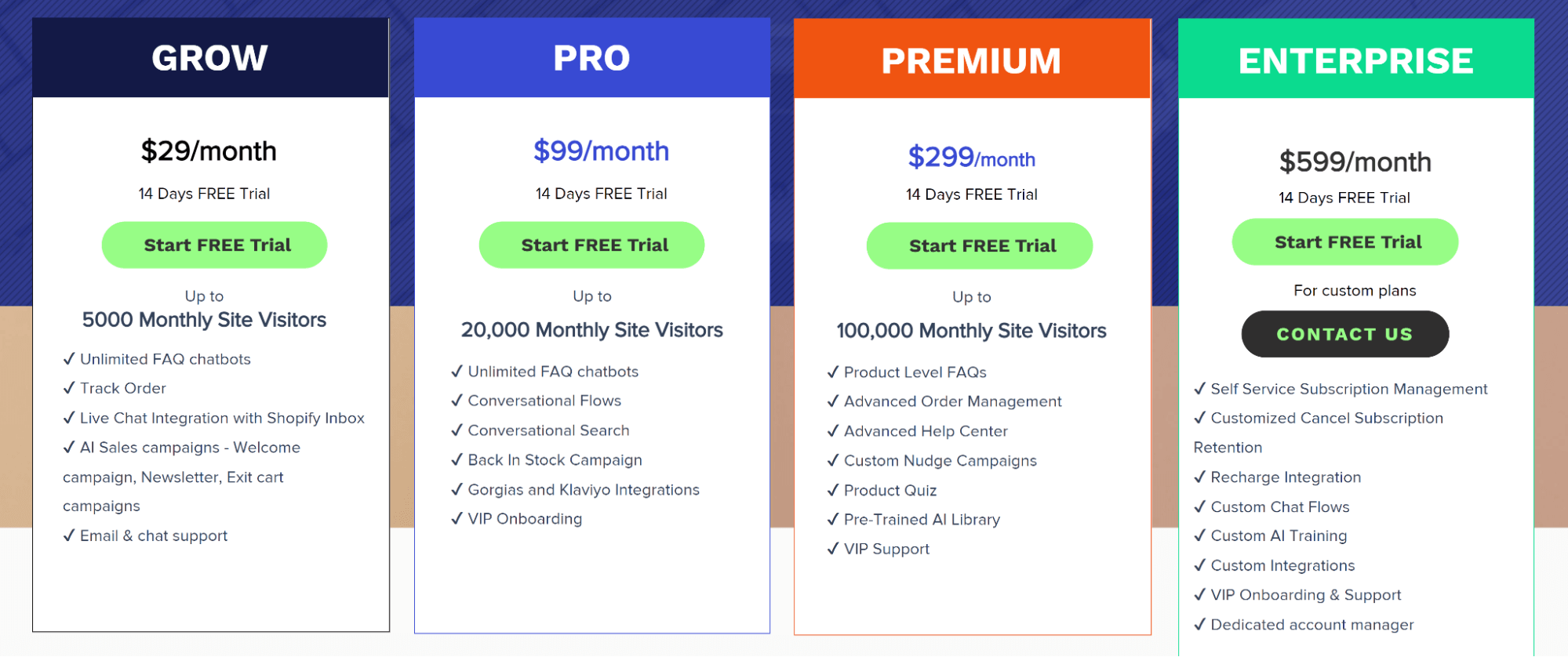 Grow ($29/month)
Pro ($99/month)
Premium ($299/month)
Enterprise ($599/month)
Regardless of which plan you choose, you get unlimited FAQ chatbots, order tracking, and AI sales campaigns. If you upgrade to one of the pricier plans, you can access many premium features, including custom nudge campaigns, conversational flows, and custom AI training.
Pros
14-day free trial.
Custom pricing.
Unlimited FAQ chatbots.
AI sales campaigns.
Custom chat flows.
Custom AI training.
Advanced order management.
Pre-trained AI library.
Custom integrations.
Advanced help center.
Cons
No free plan.
Limited monthly site visitors for every plan except Enterprise.
Custom AI training is only available for Enterprise.
5. Engati
Best for Multilingual Support
Engati provides live auto-translations for 50+ languages so you can respond to customers in their native tongue. Manage conversations across platforms like WhatsApp and Facebook all from one unified inbox to streamline your customer support. You can also improve conversion rates with automated product suggestions, demo bookings, and special offer promotions.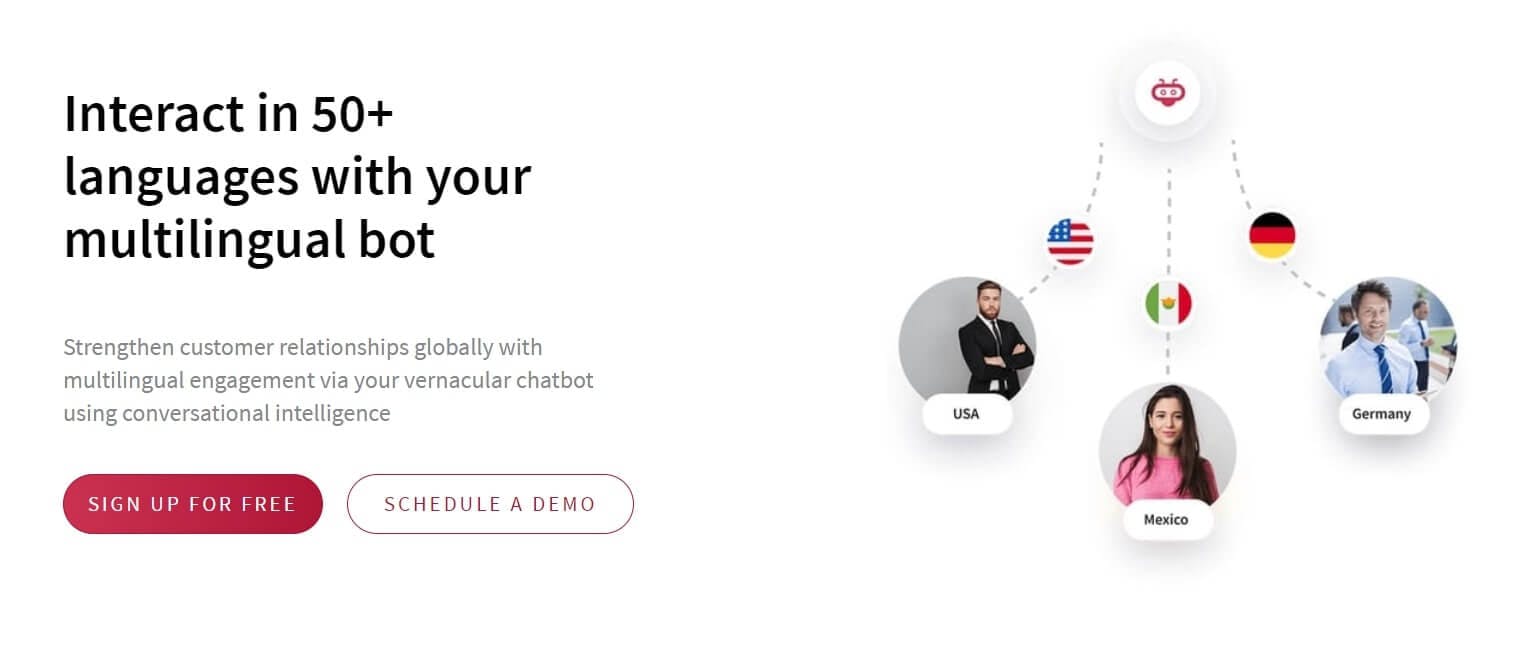 Create your bot easily using prebuilt AI solutions and their no-code drag-and-drop builder. Engati allows you to train your chatbot in seconds using various documents and FAQs to increase the accuracy of its responses.
Key Features
Auto-Translation: Translate conversations into a customer's native language (over 50 languages supported) in real-time. If Engati's bot cannot resolve a query, it will automatically transfer the ticket to an agent who's fluent in the relevant language.
Simplify Workflows: Quicken your chatbot creation with Engati's ready-made AI solutions and handle all conversations from one inbox for easier ticket management. You can also integrate Engati with third-party apps such as Google Calendar and Salesforce.
Drag-and-Drop Builder: Create bots with their no-code chatbot builder and use DocuSense to train your bot in seconds. Simply upload your documents to their platform and watch your bot complete its training instantaneously.
Pricing
Engati doesn't state any details about their pricing on their site. However, you can request a demo by filling in a brief form and asking their support team for an exact quote.
Pros
Custom pricing.
Supports over 50 languages.
Drag-and-drop builder.
Live auto-translations.
Ready-to-use AI solutions.
Omnichannel support.
Custom reports.
Fast chatbot training process.
Prebuilt & custom integrations.
NLP-powered chatbots.
Cons
Mobile app is prone to errors.
Their customer support team can be slow to respond.
No pricing information on their website.
Conclusion
Shopify is a well-known site builder for ecommerce businesses, but it only has so much functionality built into its platform. Fortunately, Shopify allows for a range of different third-party integrations to help elevate your website, including AI chatbots such as Chatling.
With Chatling's help, you can integrate personalized chatbots onto any site with just a few clicks. Your AI chatbot is online 24/7 and can scale with growing businesses.
Try Chatling for free today and boost your resolution rates by up to 50%.