Handling customer requests is a big part of establishing a successful business — if customers aren't satisfied, you're likely to lose them to other competitors. However, it can be difficult to respond to every customer query promptly, especially if you have a large user base.
In these cases, it's best to look into chatbot automation to increase the efficiency of your customer support. With the help of tools like Chatling, you can embed your own AI chatbot on any site of your choosing without the need for coding.
But before we start listing different AI chatbot tools, let's discuss chatbot automation in a bit more detail.
View table of contents [+]
What Is Chatbot Automation?
Chatbot automation involves utilizing AI chatbot software to simulate human conversation. It should be able to scour through different resources, such as website content and documents, and use that information to understand and reply to customer queries.
Chatbots use natural language processing (NLP) to interpret user intent and produce responses. They should improve the accuracy of their answers over time as they gain more experience with customer conversations.
For example, Chatling allows you to train your bot with various data, including FAQs, sitemaps, and custom text. After entering the data, the bot will automatically begin consuming the resources and complete its training within minutes.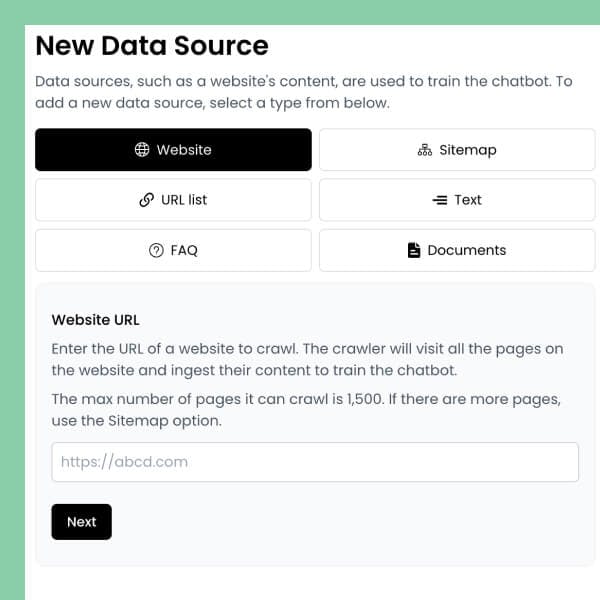 How can Chatbot Automation Benefit you?
24-Hour Availability
Chatbot apps allow you to provide 24/7 customer support. Since chatbots are always online and available, you can respond to customers regardless of the time or day. This means users around the world can receive instant replies to their queries, which helps boost customer satisfaction.
Lead Generation Support
Chatbots can automatically ask customers for their contact details to speed up your lead collection. Some chatbots also allow customers to book appointments through them to make the process as easy as possible — no redirects required. If necessary, you can integrate with multiple social channels to interact with customers on their preferred platforms.
Bounce Rates Reduction
Let customers find out all they need to know about your products or services via your chatbot to reduce bounce rates. Proactively message customers with personalized greetings and offer help to increase chances of engagement.
If users require any advice, they can easily access it without having to wait for a human agent. Receiving such instant support minimizes user frustration and helps boost conversion rates.
Things to Consider When Choosing a Chatbot Automation Tool
Easy Customization
Chatbot automation tools should allow for easy customization and training.
This includes building the chatbot itself, setting up chat flows, and personalizing the chat widget's appearance. Some tools provide ready-made templates and no-code builders to make implementing your chatbot quick and simple.
For instance, Chatling allows you to customize multiple elements of your chatbot, including widget color, personalized branding, and more.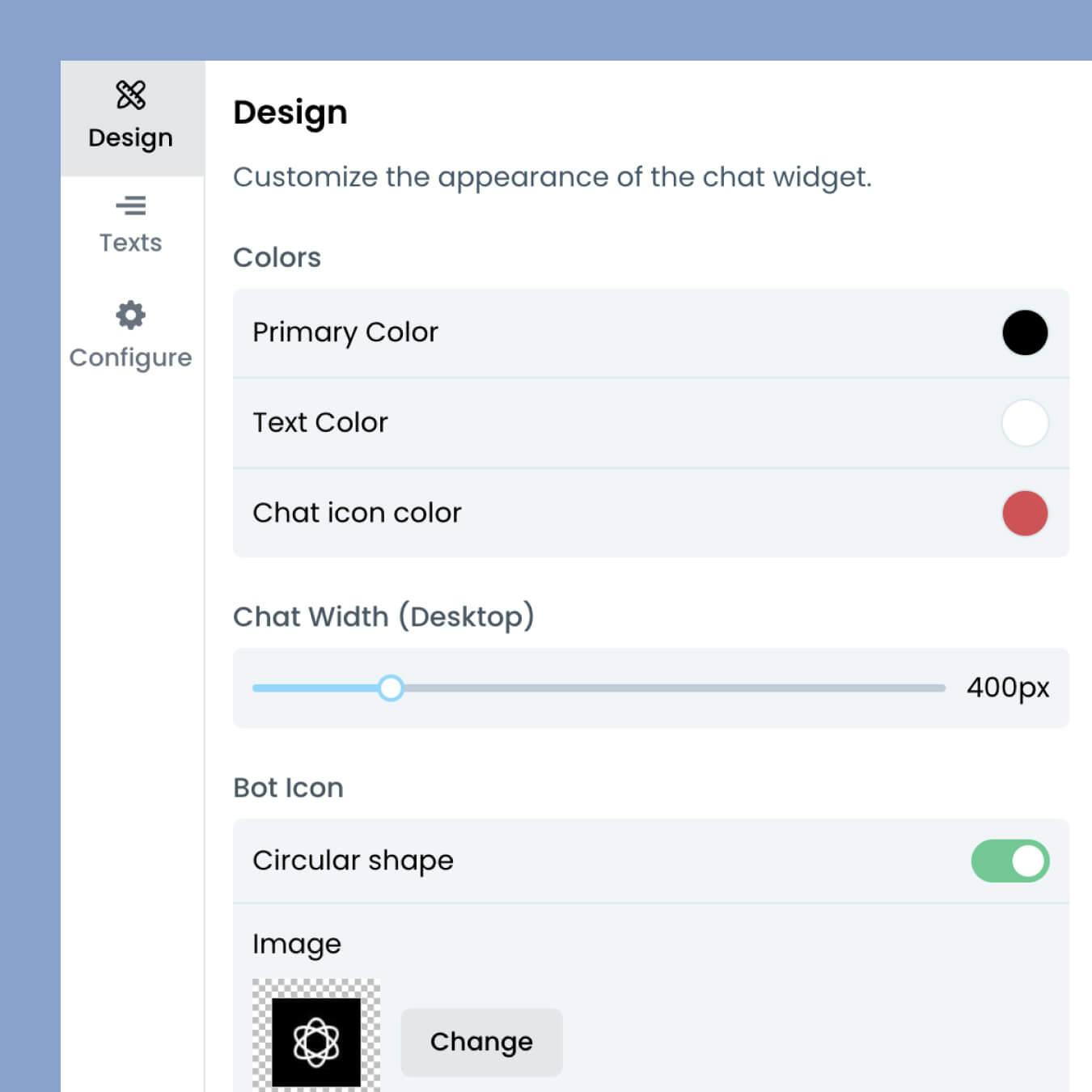 Integrations
Choose a chatbot automation tool that integrates with various third-party apps — this lets you communicate with customers on multiple sites or platforms and unify your customer support workflows.
Natural Language Processing (NLP)
The best chatbot automation software utilizes NLP technology, which allows them to better comprehend human conversations and the context behind different queries. If chatbots can understand a customer's tone and what they're asking for, it helps improve the accuracy of their replies.
Pricing
Finally, pay attention to the chatbot's pricing options and what features are included in each plan. Consider whether there's a free trial or free plan you can use to try out their features first before committing to a paid subscription.
Ask yourself the following:
Do the prices fit within your budget?
What are you paying for (e.g., features, usage/month, seats)?
Are the plans monthly or annual contracts?
Is there a money-back guarantee?
5 Best Chatbot Automation Tools
Before we dive into our list, here's an overview of the tools we'll be covering:
Chatling: For Scalable, On-Demand Customer Support
Drift: For Conversational Generative AI
Kore.ai: For Deep Customization
Intercom: For Understanding Customer Issues
LivePerson: For Multichannel AI Support
Now, let's dive into the details.
1. Chatling
Best for on-demand customer support
Chatling lets you implement personalized AI chatbots onto an unlimited number of websites without any coding.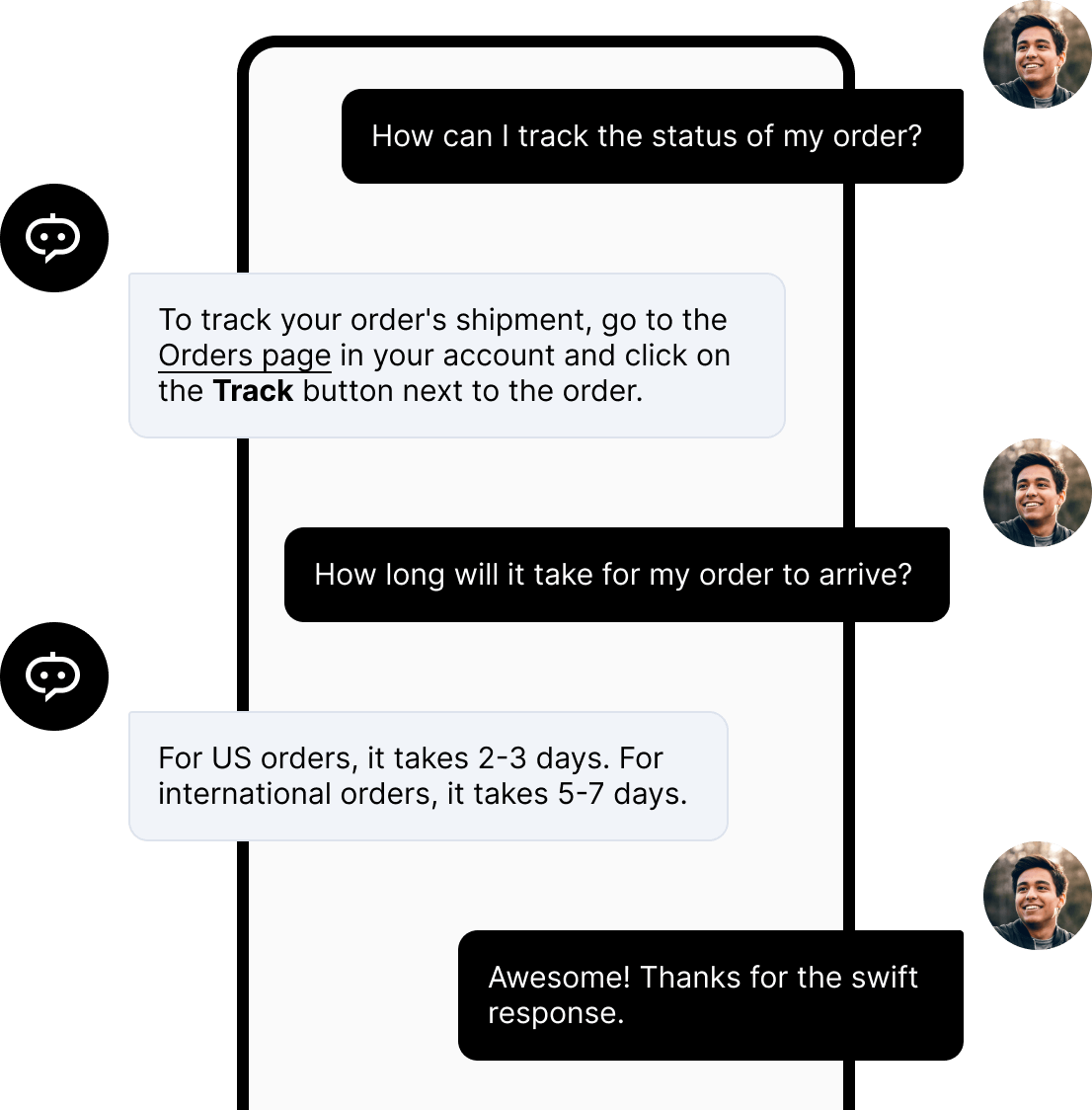 Our platform integrates with leading web hosting providers like Squarespace, Shopify, and WordPress, enabling you to engage with your customers across multiple channels effortlessly.
Every Chatling chatbot automatically supports a wide range of languages (over 50, to be exact), allowing you to deliver exceptional customer service in any language and cater to users from all corners of the globe. It's one of the aspects that makes us one of the best multilingual chatbots on the market!
Key Features
Add data sources: Easily train your chatbot with resources such as website content, knowledge bases, documents, sitemaps, and more. Enter as many data sources as necessary and wait for your chatbot to begin automatically training itself. This allows your chatbot to answer customer queries accurately and point users in the direction of useful pages easily.
Reduce support tickets: Your chatbot will be able to answer simple user queries, reducing the number of support tickets your customer teams receive. This ensures that they only handle the issues that actually require their attention.
Increased sales: The chatbot can quickly answer customer questions regarding your product or services, ensuring that a customer's interest in your product doesn't waver while waiting for answers.
Detailed analytics: monitor the chatbot's performance and gain insights with key analytics data such the average AI response time, customer engagement rate, and more.
Full chatbot customization: customize every aspect of the chatbot so it matches your website design and company branding.
Monitor conversations: Track conversations to monitor your chatbot's performance. If necessary, you can fine-tune its training further to enhance its accuracy and provide higher-quality support.
API access: integrate Chatling into your own or other products and CRM tools with our API.
Multilingual: the chatbot can understand the language of the customer and respond to their questions in the same language.
Pricing
Chatling provides a fully free plan, which offers 35 message credits (1 credit = 1 AI response), 500,000 training characters, 1 chatbot, and 5 file uploads (1 MB file size). Regardless of which plan you choose, however, you can implement your chatbot on any number of websites and access customization options.
For GPT-4 access, full chatbot customization, and more chatbots, credits, and features, upgrade to one of the paid subscriptions.
Pros
Free plan.
Unlimited websites for every plan.
Multilingual support.
24/7 availability.
Full chatbot customization.
Unlimited file uploads.
No-code chatbot implementation.
Automatic setup.
Unlimited chatbots.
Cost-effective solution.
GPT-4 access.
Lessens ticket volume & support workload.
Multiple data sources are supported.
Track chatbot conversations.
Increases deflection & resolution rates.
Cons
No live chat feature available yet.
2. Drift
Best for conversational generative AI
Drift offers an AI chatbot that utilizes GPT (generative pre-training transformer) to deliver convincingly human conversational sales, marketing, and support.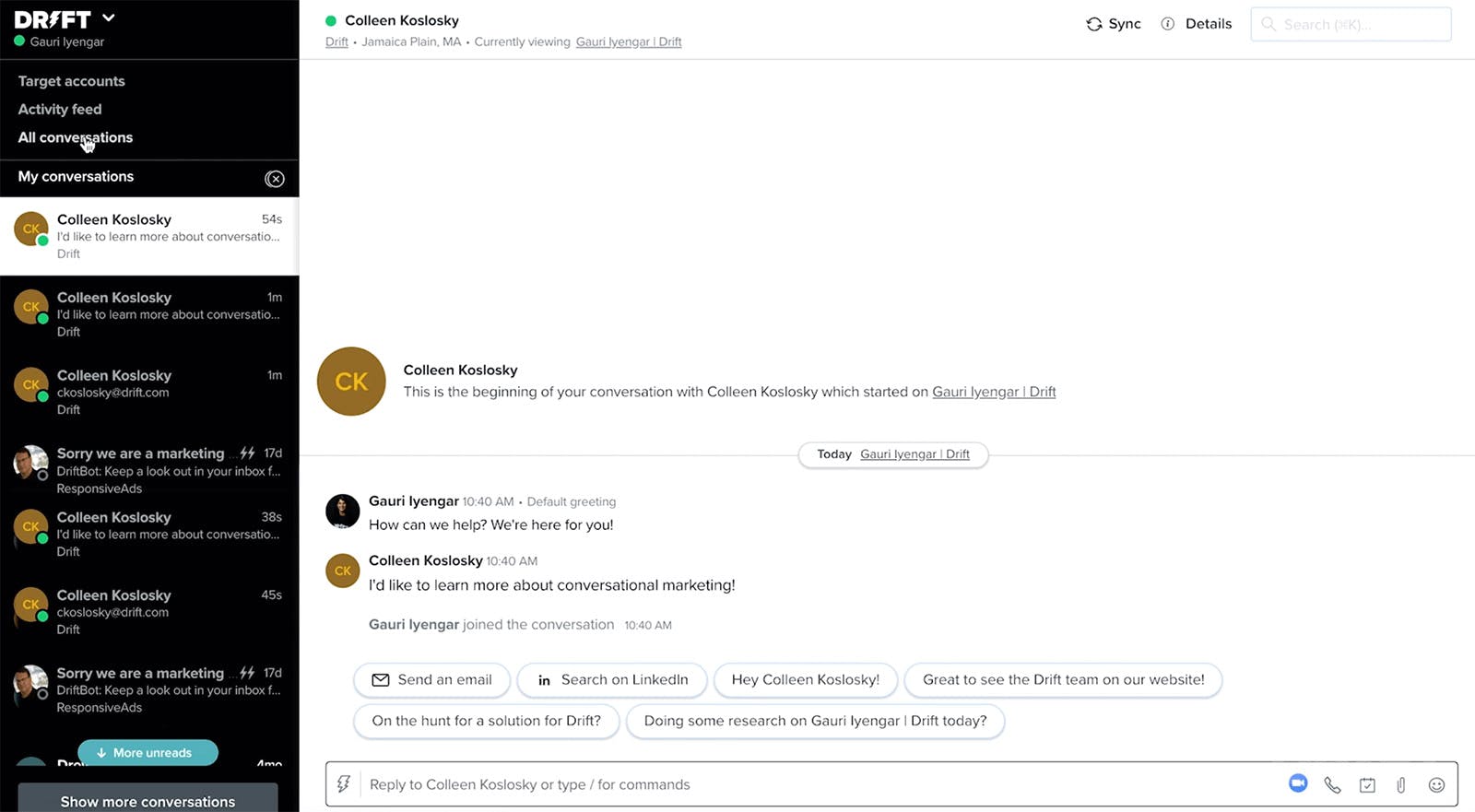 Enhance user experiences by leveraging customer data and engaging users in multiple languages. Utilize website visitor identification software to arm your chatbot with customer details like names, past purchases, and more.
Key Features
Book Meetings & Self-Service: Drift allows customers to book meetings via their chatbot and encourages self-service with links to your knowledge base when dealing with low-level issues.
Live Chat: Drift bots can transfer conversations onto human service reps via live chat if necessary. Make use of custom routing rules and response timers to optimize your customer support.
Powerful Metrics: View real-time insights into popular AI conversation topics to find out what customers are looking for. You can also assess your overall performance with metrics such as time-to-resolution, CSAT, and deflection rate.
Pricing
Drift has three paid plans available:

Premium (starts at $2,500/month)
Advanced (must request quote)
Enterprise (custom pricing)
With their basic plan, you get custom chatbots, scheduled meetings (via chatbot), and real-time notifications. For AI-powered chatbots, upgrade to Enterprise. Higher-level plans offer premium features like A/B testing and flex routing to human agents.
Pros
Custom plan.
Schedule meetings with chatbots.
Real-time notifications.
A/B testing.
Custom chatbots.
Audience insights.
Live chat.
Flex routing.
Cons
No free plan.
AI chatbots only available on the Enterprise plan.
Limited customization options.
3. Kore.ai
Best for deep customization
Kore.ai offers a SmartAssist chatbot that engages with customers via their preferred method of communication.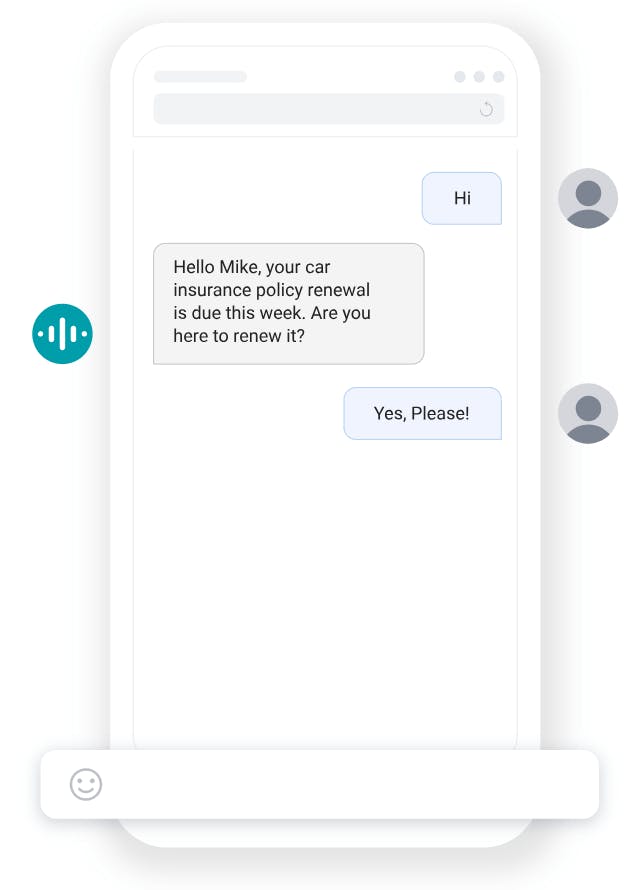 Create your AI chatbot with Kore.ai's drag-and-drop visual builder and customize tasks, channels, security, and more to suit your professional needs. Their chatbots also come with smart routing, which automatically transfers conversations to a human agent with the appropriate skill set.
Key Features
Smart Routing: If the AI bot is unable to resolve a query, it will connect with a suitable agent based on customer intent, agent proficiency and skills, and so on.
Intent Recognition: SmartAssist utilizes NLP and ML to detect user intent during conversations.
Reporting and Analytics: Track in-depth analytics, which includes flow metrics, containment metrics, and session trends. You can also provide agents with full chat transcripts for quality assurance and training purposes.
Pricing
Kore.ai requires you to pay per conversation, with one conversation being priced at 20 cents. If you're using voice bots, you'll have to pay an additional 4 cents per minute.

For pre-built apps, it's an extra 10 cents per conversation. You can get started with a free trial and build your bot at no cost — you start with a $500 usage credit added to your account.
Pros
Custom plan.
Pay for usage.
Reporting & analytics.
Smart routing.
Automate low-level support.
Offers a virtual assistant for agents.
Automate repetitive tasks.
Supports both text and voice messaging.
Cons
No free plan.
Limited request rate per minute.
Lots of features unavailable on the Standard plan.
4. Intercom
Best for understanding customer issues
Intercom Fin utilizes advanced OpenAI language models to resolve complex customer issues and provide accurate answers.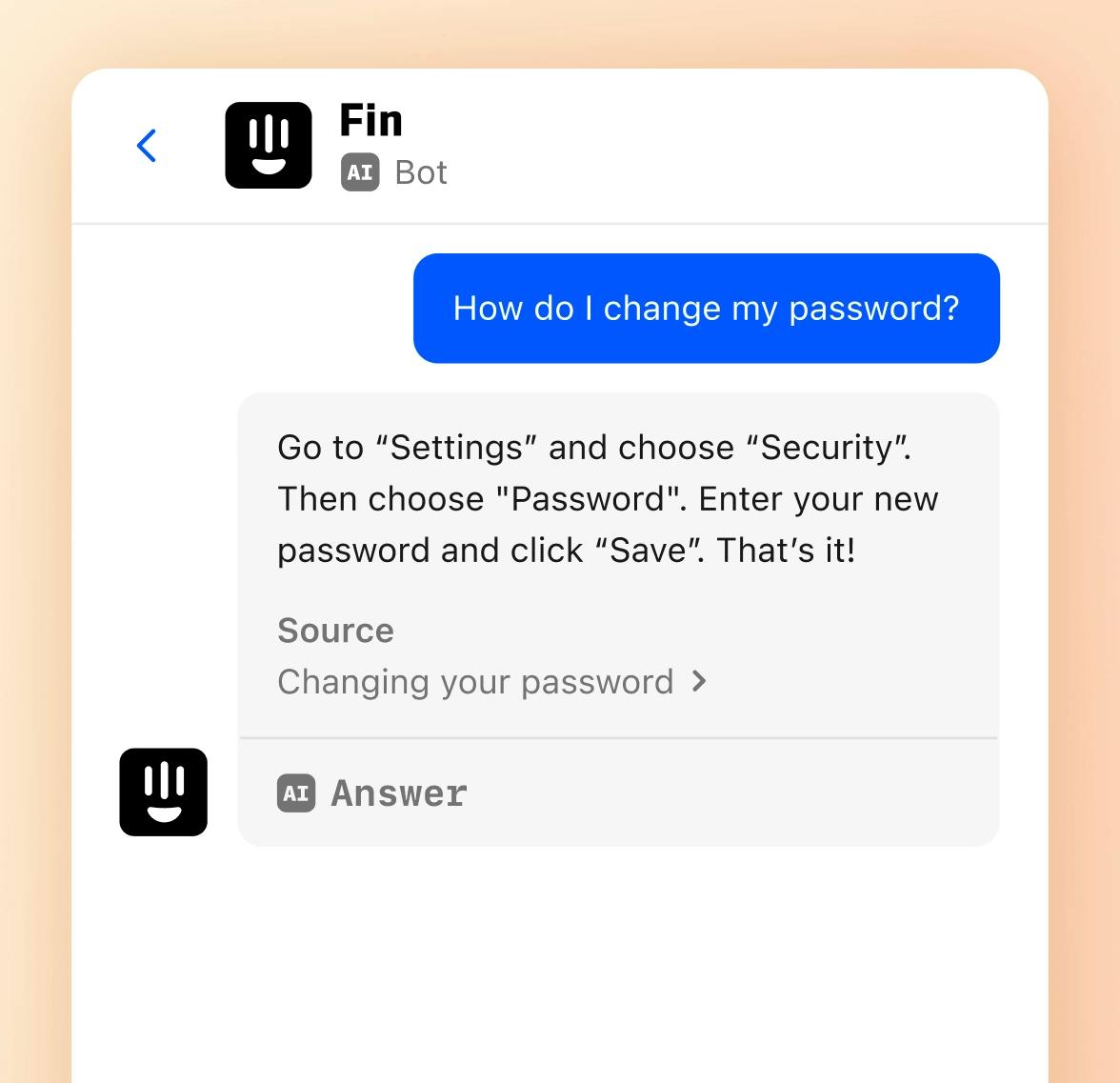 To learn more about a problem, Fin will ask clarifying questions and seamlessly hand them off to a human agent if necessary. Intercom uses built-in safeguards to prevent Fin from going off-topic, which prevents misleading or incorrect responses.
Key Features
Reduce Support Tickets: Fin provides accurate answers to customer queries to reduce your support volume. The bot asks follow-up questions to learn more about complex issues, which improves its ability to resolve customer concerns.
Omnichannel & Multilingual: Fin integrates with multiple social channels, including SMS, WhatsApp, and Intercom Messenger, so you can interact with customers on their preferred platforms. The bot also auto-detects languages and can respond in the same tongue (up to 43 languages supported).
Monitor Conversations & Custom Answers: Monitor all Fin conversations from one inbox to stay organized and design custom answers for important questions — Fin will prioritize these answers over its own.
Pricing

Intercom has three main pricing plans along with an Enterprise solution (custom pricing):
Starter (74/month)
Pro (custom pricing)
Premium (custom pricing)
Intercom calculates payment according to Resolutions, which represent ticket resolutions. This means you only pay when Fin successfully resolves a customer's concern. They also offer a 14-day free trial, which provides you with all the features of the Starter plan.
Every plan comes with Fin AI and analytics, but the pricier subscriptions allow you to create custom answers, access real-time dashboards, and utilize multilingual help centers.
Pros
Free trial.
Custom pricing.
Omnichannel support.
Able to respond to complex queries.
Bot-to-human hand-off.
Multilingual support.
Custom bots.
Highly accurate answers.
Custom answers.
Cons
No free plan.
Limited analytics.
Limited customization options.
5. LivePerson
Best for multichannel AI support
LivePerson allows you to discover customer intentions with real-time insights on common AI conversation topics.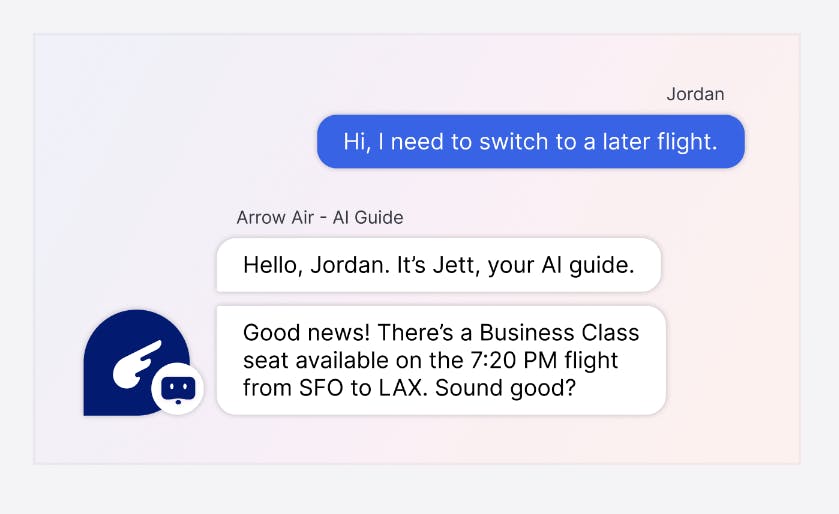 Their generative AI makes use of state-of-the-art LLMs (large language models) to simulate human-like conversations via both text and voice, offer self-service options to reduce ticket volume and deliver consistent on-brand support across multiple channels.
Key Features
Conversation Builder: Use their conversation builder to design automated chat flows without writing any code.
Integrations: Integrate with other third-party tools, such as CRMs, scheduling platforms, inventory management systems, and more.
AI Reporting: View customer support analytics on your dashboard to track your overall efficiency. Monitor what percentage of conversations are automated, top customer intents, bot conversation quality, and much more.
Pricing
LivePerson offers two pricing options:
Conversational Cloud (custom pricing)
Conversational Cloud & Generative AI (custom pricing)
Each plan offers AI support, but the more expensive plan comes with higher AI functionality. Examples include both LLM-powered messaging bots and LLM-powered voice bots, conversation assistants for agents, and generative intent training.
Pros
Custom pricing.
LLM-powered chatbots.
Generative AI.
Unlimited agent seats.
Automate messages & calls.
Generative intent training.
Easy-to-use bot builder.
Voice bot.
Reporting.
Cons
No pricing details on their site.
No free plan.
The UI can be hard to navigate.
Conclusion
Dealing with large volumes of customer requests can get overwhelming fast, especially for growing businesses.
Luckily, software such as Chatling helps you automate your customer support with your own personalized AI chatbot. Integrate your bot onto any website instantly to start automating customer interactions and free up your agents for more complex issues.
Try Chatling for free today to build your own AI chatbot without writing a single line of code and boost resolution rates by up to 50%.