Chatbots have revolutionized the way businesses interact with their customers online.
These virtual assistants, embedded in websites, have become indispensable tools for enhancing user experience, streamlining customer support, and boosting overall business efficiency. If you want to take your website to the next level and provide exceptional customer support, a chatbot might be just what you need.
In this Chatling article, we will dive into the world of chatbots – explore how they can benefit your business and browse through the best free chatbots in the market.
Let's dive in and discover the ideal free chatbot solution for you.
What Is a Chatbot for a Website?
A website chatbot is a tool that simulates human conversation with visitors to your website.
These virtual assistants can interact with users, answer questions, provide information, and even perform tasks—all in a conversational manner. Many use cases exist for a website chatbot, from answering common questions to collecting information from leads and marketing.
Take Chatling, for example.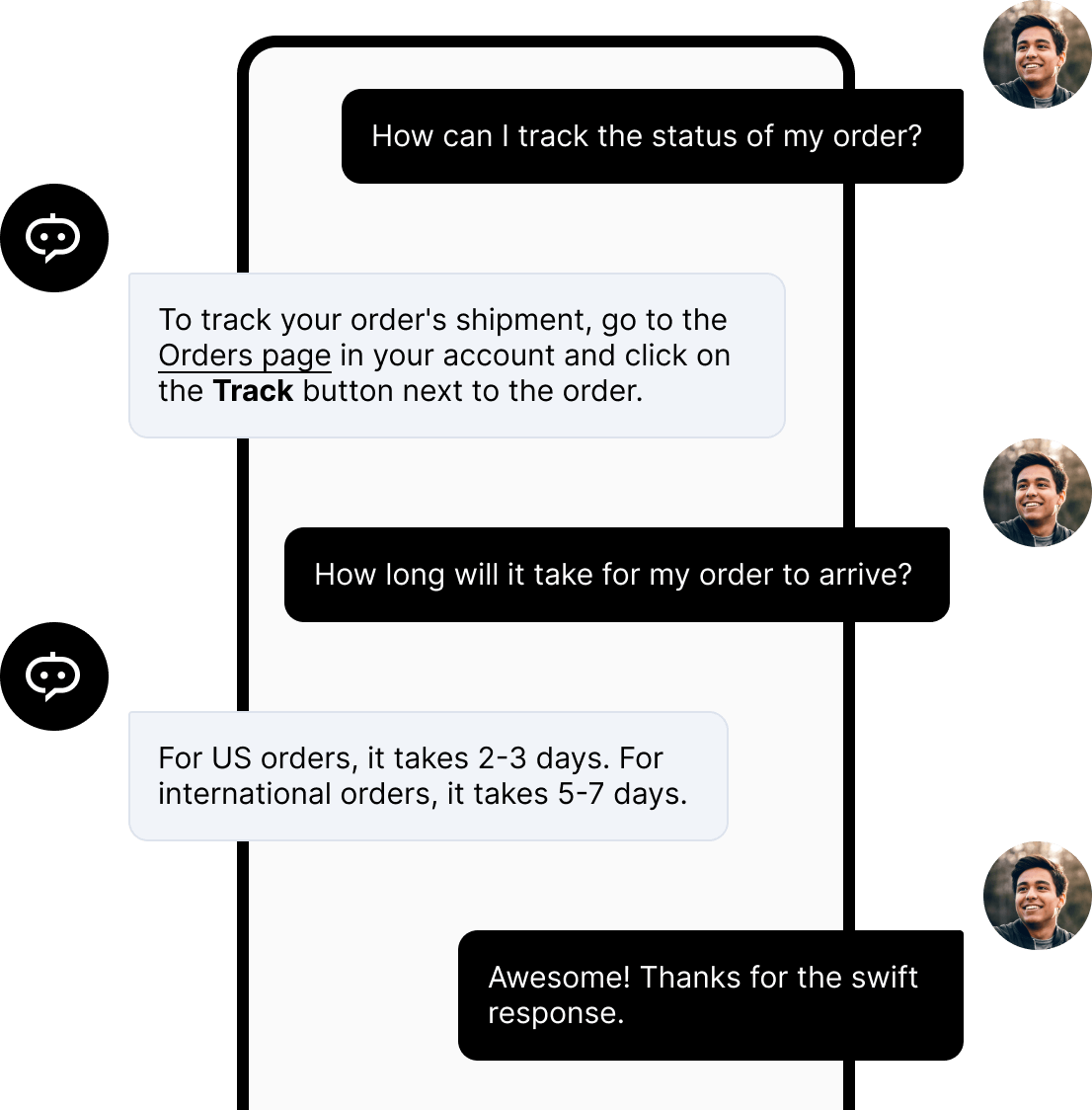 Chatling is an intuitive chatbot solution that can improve deflection and resolution rates by up to 50% through generative AI responses. You can train your chatbot on websites, sitemaps, text inputs, and more to always assist with accurate information.
What are the Benefits of Chatbot for Website
24/7 Responses
Integrating a chatbot into your website comes with a significant advantage of providing uninterrupted assistance to your visitors.
Unlike human agents, chatbots don't need breaks or sleep, which means your website is always open for business, regardless of the time zone or hour of the day. This ensures your visitors have access to the support they need—at any time.
Cost-Effective
Businesses, both small startups and large enterprises, are always looking for ways to optimize their operations and reduce expenses, and chatbots excel in this part.
Here's how chatbots can help you save money:
Reduced labor costs: Unlike human customer support agents, chatbots don't require salaries, benefits, or breaks, making them a cost-effective solution for handling routine customer inquiries and tasks.
Handles high-volume tasks: Chatbots can engage with multiple users simultaneously without compromising the quality of service.
Scalability: As your business grows, chatbots can quickly scale with it. You don't need to hire and train additional support agents to accommodate an expanding customer base.
Error reduction: Chatbots operate with high accuracy, reducing the likelihood of costly errors in tasks such as order processing, data entry, or appointment scheduling.
Quick Response Time
By swiftly addressing user queries and automating repetitive tasks, chatbots free up valuable human resources to focus on more complex and strategic aspects of business.
This streamlined approach leads to quicker problem-solving, reduced response times, and increased productivity—improving customer satisfaction and cost savings.
Criteria To Consider When Choosing a Chatbot for Websites
Multilingual Automated Support
Opt for a multilanguage support chatbot, especially if your website serves a global or diverse audience. A multilingual chatbot ensures all users can engage comfortably, breaking down language barriers and broadening your reach.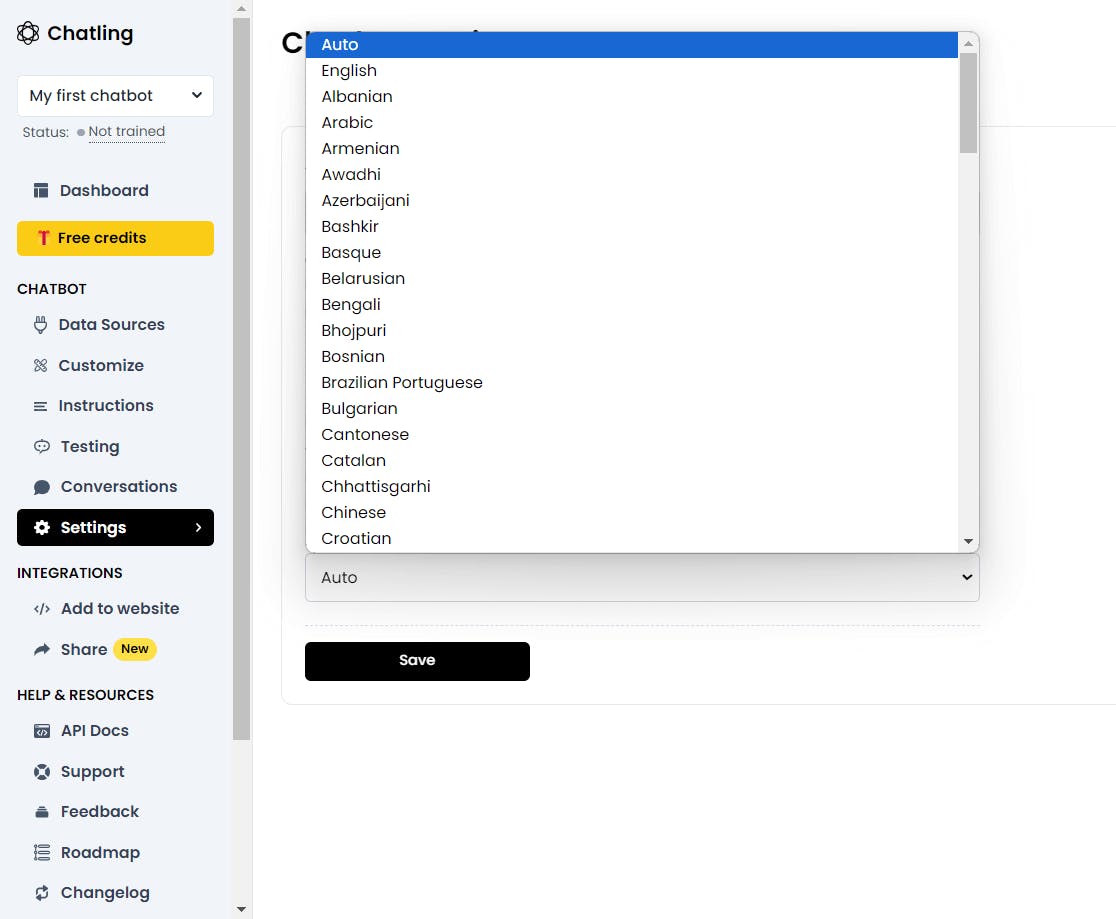 Whether your customers prefer to communicate in English, Spanish, French, Chinese, or another language, Chatling has got you covered. You can easily add language support to your chatbot by editing the language settings.
Automation
An effective chatbot should handle routine tasks, inquiries, and processes without human intervention. Automation streamlines efficiency, allowing your team to focus on more complex tasks while the chatbot handles repetitive ones.
Here are the best chatbot automation tools to boost your efficiency.
Personalization
Choose a chatbot that offers personalization capabilities. A chatbot that recognizes user preferences, suggests relevant products or content, and addresses users by name enhances user engagement and satisfaction. Personalization fosters a sense of connection and builds customer loyalty.
8 Best Free Chatbots for Websites
Chatling
IntelliTicks
QuickReply.ai
Engati
Zoho SalesIQ
Verloop.io
Flow XO
Tidio
1. Chatling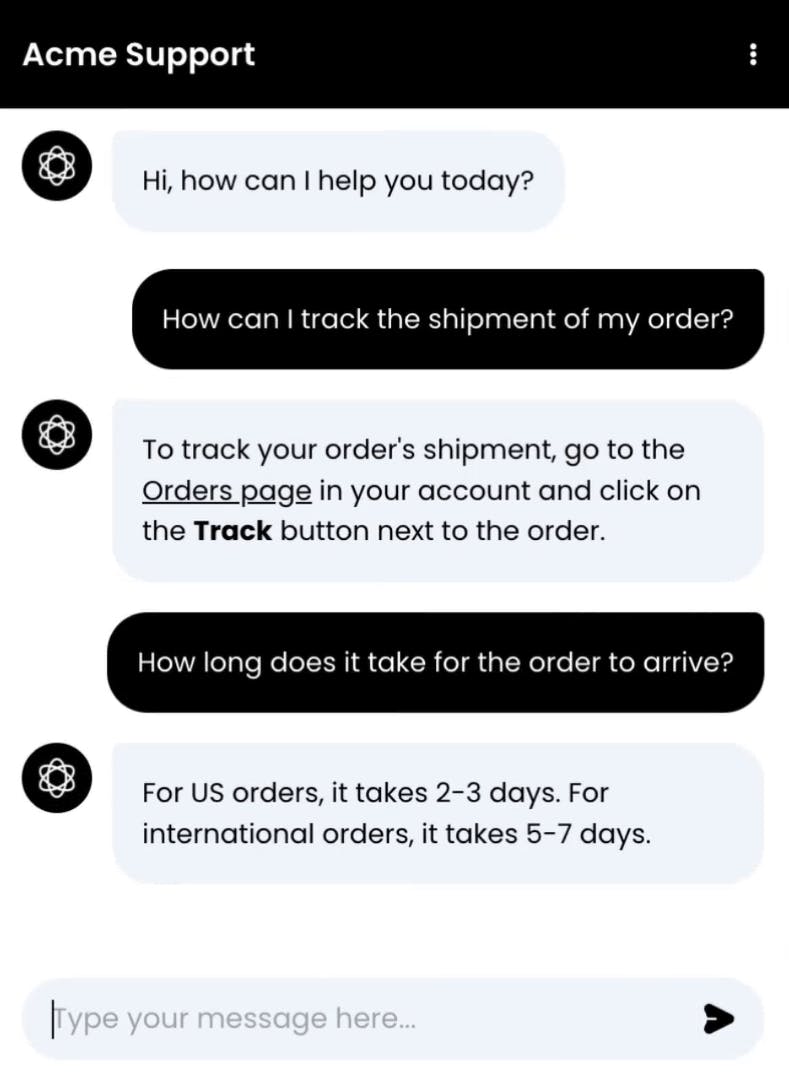 Chatling is the ideal free chatbot for your website, offering AI-powered assistance that's customized to your business. It's a chatbot that learns directly from your business's data sources, which means it comprehends your FAQs, sitemaps, documents, and more.
When visitors ask questions, Chatling understands their intent and provides precise responses. Plus, setting up Chatling is a breeze as it seamlessly integrates with various platforms and rapidly trains itself on your data sources.
Key Features
Generous Free Plan: Create a free chatbot and train it on 500,000 characters. You can even customize your free chatbot to match your brand.
Train on Custom Data: Train your chatbot on custom FAQs, sitemaps, documents, text inputs, and entire websites to ensure responses are accurate and up-to-date.
Conversational AI: Natural Language Processing (NLP) helps your chatbot understand what customers say, no matter the context or wording.
Detailed Analytics: Chatling offers comprehensive analytics, allowing users to track customer conversations and gain valuable insights into customer requirements.
Multilingual Support: Chatling can communicate with customers in any language.
Pricing
Chatling has a generous free plan with all the features you need to get started. You can create a chatbot, train it with 500,000 characters, and add it to unlimited websites—no credit card required.
There are also four paid plans—Basic ($15/month, 2,250,000 characters), Pro ($35/month, 5,500 AI credits), Ultimate ($99/month, full customization and 25 chatbots), and Business ($299/month for 50,000 message credits and 30 chatbots).
Pros & Cons
Pros
Free option
Training on business data
Easy customization
No-coding chatbot creation
Seamless integration
Cons
Limited chatbots in free version
Basic analytics
Limited advanced features in free version
2. IntelliTicks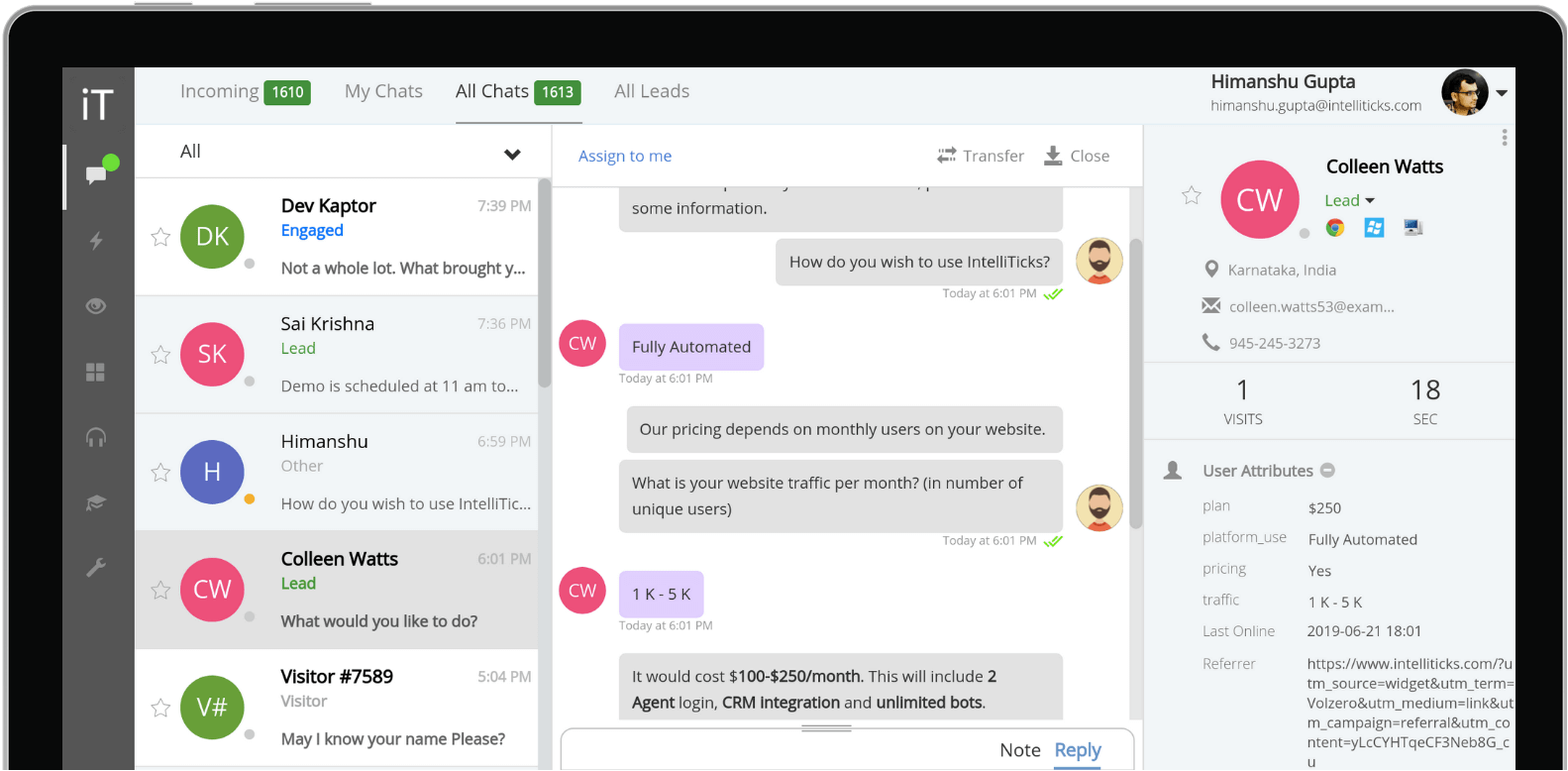 IntelliTicks uses AI and human intelligence to convert website visitors to leads through customized chatbot conversations. The tool features incremental information gathering, FAQ automation, hot leads alert, and more.
Key Features
Personalized Engagement: IntelliTicks engages users with personalized sales pitches, using factors like page, time, location, and device.
Incremental Information Gathering: IntelliTicks captures lead information incrementally through interactive conversations, enhancing personalization in an engaging manner.
Analyze & Optimize: Analyze and optimize your chatbot's performance with detailed reports on visitor-to-lead conversions.
Pricing
IntelliTicks offers a range of pricing plans to cater to diverse requirements, making it accessible for businesses of all sizes.

Here's an overview of the pricing options:
Free
Starter ($25/month)
Standard ($99/month)
Plus ($299/month)
Pros & Cons
Pros
Personalised engagement
Incremental information gathering
Automated FAQ answers
AI-Human transfer
Cons
Learning curve
The cost can be expensive
Complicated integration
Need to analyze performance manually.
3. Engati
Engati is a platform that helps businesses create rule-based or AI chatbots without coding.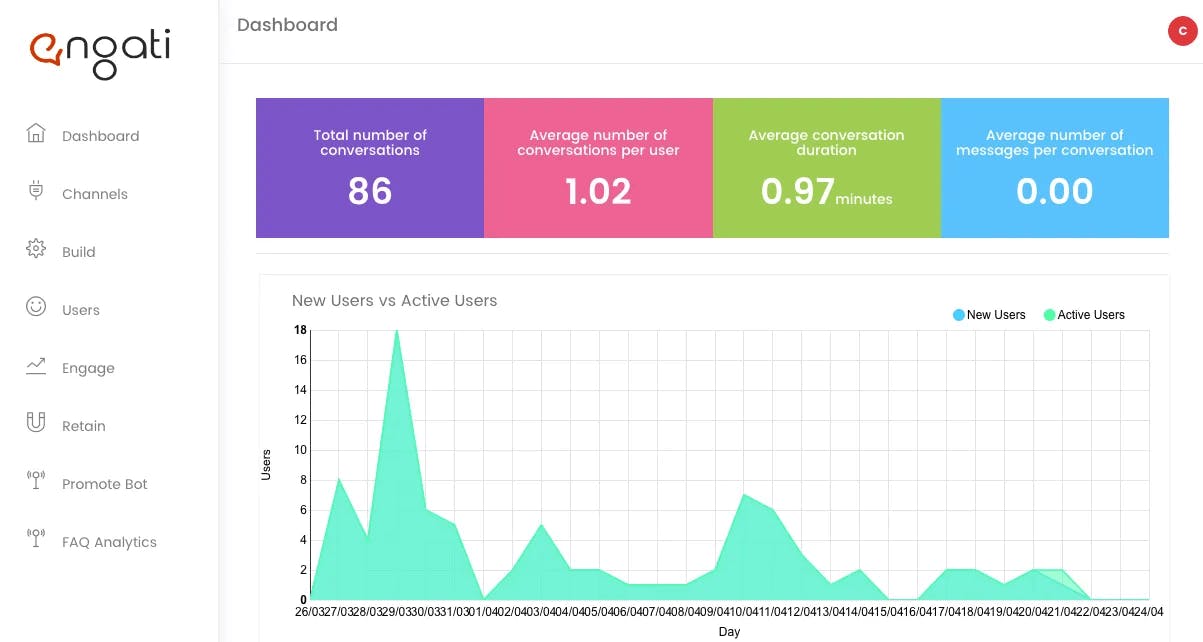 Engati is a top choice for a free chatbot on your website. With its user-friendly visual flow builder and seamless integration of training sources, it allows you to create customized chatbot experiences that streamline customer interactions.
Key Features
Visual Flow Builder: Create conversational AI flows quickly and easily without coding.
Multilingual Chatbot: Improve global customer relationships with a chatbot equipped with multilingual conversational intelligence.
Omnichannel Engagement: Engati chatbot enables omnichannel customer engagement across WhatsApp, Facebook, Instagram, and 10+ channels for a seamless experience.
Pricing
Engati doesn't offer self-serve pricing. Instead, you must contact their sales team to discuss your requirements and receive a quote.
Pros & Cons
Pros
Easy-to-use interface.
Excellent customer support.
Affordable pricing.
Live chat.
Multi-channel deployment.
Cons
Sometimes, lag due to heavy traffic.
Guides can be complicated.
4. Zoho SalesIQ
Zoho SalesIQ is user-friendly live chat software offering a simple sales chatbot tool—Zobot™.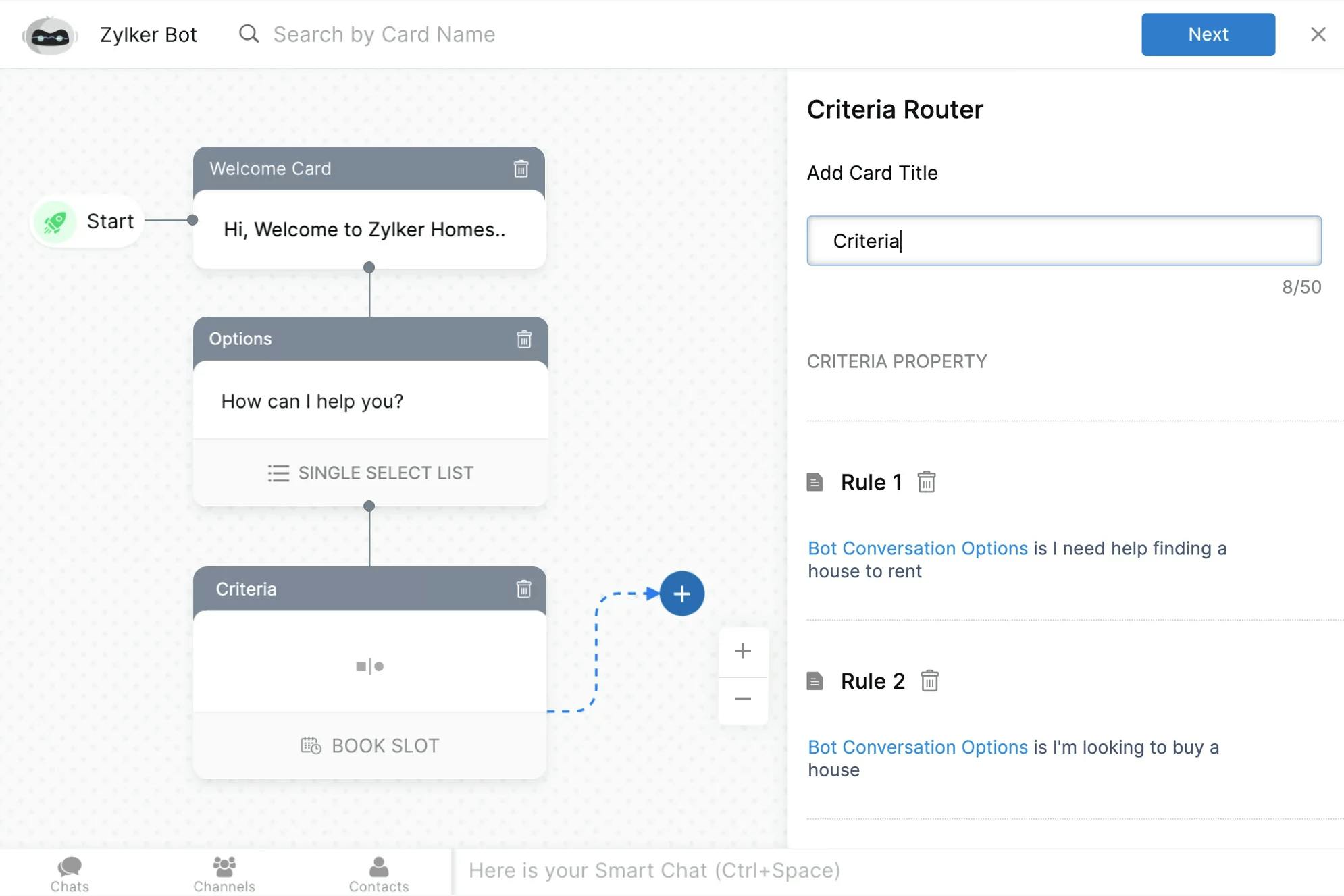 Zoho SalesIQ stands out as a top choice for free chatbots on your website. With its user-friendly live chat software and Zobot™ tool, it streamlines the customer experience. Zobot™ automates tasks, directs customers to the right reps, and provides tailored responses, all with a simple and visual interface for customization.
Key Features
AI Capabilities: Zobot™ uses AI to tailor customer experiences and automate routine tasks.
Routing: Route leads to the right agent at the right time without lifting a finger.
Real-Time Monitoring: Monitor real-time customer conversations and respond quickly to inquiries.
Pricing
Zoho SalesIQ offers four main subscription plans: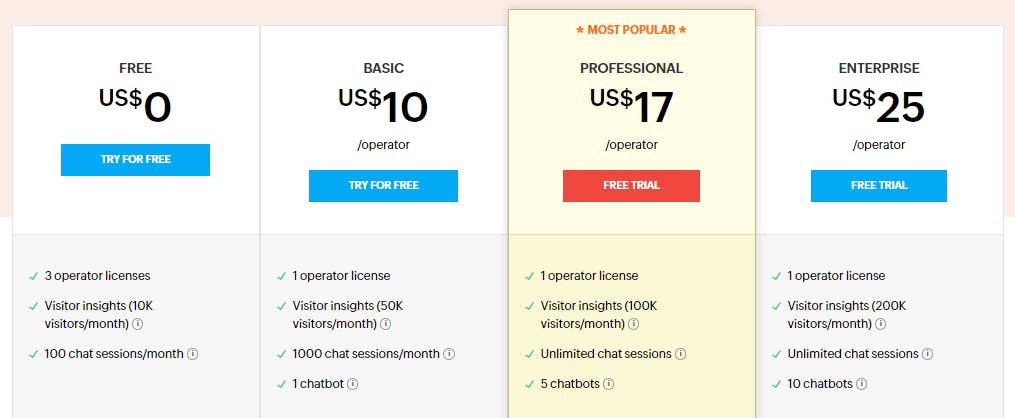 Free: Get started with three operator licenses, gain valuable insights on up to 10,000 monthly visitors, and engage in up to 100 monthly chat sessions.
Basic ($10/user/month): For essential needs, the Basic plan offers one operator license, insights on 50,000 monthly visitors, 1,000 chat sessions per month, and access to 1 chatbot.
Professional ($17/user/month): Elevate customer engagement with one operator license, insights on 100,000 monthly visitors, unlimited chat sessions, and the power of 5 chatbots.
Enterprise ($25/user/month): Unlock the full potential with one operator license, insights on 200,000 monthly visitors, unlimited chat sessions, and the flexibility of 10 chatbots.
Pros & Cons
Pros
User-friendly
Customization
Automated Routing
Customized responses
Cons
Distracting notification icon keeps appearing on the top right corner of the app.
UI is complicated.
5. Verloop.io
Verloop.io is an AI-powered customer service platform that offers a capable conversational AI chatbot for websites.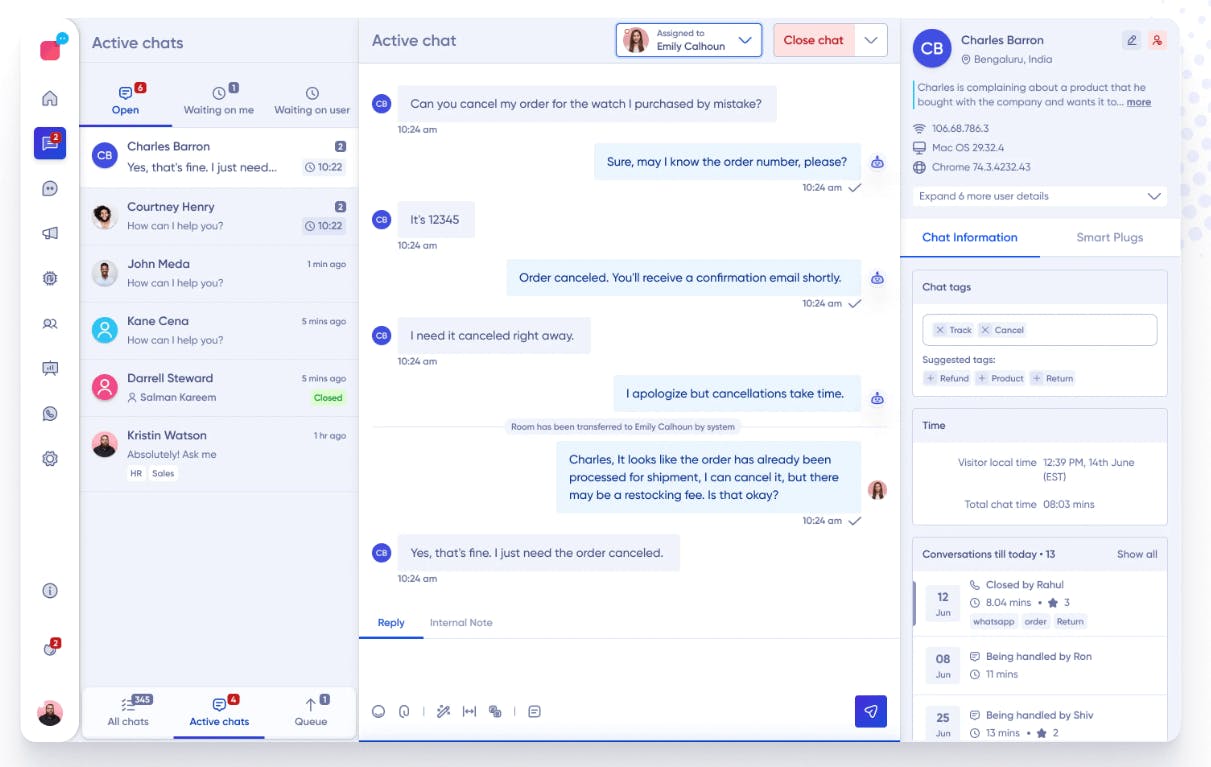 Verloop is a versatile chatbot platform offering a powerful free plan, making it an excellent choice for enhancing your website. You can tailor your chatbot's behavior with precision by using triggers like time, location, or intent. Additionally, Verloop supports advanced features, such as natural language processing, multilingual support, and voice conversations, allowing you to create highly personalized and engaging interactions with your website visitors.
Key Features
Veca: Understand complex questions with an e-commerce chatbot designed to unpack multi-intent.
Voice: Supports both voice and text input for AI chatbot conversations.
Analytics: Measure chatbot success with real-time analytics.
Pricing
Here are Verloop.io's subscription plans: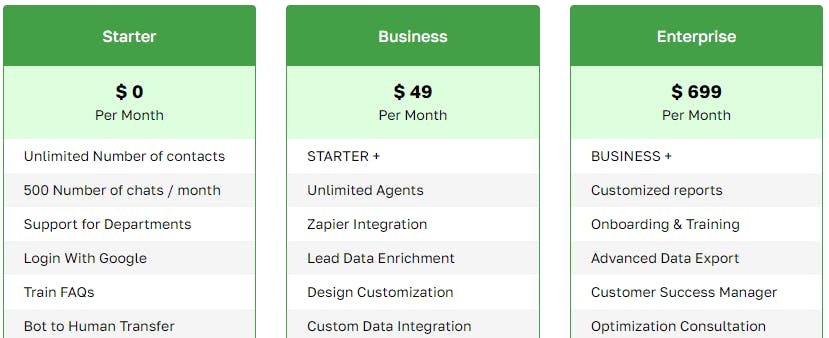 Starter ($0/month): Enjoy 500 monthly chats at no cost.
Business ($49/month): Upgrade to access advanced features like unlimited agents, Zapier integration, and lead data enrichment.
Enterprise ($699/month): Elevate your experience with customized reports, onboarding & training, and advanced data export.
Pros & Cons
Pros
Highly customizable
Advance triggers
Multilingual support
Voice conversations
Easy to use.
Real-time dashboard.
Cons
Occasional notification errors.
Resource-intensive
Responses are sometimes delayed.
6. Flow XO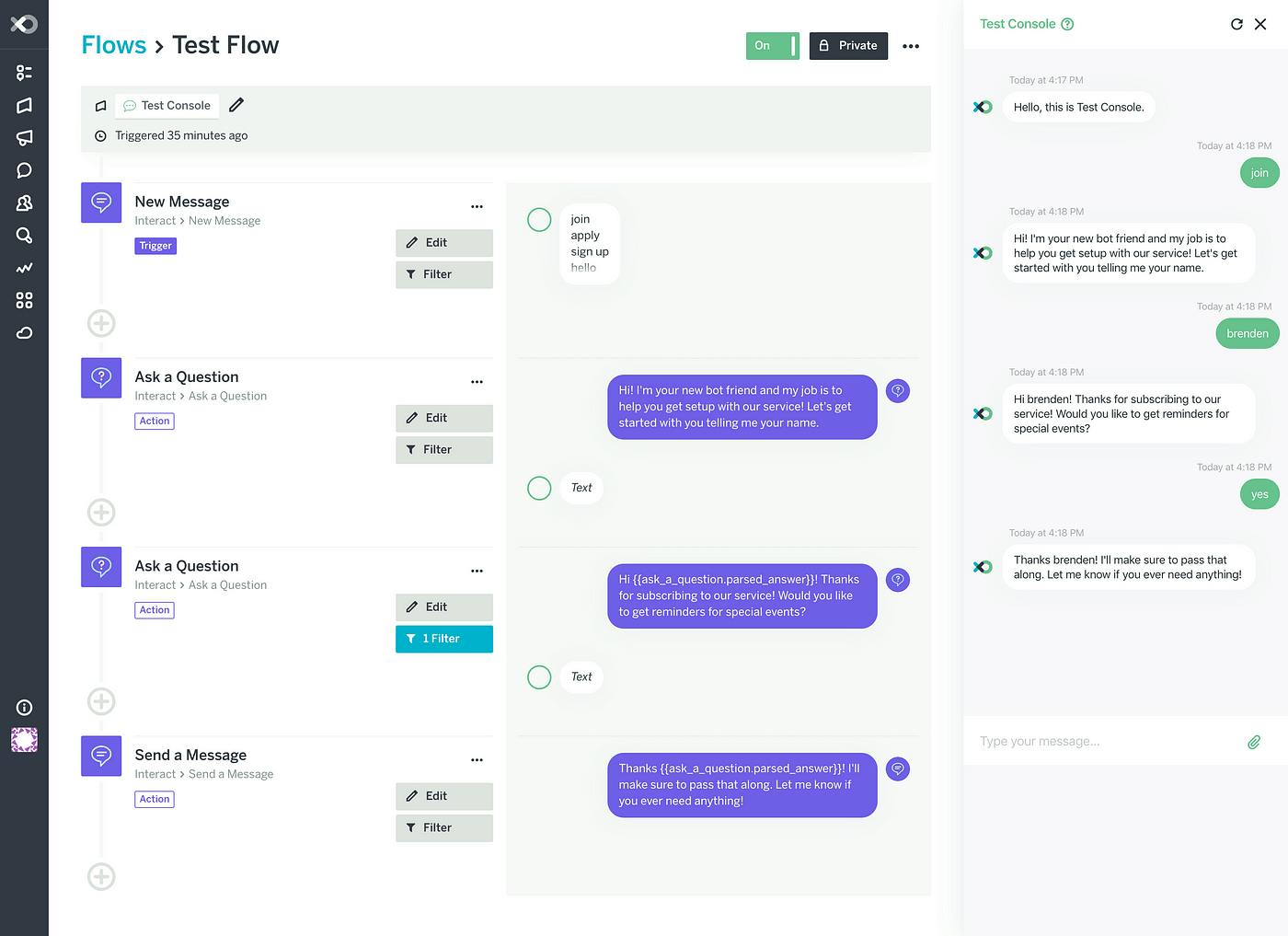 Flow XO is a versatile chatbot platform that allows users to create chatbots for a variety of platforms, including websites, Facebook Messenger, WhatsApp, Telegram, SMS, and Slack. It offers some useful (and unique) features like on-brand jokes and in-chat payment processing.
Key Features
Routing: Enables handover of conversations from any chatbot to a human agent in live chat.
Pre-Filter Leads: Have your bot clarify and pre-filter customer data on your website, resulting in higher-quality incoming leads.
Payment Processing: Allow customers to easily make real-time payments without having to leave your chatbot.
Pricing
Flow XO offers a free plan with 500 monthly interactions. There are also a range of paid plans and add-ons: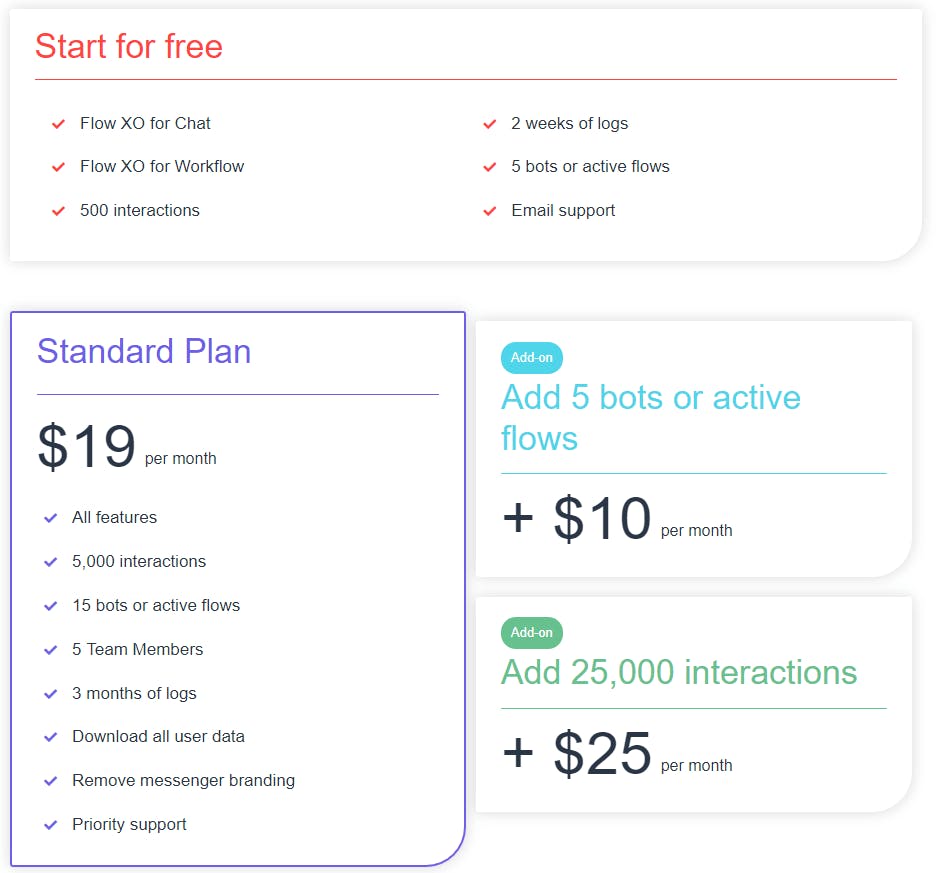 Standard Plan ($19/month): This plan offers you an extensive range of features to create and manage your chatbots effectively.
Add-Ons Available: Customize your experience with optional add-ons, such as $10/month for five extra bots or active flows or $25/month for 25,000 additional interactions.
Pros & Cons
Pros
Easy to use and learn.
Provide qualified answers to customers.
Good price.
Wide functionality.
Fast support.
Cons
Slower response times than competitors.
Editor becomes slow beyond 30 blocks.
7. Tidio
Tidio is a customer service platform with an integrated chatbot builder and an AI chatbot (called Lyro).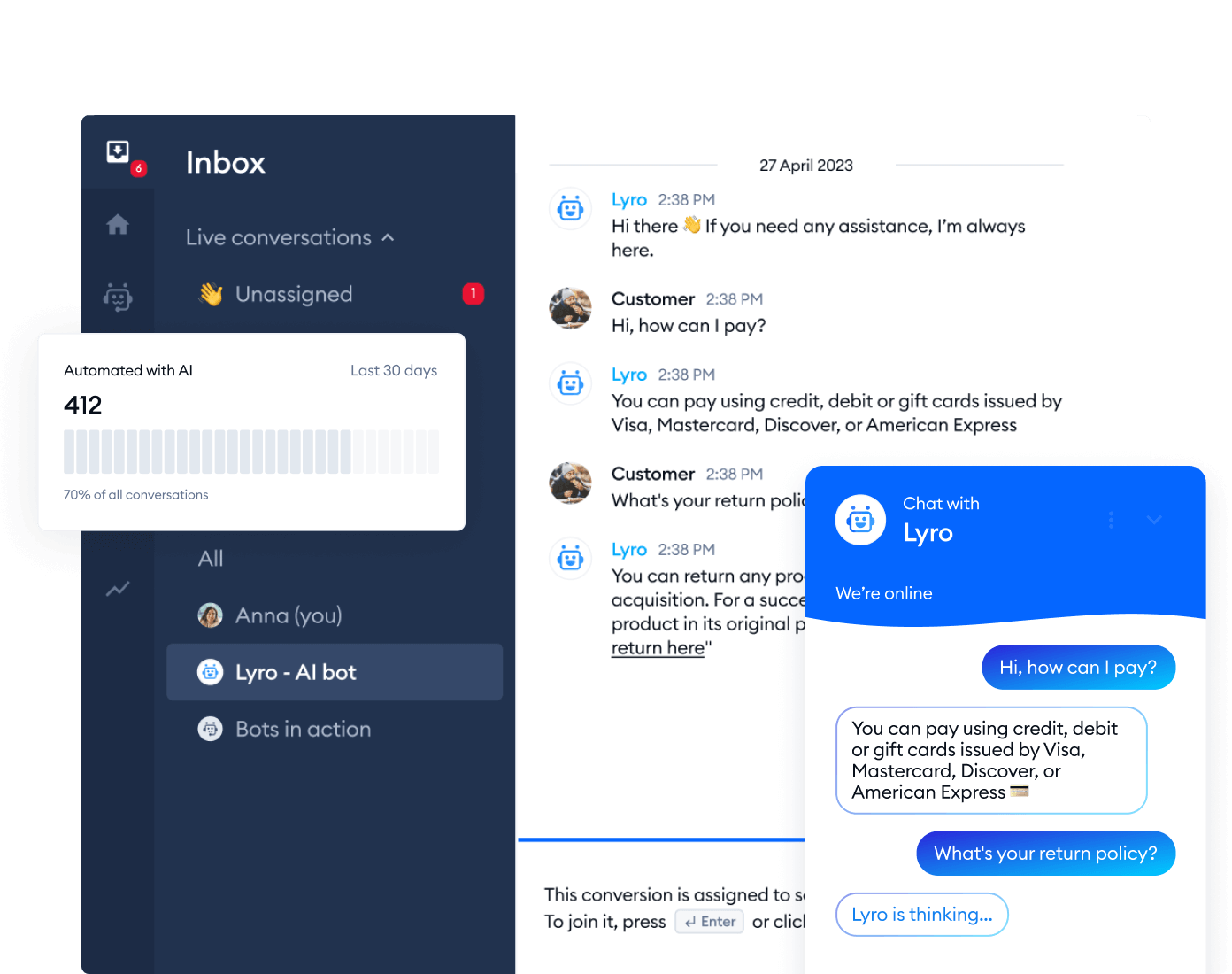 Tidio offers a free version that enables you to generate chatbots based on rules. These chatbots can handle simple customer service inquiries, acquire leads, and offer assistance.
Key Features
Smart Triggers: Set up triggers based on visitor behavior or interactions with the bot.
Visual Builder: Easily create rule-based chatbots with the visual builder.
Chatbot Templates: Pre-built templates that can be used to get started quickly.
Pricing
Tidio offers a variety of pricing plans, including Free, Starter ($29/user/month), Communicator ($25/user/month), Chatbots ($29/user/month), and Tidio+ ($394/month).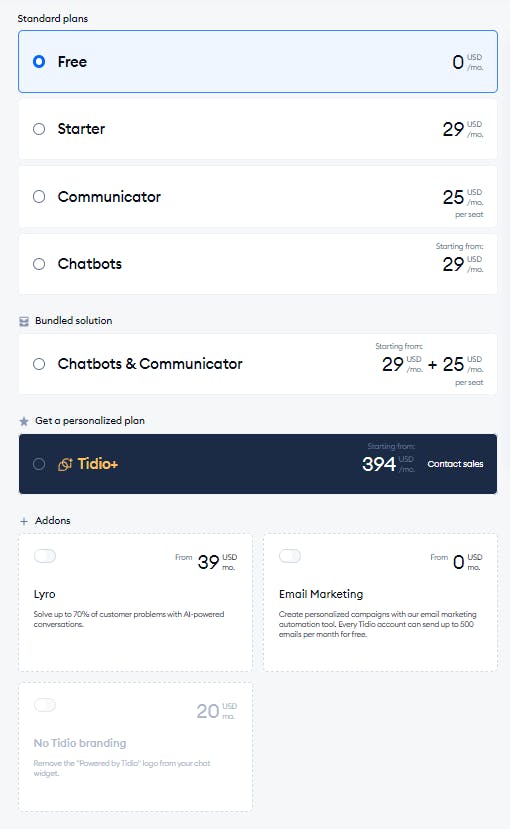 The free plan includes 100 chatbot triggers monthly and 50 AI chatbot conversation credits for Lyro.
Pros & Cons
Pros
Easy-to-use interface.
Excellent technical support.
Live chat support.
Keep track of interactions.
Cons
The drag-and-drop functionality can be buggy.
Does not allow you to manage chats via Instagram, Twitter, or WhatsApp.
Add a Free Chatbot to Your Website Today
Adding a chatbot to your website is a great way to engage your customers, improve their experience, and increase conversions—and it doesn't need to break the bank. In this article, we've covered eight options that offer a wide range of features and free plans to get you started.
Are you looking for an AI chatbot with a solid free plan? Give Chatling a try.
You can link data sources, train your bot, and add it to unlimited websites in minutes—all without entering your credit card info. When you're ready to scale up, Chatling has affordable paid plans with advanced features.
Try our free plan today.