Since its founding in 2011, Intercom has been one of the go-to choices for customer service professionalsl. And their popularity kept increasing when they introduced their AI chatbots and automations post 2018, further streamlining the workflows of customer service professionals using their service.
But, while Intercom is a popular customer service solution, it does have its limitations. The software offers a lot of automation and messaging tools, but there's less of a focus on aspects such as ticketing and FAQ management. Some companies may also find their pricing plans too expensive, so it's worth looking into Intercom alternatives if you're searching for a more affordable option.
Luckily, there are plenty of Intercom alternatives out there, all with their own specialities. Searching for a tool that suits your business can be difficult with so many options to choose from, which is why we here at Chatling decided to create this list of alternatives for you. We'll be diving into each chatbot app on this list (including our very own), examining their various features and pros and cons so you can make an informed choice for your business.
Let's get started, shall we?
What Is Intercom?
Intercom is a customer service software that helps you streamline user support with automation, allowing you to resolve issues more efficiently and increase customer satisfaction. They provide AI chatbots, proactive messages, self-serve support, and more.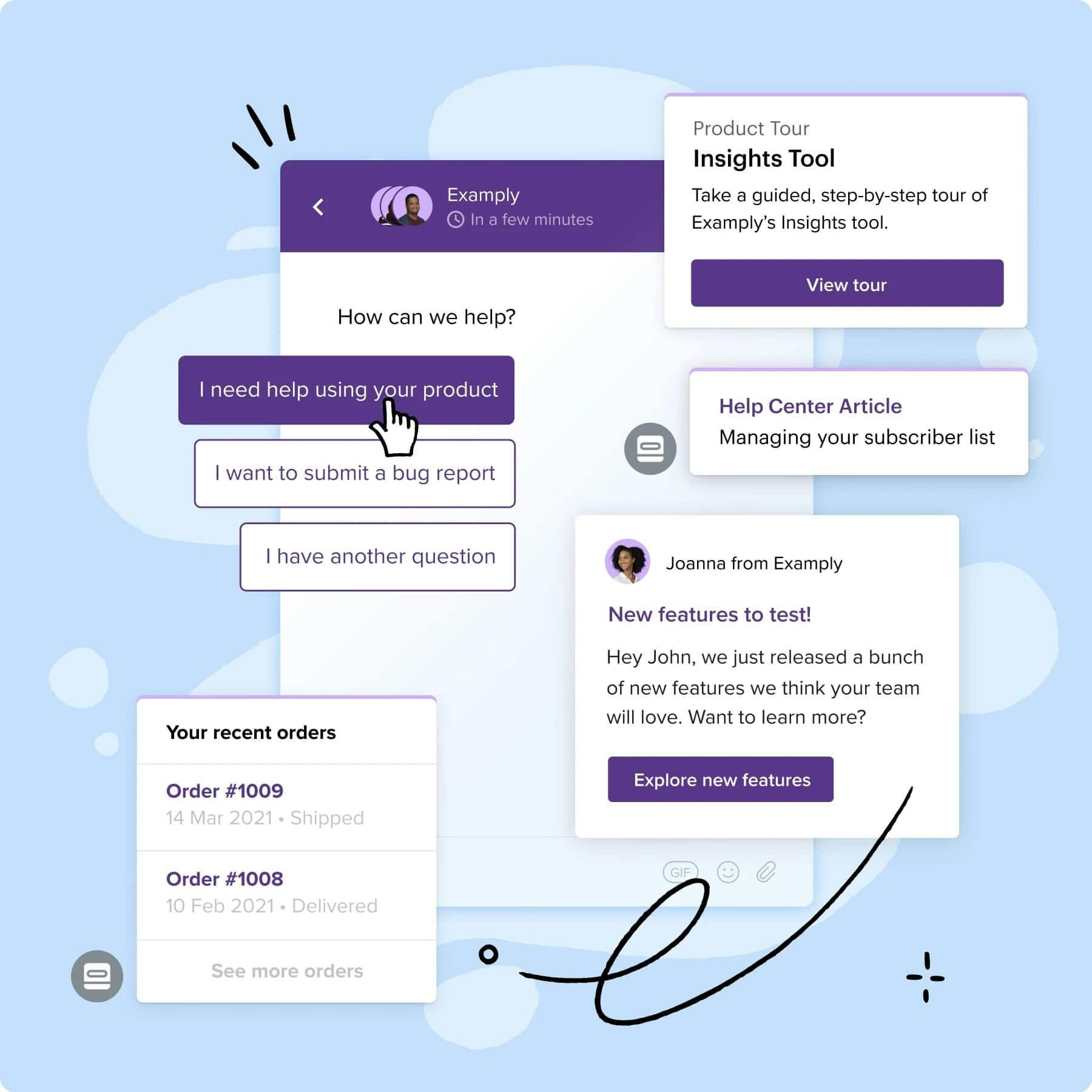 However, most of its features center around customer interactions rather than ticket management or reporting. Its pricing plans are also quite expensive, with its lowest subscription plan starting from $74/month, leading more cash-strapped businesses to look for cheaper platforms.
Why Are AI Chatbots Beneficial for Your Customer Support?
1. Increases Efficiency
AI chatbots allow you to deal with more customer requests in a shorter amount of time. You can automate conversations for faster response times and reduce repetitive tasks for your support team.
2. Offers Personalized Experiences
Chatbots are able to use data from your CRM (customer relationship management) tools to learn more about your users and offer personalized customer experiences. For instance, AI chatbots can provide updates on customer orders, follow-up conversations, and refer to them by name.
3. Insights and Analytics
AI chatbots don't only handle customer interactions — they also provide you with insights into user behavior and ticket resolution rates. This way, you can assess your chatbot's performance, customer satisfaction, and how efficiently you're resolving user issues. Analyzing these insights should help you determine how to further improve your customer service.
How to Choose the Best AI Chatbots for Customer Support
1. Easy to Manage
Make sure to choose an AI chatbot that's easy to use. You'll need to build and train the chatbot according to your business needs, so choose a tool that offers no-code builders and simple training methods. It also helps if the chatbot supports relevant third-party integrations, which allows you to unify your workflows. Chatling is a good option here, as users can easily implement chatbots onto their websites, with zero coding experience necessary.
2. Confidentiality and Security
Chatbots collect a lot of sensitive customer data, so your chosen tool should offer security measures that help protect that data. AI chatbots will also be accessing data from your other tools (if you choose to integrate them) and websites, so make sure to have systems or plans in place in case of a security breach.
3. Seamless Bot-to-Human Transfer
While chatbots can handle a lot of requests, there will be times when a human touch is needed. In these cases, the chatbot should be able to seamlessly transfer the conversation to a human agent for faster ticket resolution. Make sure there's an easy way to perform this transfer, whether it's automated or manual.
Best Intercom Alternatives for Improving Customer Relationships
Since there are many Intercom alternatives available for purchase, we've decided to curate this list of the best tools for you, so you won't have to trawl multiple review sites looking for the best options. We cover their key features, pricing, and pros and cons to help you decide the most suitable pick for your company.
Here's a quick look at the tools we'll be discussing:
#1: Chatling: Best for Reducing Support Workload & Increasing Resolution Rates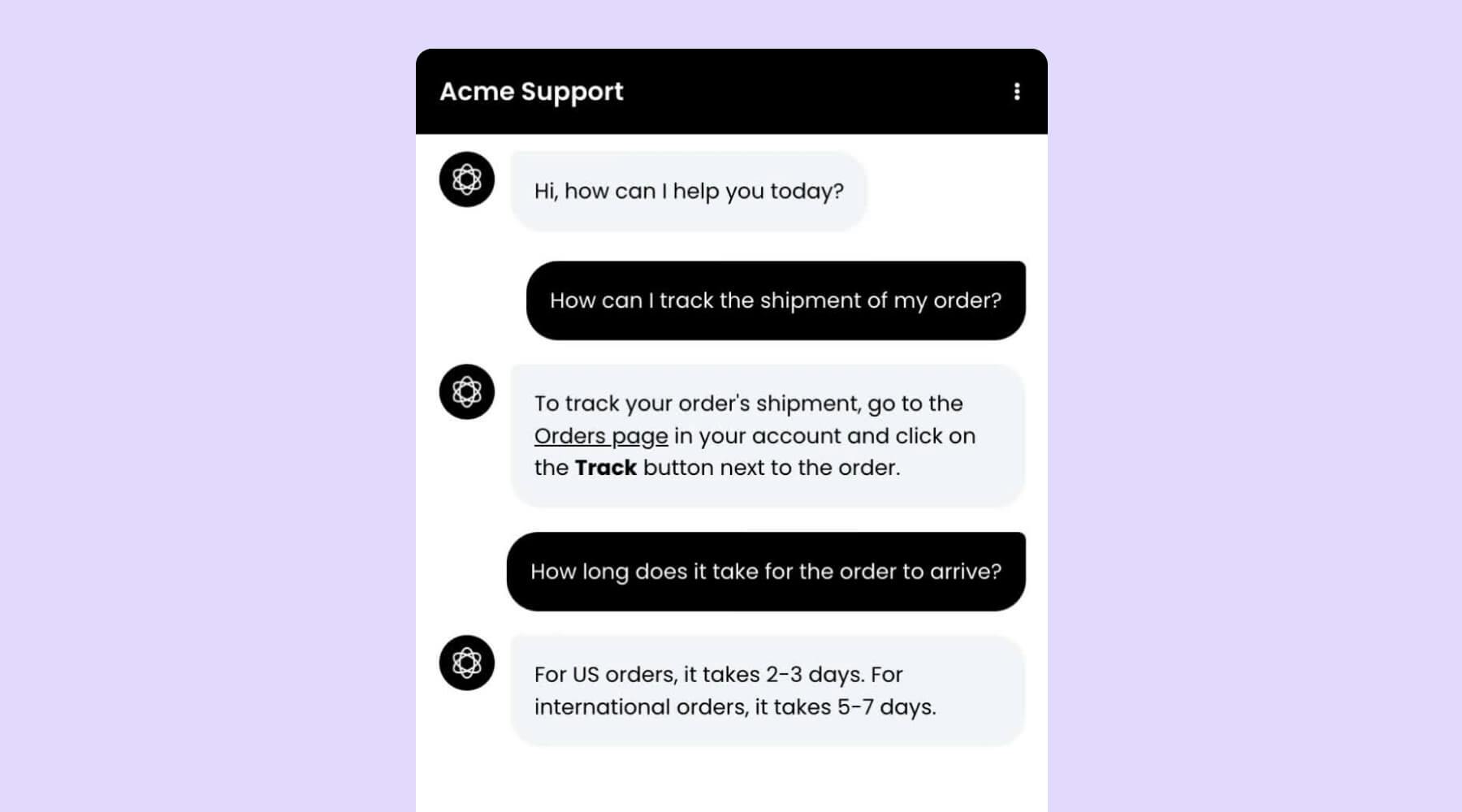 Chatling allows you to integrate customized AI chatbots into your website without any coding, on platforms like Squarespace and WordPress, which helps boost your ticket resolution rates by up to 50%. Train your bot to speak in over 50 languages using various sources, including website URLs and FAQs, to automate your customer support.
With automation in place, you can reduce the workload of your support team and free them up for more complex tasks. And we offer bespoke pricing models so all businesses, large or small, can find a plan that fits their budgetary requirements.
Key Features
Add Data Sources: Train your AI chatbot with data sources such as website URLs, documents, FAQs, and custom text. The bot should start scouring through the content automatically and finish training within a few minutes.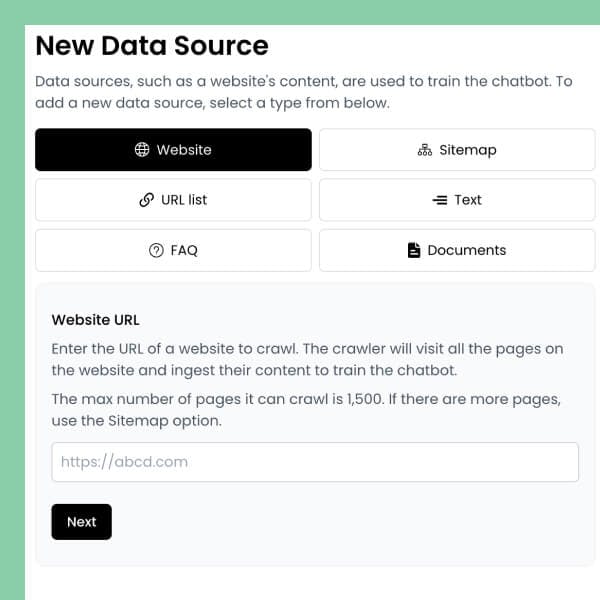 Customize the Chatbot: Change the chatbot's design, including its icon and colors, to better suit your branding.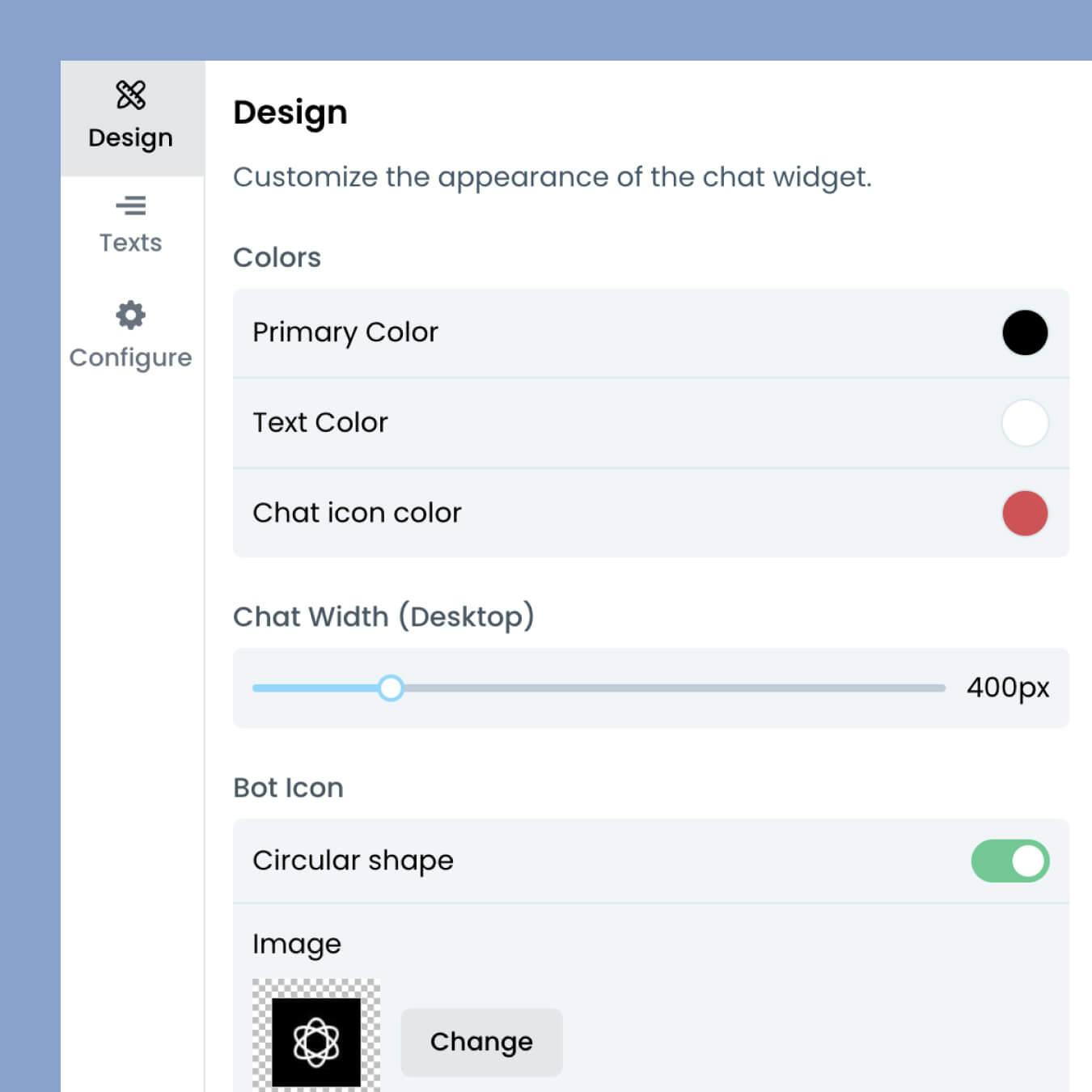 Embed on Your Website: Implement your AI chatbot onto any website of your choice without writing a single line of code.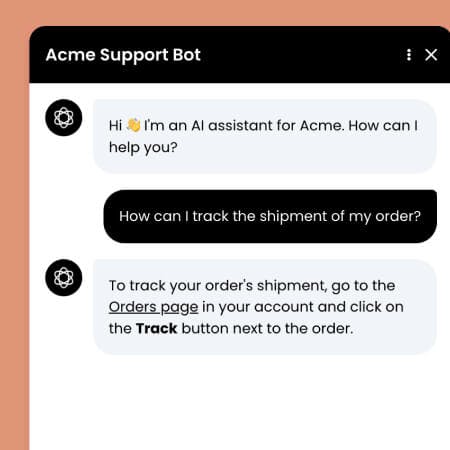 Get Insights From Conversations: Keep track of your chatbot's conversations to gain insight into what customers are asking for. You can also take this opportunity to analyze your chatbot's performance to see if its responses are accurate.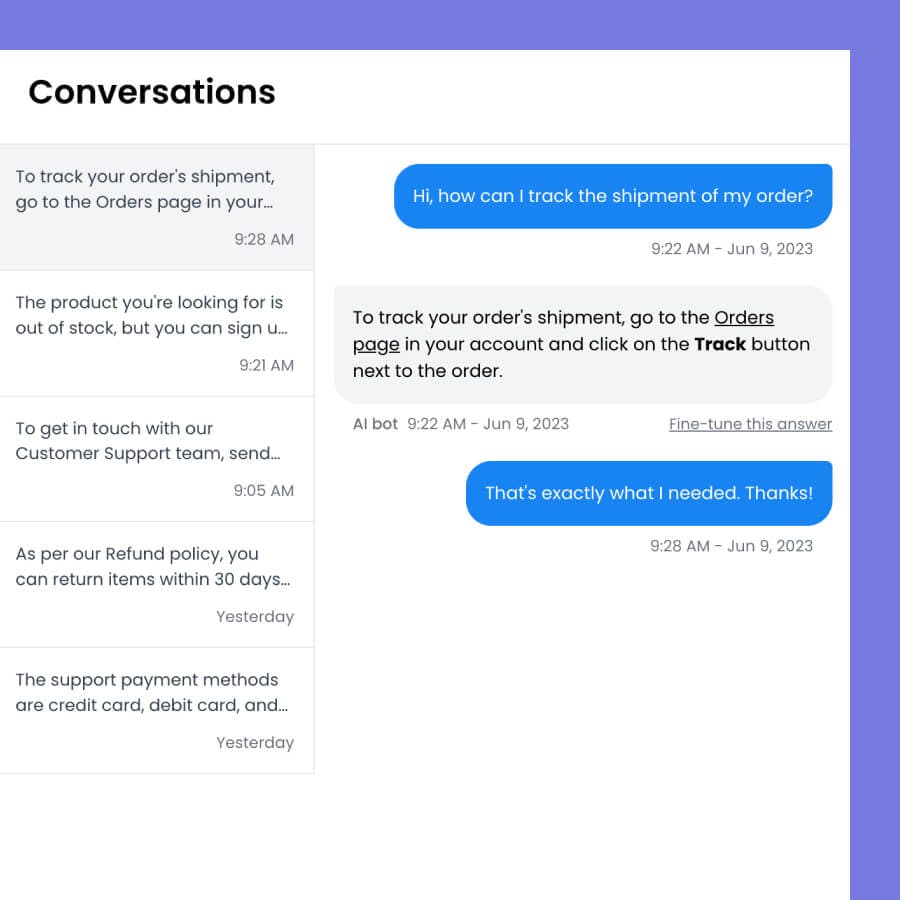 Pricing
Chatling has a free plan available with enough features to test the chatbot and get the ball rolling.
We also offer premium plans for those who want higher amounts of credits, characters, and chatbots, along with full chatbot customization. We also allow you to embed AI chatbots onto unlimited websites across all plans, which is especially important if you manage customer service across multiple websites.
Here's a list of our paid subscriptions:
Basic ($15/month)
Pro ($35/month)
Ultimate ($99/month)
Business ($299/month)
Pros and Cons
Pros:
Free plan.
Unlimited chatbots
Automatic setup.
Boosts deflection & resolution rates.
Reduces customer support workload.
7-day money-back guarantee.
Full chatbot customization.
Supports 50+ languages.
GPT-4 access.
Supports various data sources.
Can embed chatbots on an unlimited number of websites.
24/7 availability.
Flexible pricing options.
Customer insights.
Cons:
No live chat feature available yet.
#2 Zendesk: Best for Personalizing Customer Experiences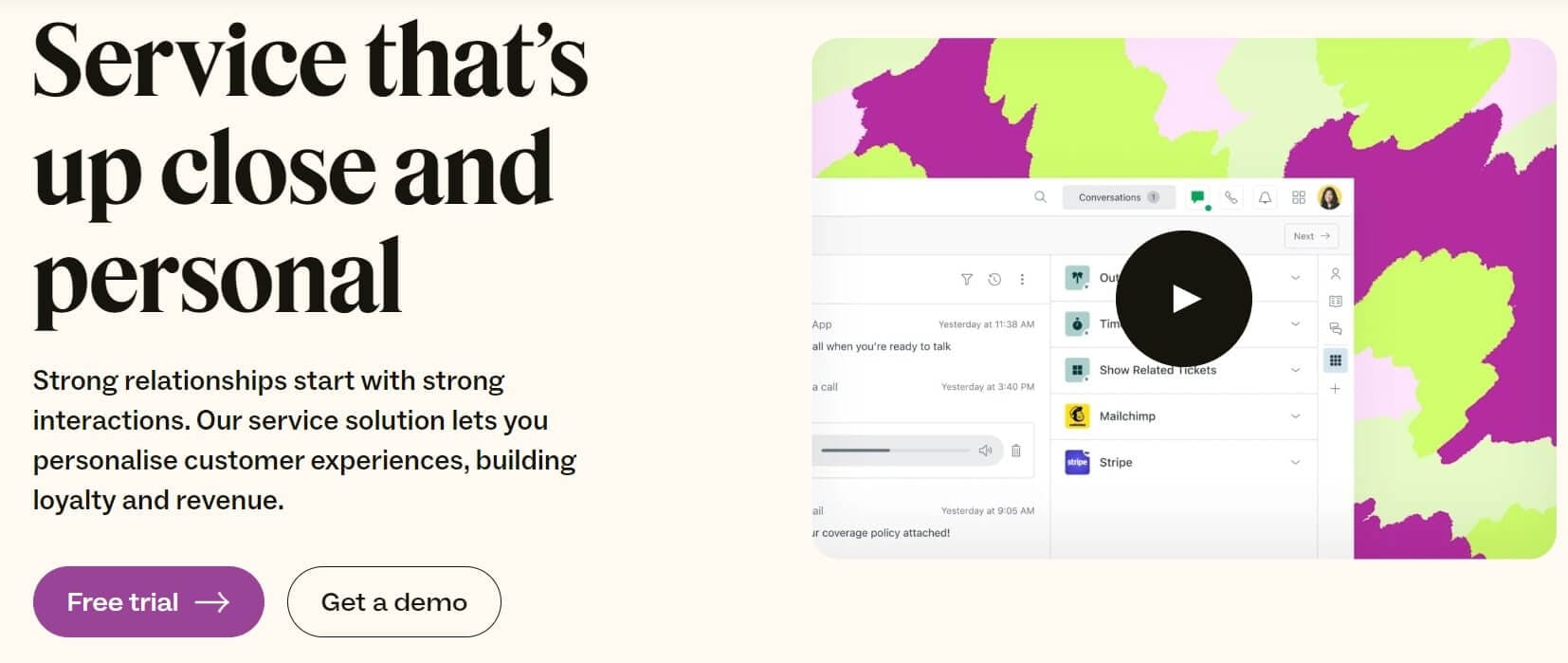 Zendesk offers various AI solutions to help you deliver personalized customer experiences with cross-channel support, self-service, customer insights, and much more. Automate your workflows with Zendesk AI, and modify them with your own code or configurations to accommodate your business needs. You can also enhance your customer service with integrations such as Salesforce, Slack, and Harvest.
Key Features
Zendesk AI: Optimize your customer support with Zendesk bots, which detect customer intent, suggest answers to certain issues, and transfer conversations to the right agent when necessary. You can also use these bots to collect user data, including their email, name, and issue, for better ticket management.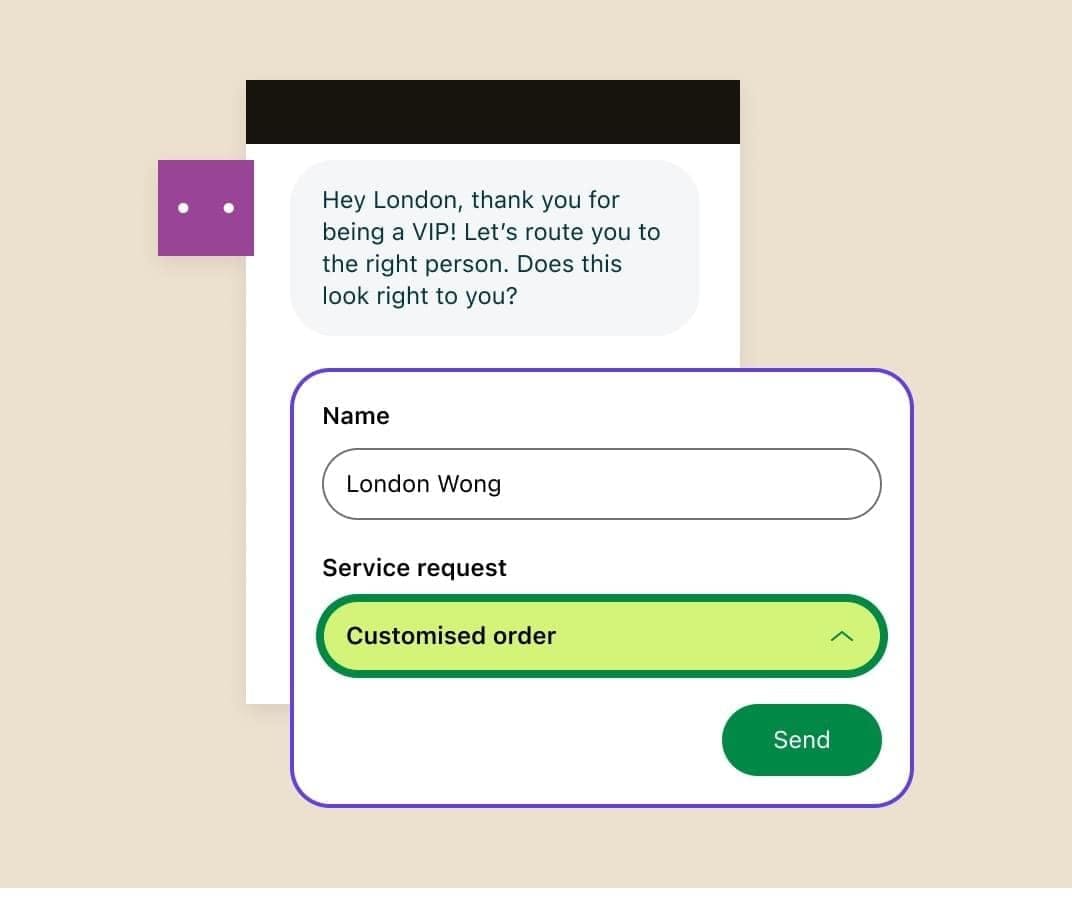 24/7 Support: Increase customer satisfaction with 24/7 automated support and instant responses across all channels.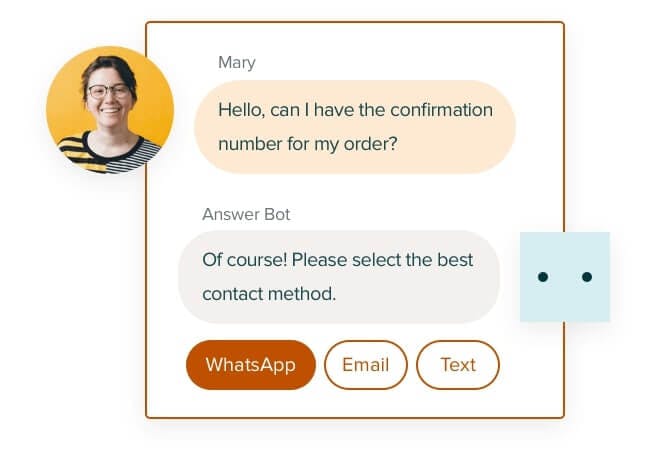 Converse Across Multiple Channels: Converse with customers on their preferred channel, which includes WhatsApp, Facebook, and Slack. You can also implement messaging on your website or mobile app and interact with customers on your own platforms.
Agent Workspace: Manage all customer conversations in one place. This way, all your agents can easily find the right customer context when dealing with live requests or tickets.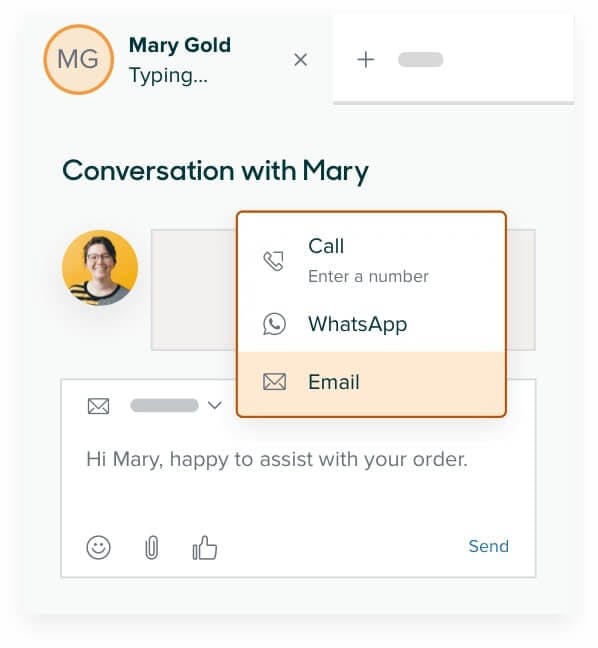 Pricing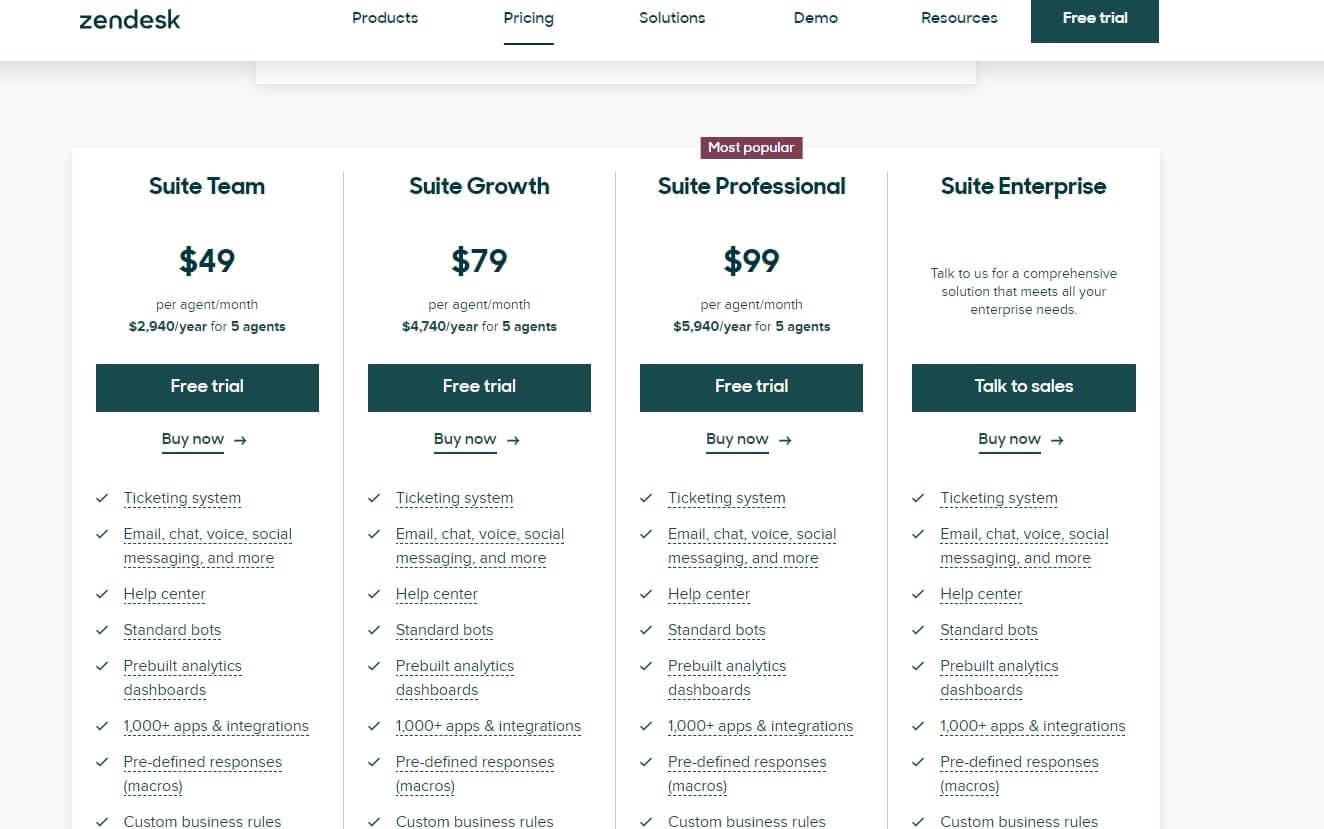 Zendesk offers 3 paid plans and two custom plans:
Suite Team ($49/agent/month)
Suite Growth ($79/agent/month)
Suite Professional ($99/agent/month)
Suite Enterprise (custom pricing)
Suite Enterprise Plus (custom pricing)
As you upgrade to the more expensive plans, you get access to premium features such as CSAT (customer satisfaction) ratings, multilingual support, a self-service customer portal, and advanced AI (optional add-on).
Pros and Cons
Pros:
Free trial.
Custom plans.
Zendesk AI bots.
Customer data collection.
1000+ integrations.
Agent dashboard.
Multilingual support.
Prebuilt analytics dashboard.
Cons:
No free plan.
No multilingual support for the cheapest plan.
Advanced AI costs extra.
#3 Freshdesk: Best for Effective Support Ticket Management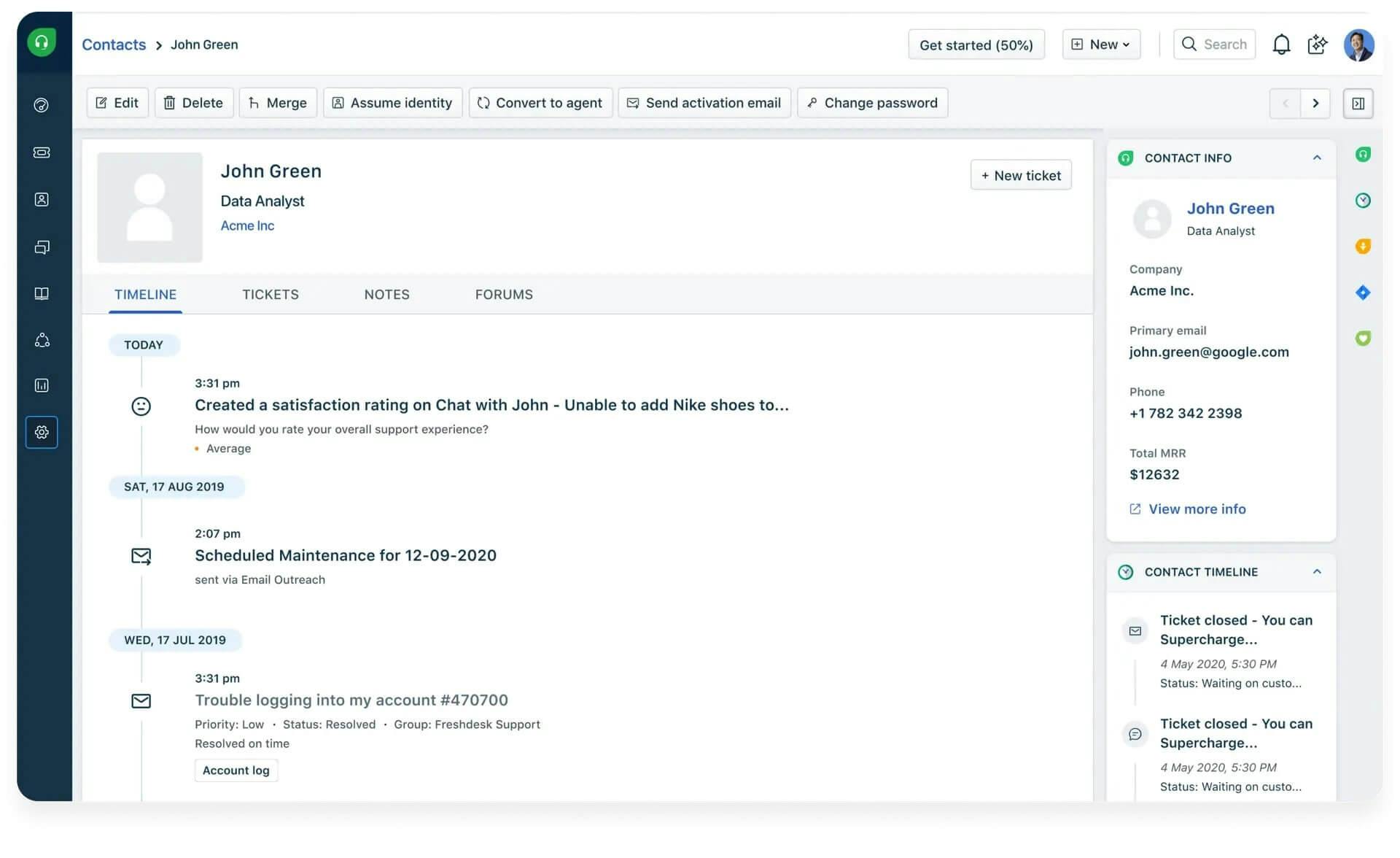 Freshdesk provides contextual support for your team, allowing them to sufficiently handle customer issues with ease. Collaborate with other agents, automate ticket assignments, and organize issues by priority to boost your ticket resolution. Whether it's small or complex queries, Freshdesk gives you the tools needed to efficiently resolve them with personalized conversations, automated workflows, and intuitive collaboration.
Key Features
Agent Management: Allow your agents to collaborate with each other when resolving customer issues. Categorize and prioritize tickets according to their type or severity and automatically assign them to the right agent for faster resolution. Tickets are assigned to agents based on their skills or workload (or they're evenly distributed across your team).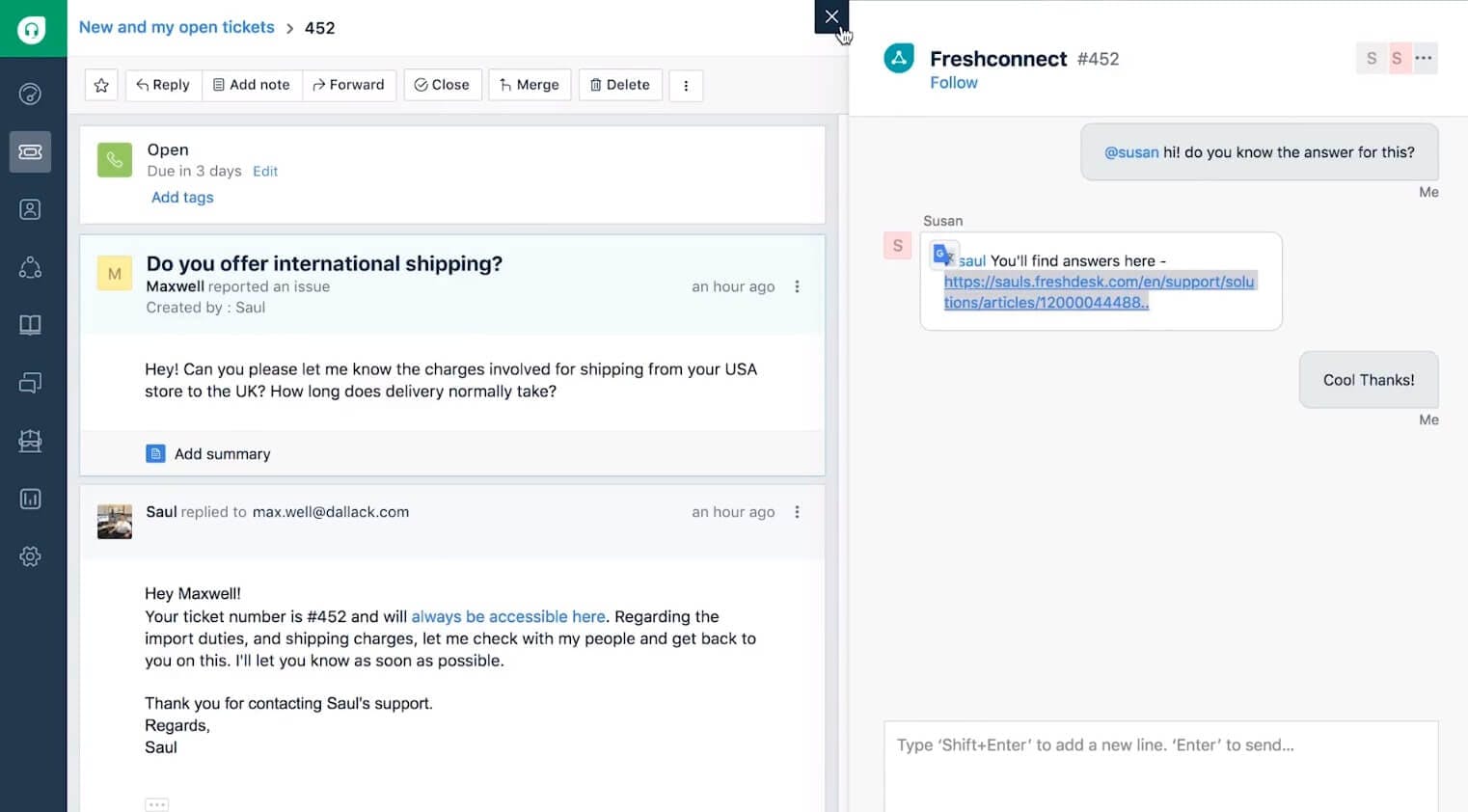 Automation: Utilize their Freddy AI to automate your workflows. Receive automated field suggestions when organizing tickets, scan tickets every hour to check for updates, send reminders about pending issues, and more.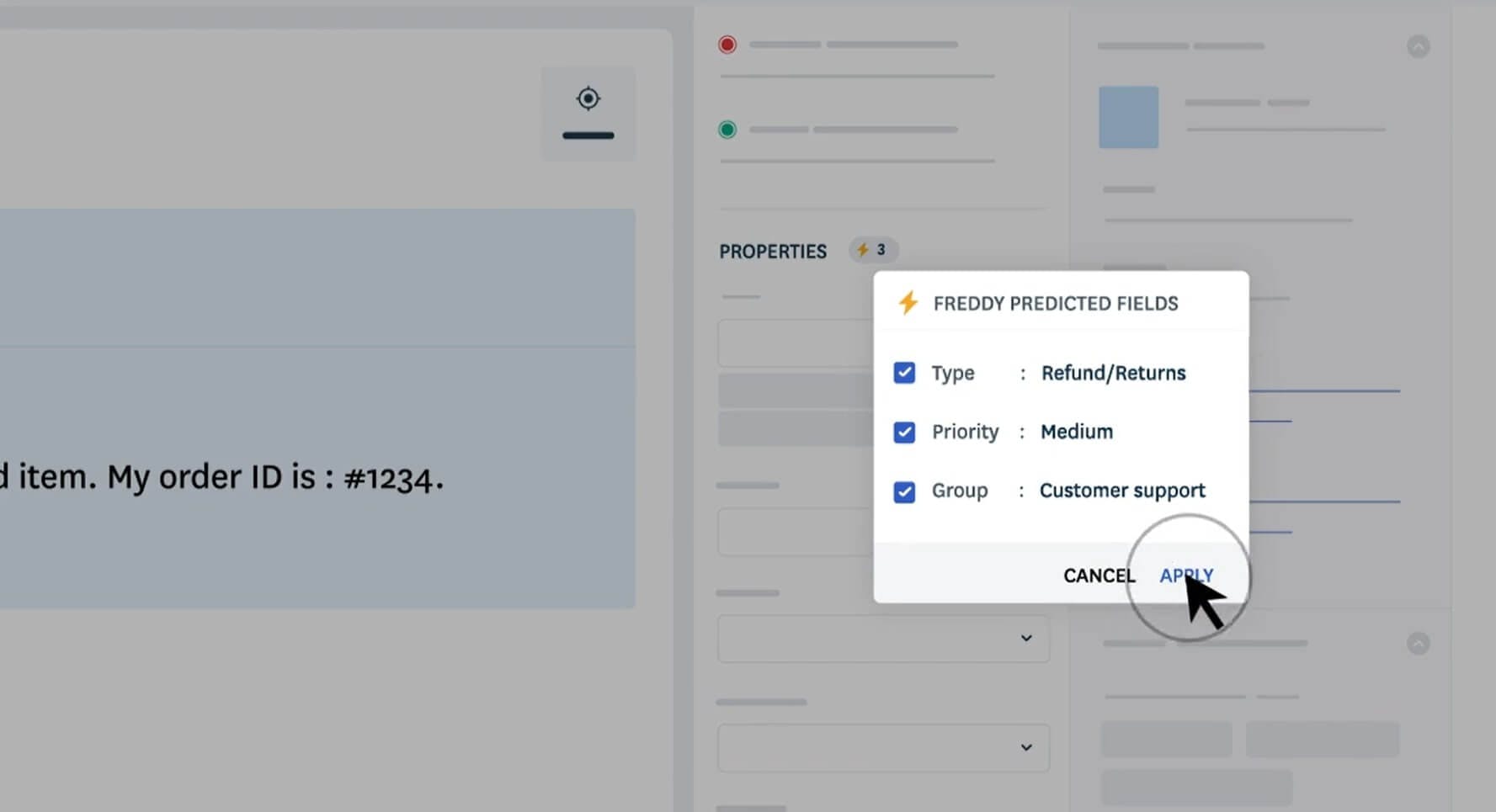 Analytics & Reporting: Create custom analytics dashboards to track team progress. Monitor metrics such as customer satisfaction ratings, ticket lifecycles, and team workload to assess your workflow efficiency. Identify overloaded agents or teams with high amounts of backlogged requests so you can interfere early on and avoid escalations.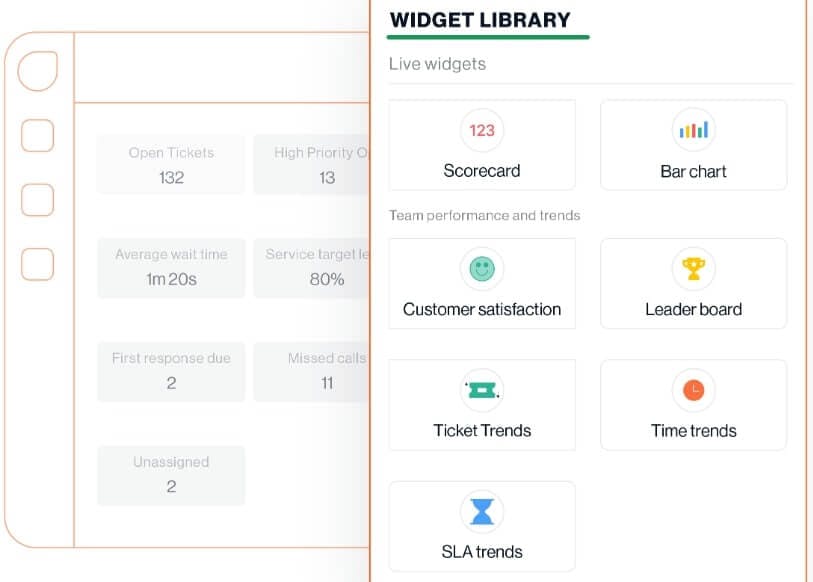 Pricing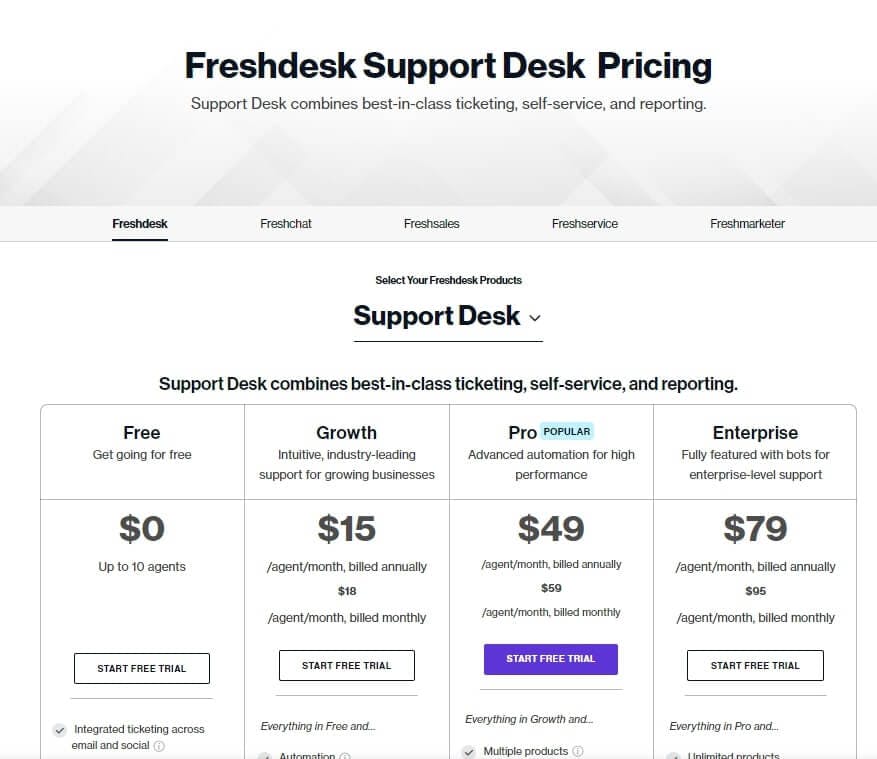 Freshdesk has a free plan, which comes with ticket organization, analytics, and team collaboration support. Their paid plans, however, offer automation tools, more advanced reporting, and multilingual support:
Growth ($15/agent/month)
Pro ($49/agent/month)
Enterprise ($79/agent/month)
Pros and Cons
Pros:
Free plan.
AI assistant.
Custom dashboards & analytics.
Team collaboration support.
Multilingual knowledge base.
Custom ticket fields & statuses.
Automated workflows.
Skill-based routing.
Cons:
No custom pricing.
No automation available on the free plan.
Freddy AI is only accessible on the Enterprise plan.
#4 HubSpot Service Hub: Best for All-in-One Customer Relationship Management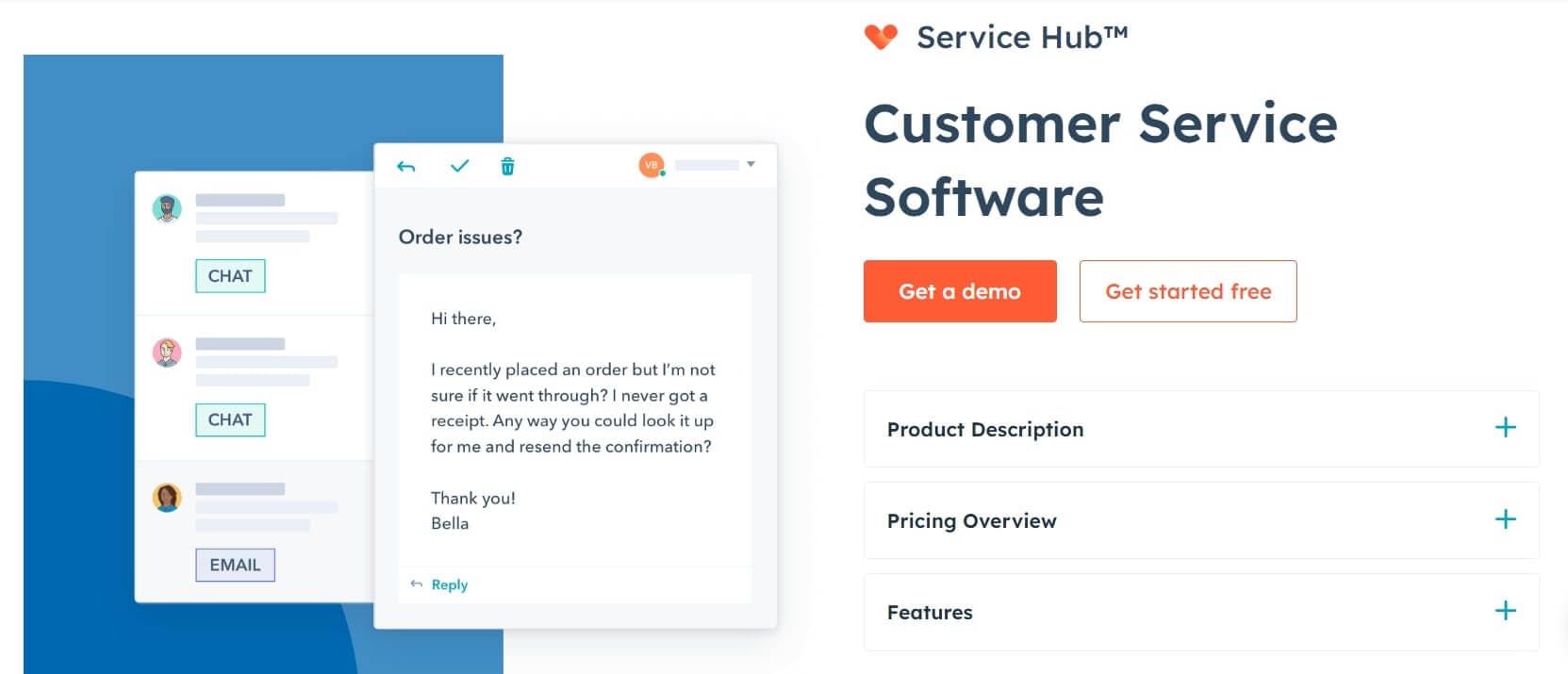 HubSpot Service Hub is an all-in-one CRM platform that helps you deepen your customer relations. Connect all your service channels and data on one platform for easier customer support management. Access help desk automation, a shared inbox and customer portal, custom surveys, reporting, and more.
Key Features
Customer Portal: Encourage self-service with your own secure customer portal, where you can easily maintain ticket conversations and resolve issues faster. Allow customers to access your knowledge base via the portal and connect your shared inbox with your help desk to unify all your workflows.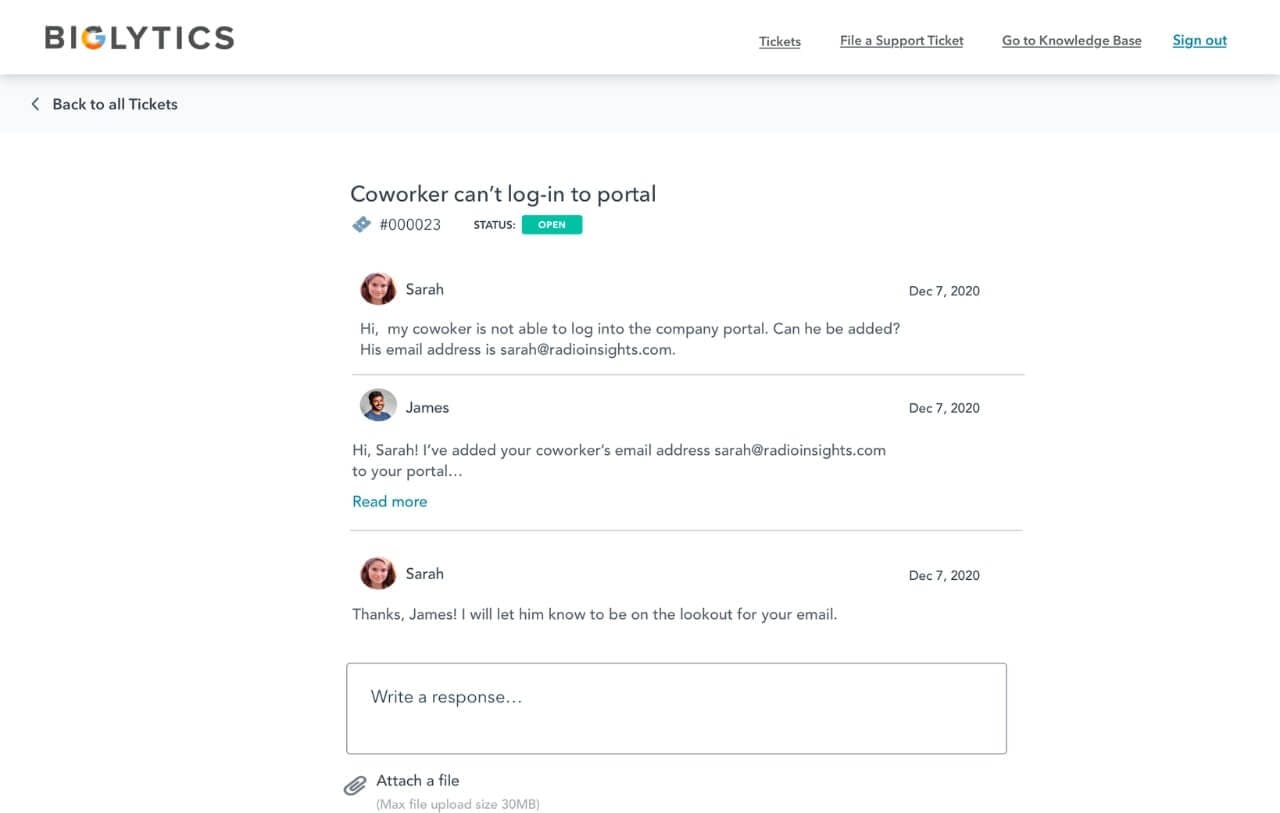 Knowledge Base: Provide customers with a comprehensive knowledge base to reduce your support volume. Create a library of helpful resources, including articles and videos, so customers can search for relevant topics with ease.
Omnichannel Messaging: Offer customer service across multiple channels, such as live chat and Facebook, and access them all from your inbox. Switch between channels seamlessly to give your team full access to customer contexts.
Live Chat: Interact with customers in real-time with live chat. Automatically transfer conversations to the right agent when necessary for faster response times. You can also automate responses to common user queries to boost your ticket resolution.
Pricing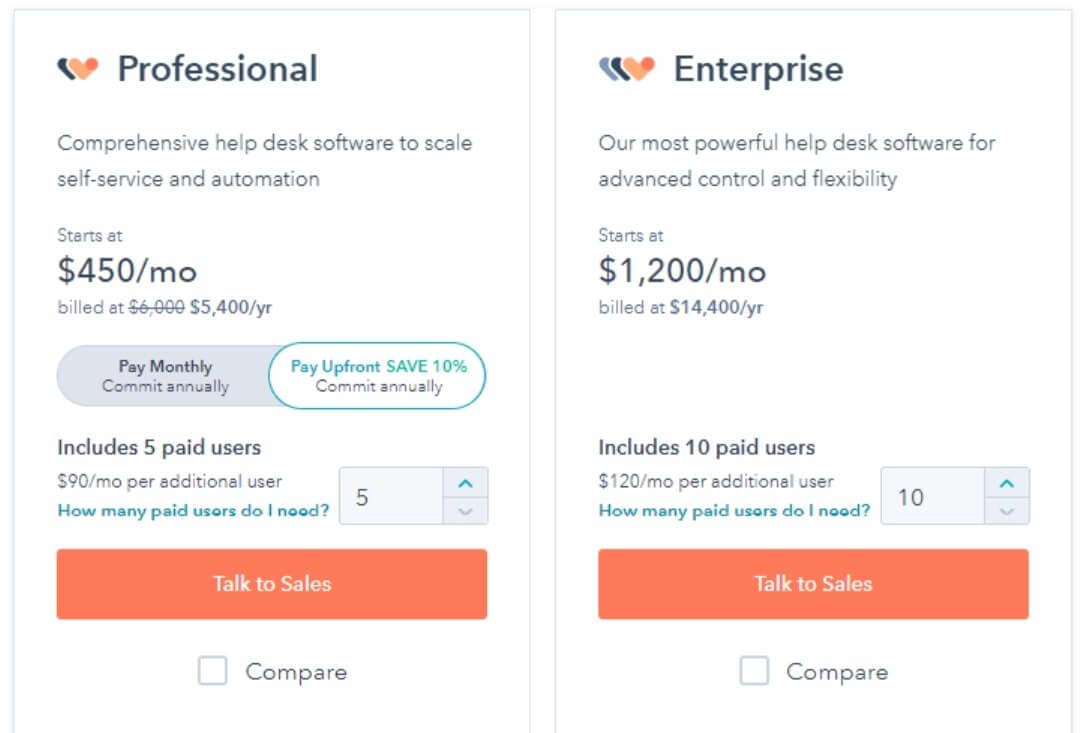 HubSpot provides a free plan along with three paid subscriptions:
Starter ($18/month)
Professional ($450/month)
Enterprise ($1,200/month)
Free features include custom user permissions, email reply tracking, and 1 shared inbox for up to 5 users. When you upgrade to their premium plans, you get up to 10 user slots, customer portals, field-level permissions, and AI-powered insights.
Pros and Cons
Pros:
Live chat.
Omnichannel support.
Knowledge base management.
Customer portal.
Customer feedback surveys.
Service analytics.
Help desk automation.
Ticket routing.
Cons:
Expensive prices.
Limited custom surveys.
Limited automation workflows.
#5 Zoho Desk: Best for Sentiment Analysis & App Integrations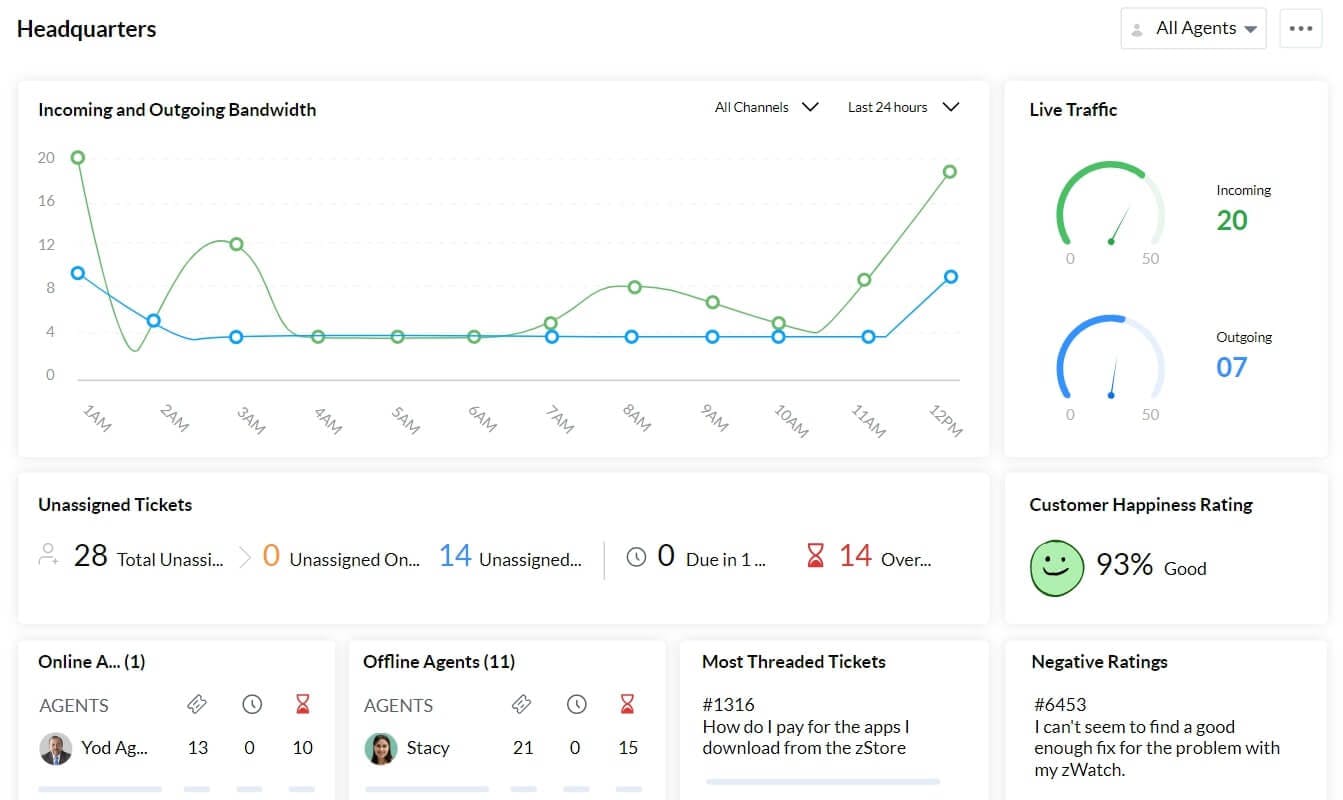 Zoho Desk provides you with built-in analytics, including sentiment analysis or satisfaction ratings, to help you better understand user needs. Utilize powerful tools such as AI and contextual support to provide high-quality customer service. Zoho Desk also supports over 200 app integrations, including 45+ native software, for a more cohesive customer support solution.
Key Features
Omni-channel: Allow customers to initiate communications via various social channels, including LINE, WhatsApp, and WeChat.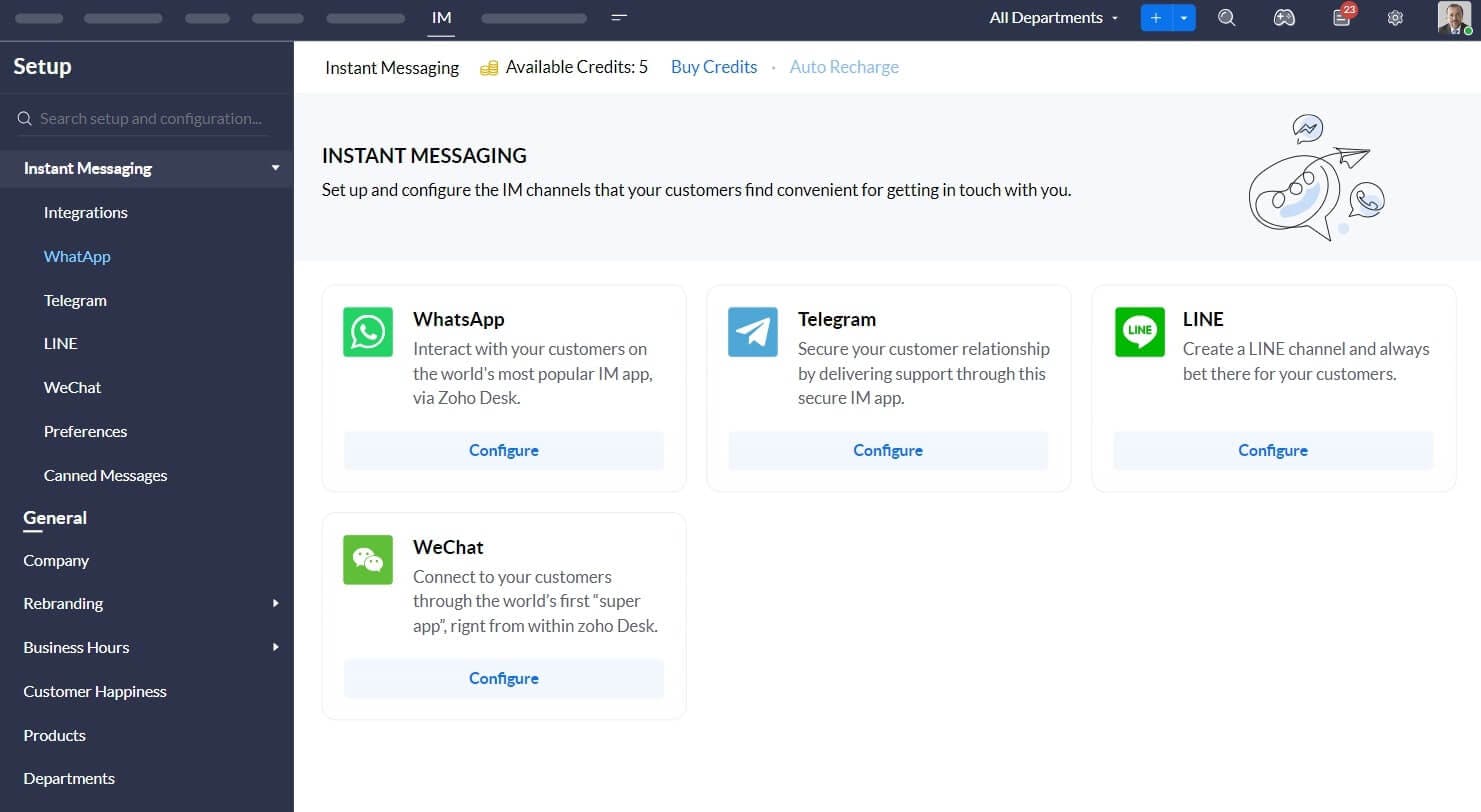 Canned Responses: Reduce waiting times with canned messages, which are pre-built responses for certain contexts. You can create automated messages for all kinds of scenarios, such as welcome messages and payment reminders.
Contextual Reports: View conversational insights like happiness ratings and average response times, and filter them according to date, agent, or channel.
Add-ons and Integrations: Integrate Zoho Desk with a number of third-party or native apps, which include Jira, Google Suite, and Zoho BugTracker.
Pricing
Zoho Desk offers three paid plans: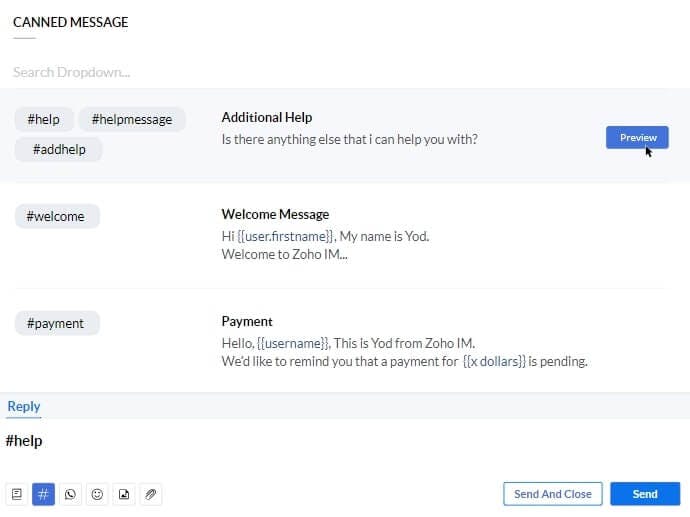 Standard ($14/user/month)
Professional ($23/user/month)
Enterprise ($40/user/month)
Their cheapest plan comes with all the basic support features, such as omnichannel messaging, ticket tracking, and analytics dashboards. However, only their pricier plans provide AI solutions, ticket sharing, and field-level access control.
Pros and Cons
Pros:
Free trial.
Feedback widget.
Support multiple communication channels.
Reports & dashboards.
Ticket management.
Automation & process management.
Help desk customization.
Agent permissions & data security.
Cons:
Limited email channels.
No custom plan.
Limited ticket tags.
Conclusion
Intercom is a useful customer service platform, but it does have drawbacks, such as expensive pricing and limited features. If you find the tool to be unsuitable for your business, it's beneficial to start looking for Intercom alternatives like Chatling. Here at Chatling, we provide you with personalized AI chatbots that help automate your customer support.
Try Chatling for free today to start boosting your resolution rates with 24/7 support.